The latest news on Trump's indictment
Trump hit the campaign trail today, making his first public speaking appearances since Thursday's indictment.
A handful of Republicans criticized Trump last night after the indictment was unsealed, but most GOP criticism remained focused on the Justice Department.
Trump is scheduled to appear in federal court on Tuesday for his arraignment. The Secret Service said it won't be seeking "special accommodations" for Trump in Miami.
Live coverage of former President Donald Trump's indictment continues here.
Some voters use Trump's words to argue his indictment is political
It remains to be seen if the 37-count criminal indictment against former President Donald Trump will be a drag on his third presidential campaign.
As it stands, Trump said during a speech Saturday to North Carolina Republicans that the charges connected to the more than 100 classified documents recovered by FBI agents at his Florida home last August may have inspired record-setting, small-dollar donations to his campaign.
Voters on the street seemed inclined to buy Trump's argument, which comes with no evidence or citations, that the indictment is deliberate, political ammunition from the Justice Department of his Democratic opponent, President Joe Biden.
Speaking Saturday evening to about 1,000 people attending the rally as part of the North Carolina Republican Party's annual convention in Greensboro, Trump said the indictment was Biden's way of trying to jail his main political rival.
The same day, voters weighed in on the indictment in Tulsa, Oklahoma, the city where Florida Gov. Ron DeSantis, Trump's top GOP rival for the Republican presidential nomination, spoke at special event organized by the Republican political action committee Never Back Down.
"I don't think it'll hurt his campaign in any way because people who are gonna vote for him feel probably the same way I do, that, you know, the DOJ is weaponized," voter Mike Jones of Tulsa said of Trump amid the Saint Francis Tulsa Tough cycling festival in the city's Arts District.
Voter Joanne Lucas said the indictment shows there are different rules in the United States depending on who you are, and she thinks the indictment will fire up Trump supporters angry over this perceived bias.
"I think the Justice Department has become very politicized, and it's a bad thing for America," she said.
Nonetheless, Lucas likes DeSantis for president because he would be able to serve two terms for a total of eight years, whereas Trump would be limited to a single term of four years if he wins.
"I would like to see a Republican elected who could ... stand for re-election," she said.  
Though voter Carmen Carlevato wishes someone less controversial would emerge as the GOP's top choice to run for president, she expressed a belief that Trump was being singled out by prosecutors in the documents case.
"They're trying to take him down," she said. "There's a lot of people who don't want Trump to run again, or win again."
David Shelden, a voter from Oklahoma City, said Americans should let the justice system process the case before coming to a conclusion.
The former president can take situations unfavorable for him and ... "make it look like the country or the current president is picking on him," he said.
Shelden believes now is a good time for any challengers to Trump's perch as the GOP's top presidential contender to ramp up their campaigns.
"Former President Trump is pretty popular," he said, "but I think he's carrying some political baggage."
Trump now endorsed by both GOP campaign committee chairs in Congress
Former President Donald Trump on Saturday night continued his verbal assault on federal prosecutors, the Justice Department and President Joe Biden for the 37-count indictment against him unsealed Friday.
With no evidence, Trump maintained during a speech to North Carolina Republicans that the indictment that stems from the FBI's recovery of more than 100 classified documents from Trump's Florida home is a political attack. The source, he said, is the opponent he would face in November 2024 — President Joe Biden.
The words echoed a speech he gave earlier in the day at the Georgia Republican Party's annual convention.
The indictment hasn't threatened Trump's status as the GOP front-runner and as the party's virtual leader. The trip to North Carolina afforded the former president the opportunity to accept the endorsement of Rep. Richard Hudson, R-N.C., chair of the National Republican Congressional Committee.
The announcement meant that Trump wrapped up the backing of the chairs of his party's House and Senate campaign committees. Chief rival Ron DeSantis, the Republican governor of Florida, on Saturday heralded the campaign endorsement of Oklahoma's GOP governor, Kevin Stitt.
During his speech, Trump said his legal turmoil sometimes works in his favor. "In a sick way, I sort of enjoy it," he said he tells people.
"Because it exposes them," he said, adding, "Have you seen this? The polls are through the roof and the fundraising small-dollar fundraising is setting records."
Trump dodges question about why he held on to documents
During a stop at a Waffle House in Columbus, Georgia, former President Donald Trump sidestepped questions about why he possessed classified documents at Mar-a-Lago.
Over the cheers of supporters, he again called the investigation a "witch hunt"  and a "disgrace."
"We did nothing wrong, nothing wrong whatsoever," Trump said before turning away. 
Ben Affleck and Matt Damon's company says Trump didn't get consent to use 'Air' monologue
Trump posted a two-minute video to his social media platform, Truth Social, early Saturday that uses Oscar-winning actor Matt Damon's climactic monologue from the film "Air" as dramatic voiceover narration.
"They're gonna tear you back down," Damon says as the words "Trump Indictment" flash on the screen.
In a statement shared Saturday afternoon on Twitter, Artists Equity — a production company founded by Damon and "Air" director Ben Affleck — said it never gave the Trump campaign permission to use any "footage or audio" from "Air," a biographical drama about the creation of Nike's popular Air Jordan shoe.
"We had no foreknowledge of, did not consent to and do not endorse or approve any footage or audio from Air being repurposed by the Trump campaign as a political advertisement or for any other use," said one of two tweets from Artists Equity.
Affleck and Damon have both publicly criticized Trump and backed Democratic candidates, including 2016 presidential nominee Hillary Clinton.
Trump cycles through his campaign pledges at Georgia GOP Convention
After he slammed the indictment and pulled Rep. Marjorie Taylor Greene, R-Ga., onto the stage to tout his accomplishments, the former president also reiterated a series of 2024 pledges during his speech at the Georgia GOP Convention:
"I will immediately sign a new executive order to cut federal funding for any school pushing critical race theory, transgender insanity and other inappropriate racial, sexual, or political content on our children," he said.
"I will revoke China's Most Favored Nation trade status," Trump continued. "I will gain total independence from China.
"Before I even arrive at the Oval Office, shortly after I win the presidency, I will have the horrible war between Russia and Ukraine settled, and we'll do it quickly," he added.
Trump vows to fight 'corrupt political establishment' in 2024
In his first public speech since he was indicted by a federal grand jury on Thursday, the former president railed against what he called "the corrupt political establishment" and vowed to fight back in 2024.
"On November 5th, 2024, we are going to stand up to the corrupt political establishment, we are going to evict a totally corrupt president, Joe Biden, from the White House, and we are going to FINISH the job that we started!" Trump said at the Georgia GOP Convention.
"Because in the end, they're not coming after me, they're coming after you — and I'm just standing in their way," he said, calling the indictment "ridiculous and baseless."
Trump, who has denied any wrongdoing, also accused the Biden administration of weaponizing the Justice Department — "among the most horrific abuses of power."
His remarks were met with cheers and applause from the crowd. The recent criminal charges against Trump in the classified documents case represent the second time that he's been indicted since he left the White House.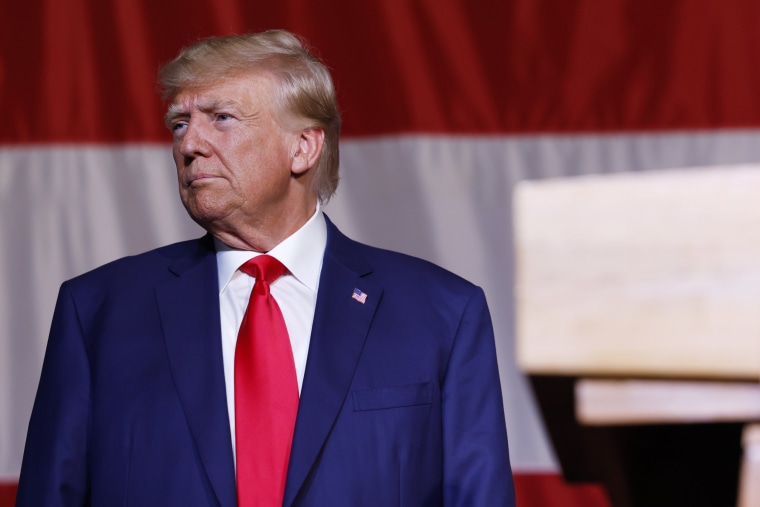 Pence: 'I'm deeply troubled to see this indictment move forward'
Pence said, in his first public remarks since the Trump indictment was unsealed, that he was "deeply troubled" by Trump's indictment over his handling of classified documents.
Pence, who announced his 2024 presidential campaign this week, slammed what he characterized as the politicization of federal agencies. This politicization has the "capacity to further divide our country, at a time when the American people are struggling as never before," he said at the North Carolina GOP Convention in Greensboro.
"It's important to remember in America you are innocent until proven guilty," Pence said. "The former president, like every other American, is entitled to a presumption of innocence."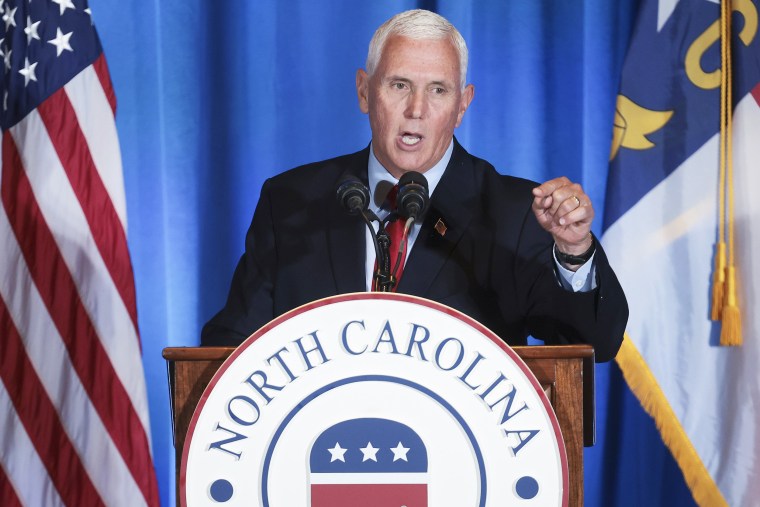 Echoing other Republican defenders of Trump, Pence compared the recent indictment of his former boss to the case of Hillary Clinton's emails in the 2016 election as well as the classified documents found in the possession of Joe Biden. He suggested that federal authorities were treating Republicans unfairly compared with the way they treated Democrats.
He also urged Attorney General Merrick Garland to "stop hiding behind the special counsel and stand before the American people and explain why this indictment went forward."
Pence also nodded to his own campaign: "As your president, if you give me that great honor to serve, I promise you I will uphold the rule of law.
"We will clean house at the highest levels of the Department of Justice and we will restore the confidence of the American people in equal treatment under the law, so help me God."
Trump lands in Georgia for GOP convention
Trump has landed at Columbus Airport in Georgia, where he is scheduled to deliver remarks at the state's GOP convention in the early afternoon.
He was met by a small crowd of supporters on the tarmac.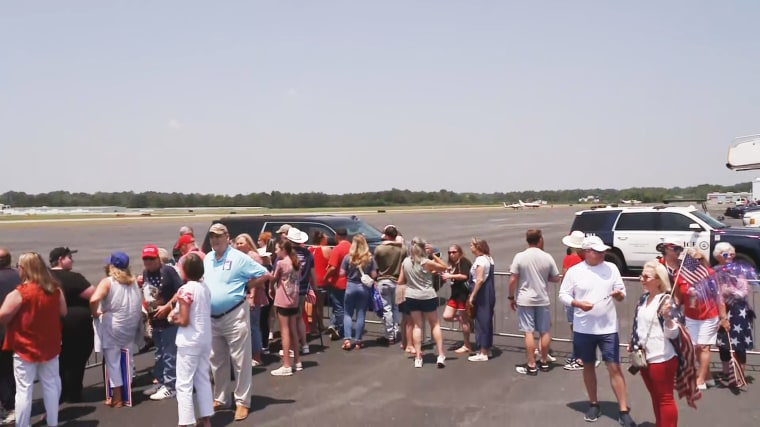 Trump merch is selling but no one is buying Pence, GOP convention attendees say
Pence gears up to speak at the North Carolina GOP Convention in Greensboro before Trump takes the stage at the same event later in the day.
Ahead of their remarks, NBC News spoke to Gabby and Brandon Saxton, a couple from Ohio who travel to Republican conventions across the country to sell collectible pins of presidential candidates.
The Saxtons said they "haven't sold any pins of Pence at all" so far. "Pretty much Trump and DeSantis, it's been fifty-fifty," Brandon said of their sales, adding that there's been a lack of interest in Pence pins "because he's not really popular."
"Some people aren't real happy with how he didn't have Trump's back when everything went down with the election," he said.
GOP Sen. Mike Rounds: Trump indictment should 'concern all of us'
Sen. Mike Rounds, R-S.D., a vocal critic of Trump's baseless election fraud claims, said the federal indictment against the former president "should concern all of us."
Rounds, who did not mention Trump by name, said in a statement that it was "unacceptable that sensitive information, which could undermine our national strategy, has been treated so carelessly by current and former members of the executive branch."
"At the same time," Rounds went on to say, "I am concerned about the Department of Justice's decision to pursue this case against the former president at a time when our current president has also admitted to the possession of classified documents while out of office."
The South Dakota Republican was alluding to a separate special counsel review of classified materials found in Joe Biden's Delaware residence and a Washington office he used during his time as vice president.
Rounds has endorsed Sen. Tim Scott of South Carolina in the 2024 Republican presidential primary.
Tennessee Democrat says documents case makes Nixon 'look like a choirboy'
The federal indictment against Trump makes "Richard Nixon look like a choirboy," Rep. Steve Cohen, D-Tenn., said on MSNBC's "The Katie Phang Show" this morning.
"Watergate was the worst thing that happened to the presidency in our history," the lawmaker and staunch Trump critic said. But the crimes alleged in the Trump indictment are "so much worse."
Cohen also criticized Rep. Andy Biggs, R-Ariz., who tweeted Friday that the indictment in the Trump classified documents case means the U.S. is now in a "war phase." Cohen called that bellicose comment "unpatriotic."
McCarthy: House Republicans will 'get the answers Americans deserve'
House Speaker Kevin McCarthy doubled down on his support for Trump on Saturday, vowing in a video posted to Twitter that House Republicans will "get the answers Americans deserve."
"In America, some of our greatest strength is equal justice and today it shows that it is not," McCarthy said, comparing the Trump classified documents case to the federal investigation into Joe Biden's handling of classified documents.
McCarthy said he's already spoken to Reps. James Comer, chairman of the House Oversight Committee, and Jim Jordan, chairman of the Judiciary Committee, about "things that we could do to make sure equal justice."
Jordan, in an apparent effort to discredit federal investigators, has pressed the Justice Department for documents related to special counsel Jack Smith's probe of Trump's handling of classified documents.
Comer and Jordan have also pursued a series of investigations into the Biden family's business dealings since House Republicans took over the chamber earlier this year. The White House has criticized these probes, arguing that they are politically motivated and designed to hurt Biden's re-election chances.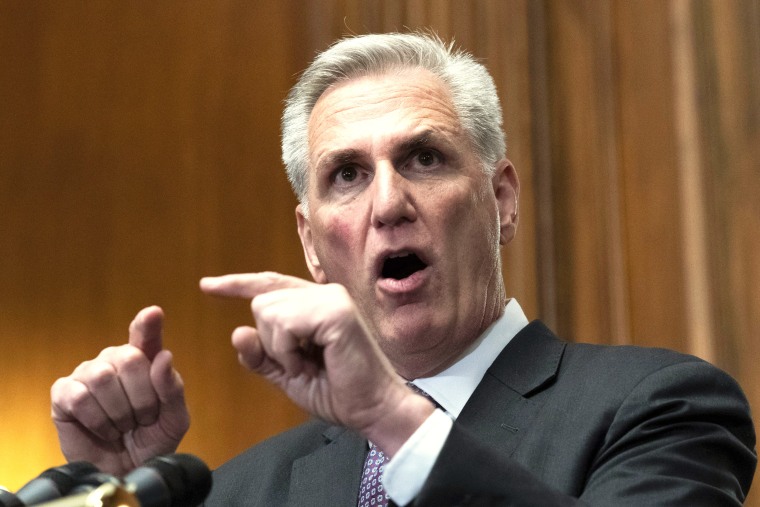 Trump campaign will release indictment fundraising figures on Saturday
The Trump campaign said that it intends to release indictment fundraising numbers on Saturday.
In March, the former president's campaign announced that it had raised $4 million 24 hours after a New York grand jury voted to indict him in connection with hush money payments that were made ahead of the 2016 presidential election.
This time around, in the classified documents case, we have not yet seen such braggadocio. The Trump campaign, however, has been blasting fundraising emails and selling T-shirts since the former president's second indictment on Thursday.
Pence to speak at North Carolina event hours ahead of Trump
Former Vice President Mike Pence is scheduled to speak at the North Carolina GOP Convention this afternoon, hours before his former running mate takes the stage at the same event.
Pence, who announced his own run for president this week, has criticized the Justice Department's decision to charge Trump in the government docs probe but has also avoided speaking to reporters since news of the indictment.
After calling on Attorney General Merrick Garland to unseal the indictment before it was made public Friday, Pence has yet to comment on its contents.
Speaking in New Hampshire Friday before the indictment was unsealed, Pence said, "We can each make our own judgment about whether or not this was an appropriate action or whether or not that's one more example of the politicization and weaponization that's taken place in the Department of Justice in recent years."
Trump to make first public appearances since indictment
The former president has two long-planned speaking events on Saturday that will be his first public appearances since he was indicted on Thursday.
Trump is scheduled to address the Georgia GOP convention at 2:30 p.m., followed by remarks at the North Carolina GOP convention four hours later.
Former Vice President Mike Pence — who launched his own presidential campaign this week — is scheduled to speak to the North Carolina convention earlier in the day.