What to know about Trump's indictment
Former President Donald Trump is expected to be arraigned in New York on Tuesday and faces about 30 charges
The exact charges are unknown, as the indictment remains sealed.
Trump was indicted Thursday by a Manhattan grand jury in District Attorney Alvin Bragg's investigation into hush money Trump is alleged to have paid ahead of the 2016 election to quiet women who said they'd had affairs with him. Trump has denied the affairs and any wrongdoing.
Trump is the first former president to have been impeached twice and the first to be criminally indicted.
This blog has ended. Live coverage continues here.
House Intelligence chair on Trump's indictment: 'Let the criminal process play out'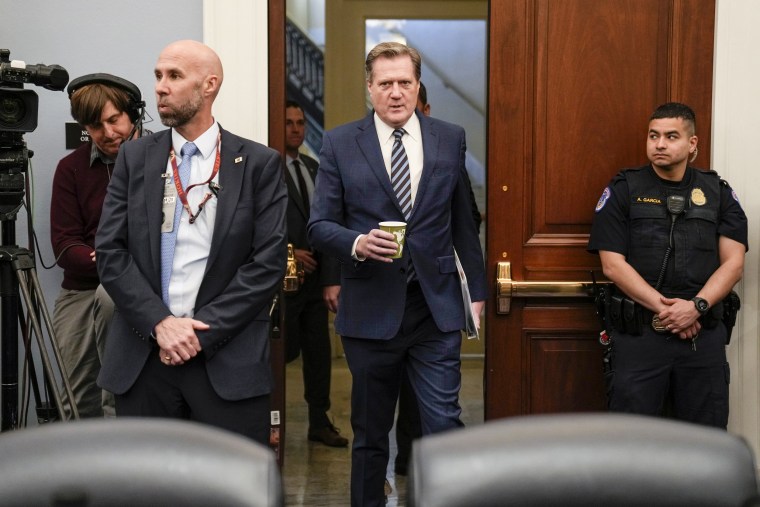 The chair of the House Intelligence Committee criticized the indictment Sunday and said the American people should "just let the criminal process play out."
"When this comes out and we finally get to see what's happening, if this is politically motivated, this will be a shame on our criminal justice system," Rep. Mike Turner, R-Ohio, said on CNN's "State of the Union."
"I do think this is politically motivated," he said.
"It's one thing when you have a cancel culture, it's another when you have a cancel criminal justice system, and I hope that we're certainly not turning to that," Turner added.
Lawyer says Cohen gave 'substantial documentation' to prosecutors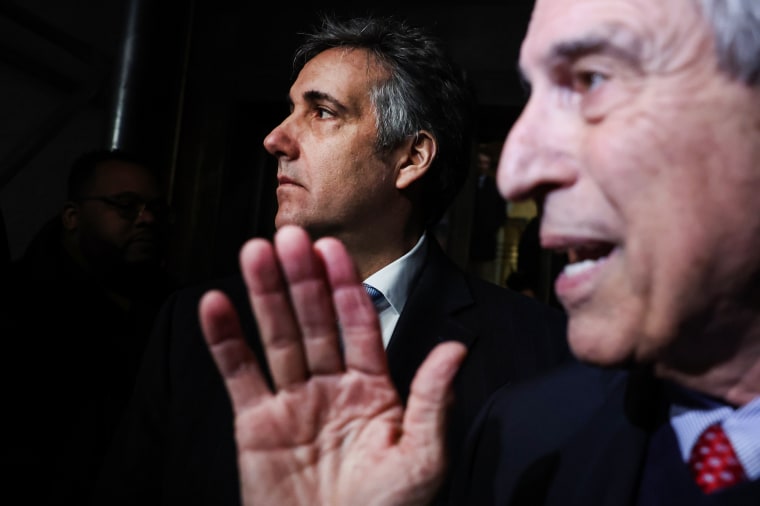 Michael Cohen's lawyer, Lanny Davis, said Sunday that his client had provided "substantial documentation" in the case against Trump.
"Cohen submitted a lot of documentation, not only to this group of prosecutors, but to the earlier group. And there are other documents from other people and other testimony from other people, some of it direct, involving conversations with Mr. Trump, concerning the Karen McDougal crime. Remember, there are two crimes here," Davis said on CNN's "State of the Union."
"And so the answer is substantial documentation," he added.
Cohen pleaded guilty and served prison time for campaign finance violations and other crimes for his role in hush money schemes to pay two women who claimed to have had affairs with Trump. The payment to former adult film star Stormy Daniels is at the center of the indictment.
With the charges still under seal, McDougal's involvement in the case is unclear. Cohen has said Trump directed him to pay Daniels during the 2016 campaign.
Trump spends weekend at his golf club ahead of expected arraignment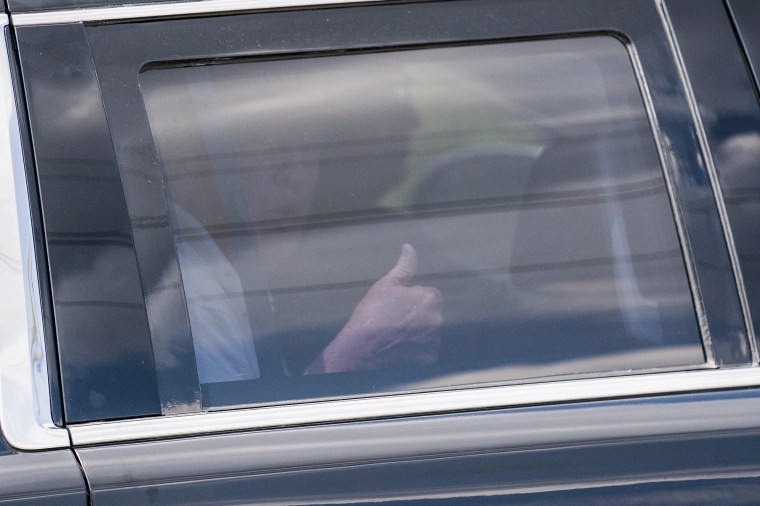 Trump departed his golf club in West Palm Beach, Florida, at 2:34 p.m. after having spent around five hours there Sunday.
As he left Trump International Golf Club for Mar-a-Lago, he was seen through the window of his SUV giving the thumbs up to a group of supporters who had gathered along the road.
Trump had also spent some of his Saturday at his golf club, departing in the late afternoon.
William Barr: Classified documents probe is 'the most serious case'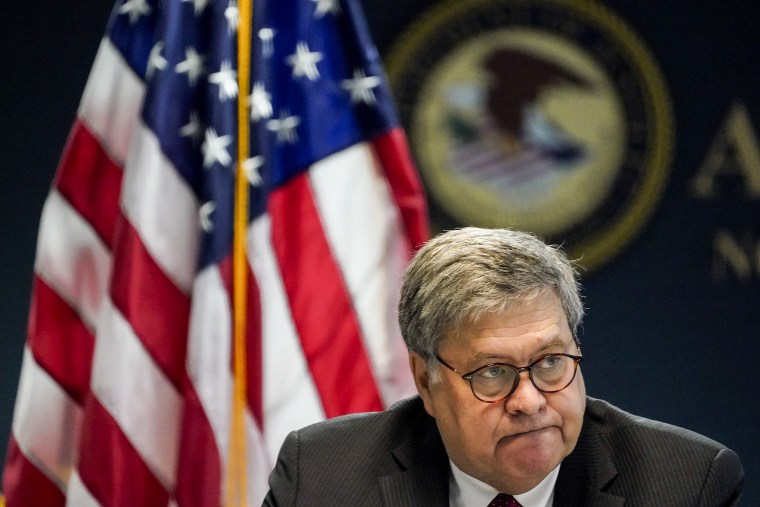 Former Attorney General William Barr said Sunday that he believes out of the various cases involving Trump, the federal investigation of his handling of classified documents will be his biggest legal woe.
"I think the document case is the most serious case," Barr said in an interview on "Fox News Sunday." "I don't think they went after those documents to get Trump. I think they actually wanted the documents back."
The FBI recovered a trove of top secret and other highly classified documents when it searched Trump's Mar-a-Lago estate in Florida in August. Since then, Attorney General Merrick Garland has appointed a special counsel to investigate. Trump has denied any wrongdoing, having claimed last year that he can declassify documents "by thinking about it."
Barr also weighed in on Trump's Manhattan grand jury indictment, saying he thinks it appears to be a "political" prosecution, joining allies of Trump who have sought to discredit the justice system ahead of Trump's expected arraignment.
Cohen predicts 'complete and total mayhem' at Trump arraignment
Michael Cohen, the former Trump "fixer" who could be a key witness if the case moves to trial, predicted "complete and total mayhem" Sunday when his ex-boss is arraigned this week.
"This is his worst fear: being mugshotted, fingerprinted, being referred to as a felon," Cohen said on CBS News' "Sunday Morning."
"I expect complete and total mayhem," Cohen said, referring to Trump's expected arraignment Tuesday. "He's petrified."
Cohen pleaded guilty to and served prison time for campaign finance violations and other crimes for his role in hush money schemes to pay two women who claimed to have had affairs with Trump. A payment to former adult film star Stormy Daniels is at the center of Trump's indictment, although the exact charges are still unclear.
Christie: Trump campaign's 'bravado' over his indictment is 'baloney'
Former New Jersey Gov. Chris Christie weighed in Sunday for the first time on Trump's indictment by slamming the Trump campaign.
"All this bravado from the Trump camp is baloney," Christie, a former prosecutor, said on ABC News' "This Week."
"He's going to be charged officially on Tuesday. He's going to have to be mugshotted, fingerprinted, and he's going to face a criminal trial in Manhattan. He's not gonna be able to avoid it. You can't make that a good day," he said.
Christie was once a staunch Trump ally, but he became a critic over Trump's baseless claims of widespread fraud in the 2020 presidential election.
Lawyer Tacopina: Trump 'gearing up for a battle'
Trump lawyer Joe Tacopina said Sunday that his client is "gearing up for a battle" following news of his indictment.
Tacopina, in an interview on ABC News' "This Week," called the case against Trump in Manhattan a "political persecution" and said the former president is "someone who's going to be ready for this fight."
"I look forward to moving this thing along as quickly as possible to exonerate him," Tacopina said. "If you're an American, and you're concerned about rule of law, there should be no scenario where you want this to happen."
Trump and his allies have launched attacks against the criminal justice system in recent weeks, alleging that the prosecution is engaged in a political witch hunt.
"We all know that had Donald Trump not been Donald Trump and was John Smith, this case never would have been brought," Tacopina said.
Pro-Trump PAC rips Hutchinson as 'Never-Trump RINO'
A super PAC allied with Trump on Sunday blasted former Arkansas Gov. Asa Hutchinson, who earlier in the day announced he would run for the GOP 2024 presidential nomination, as a "Never-Trump RINO."
In a statement, Make America Great Again Inc. slammed Hutchinson as "the only Republican defending Alvin Bragg's politically motivated persecution of President Trump" and called out Hutchinson for having suggested Trump should end his bid for re-election.
Hutchinson has called on Trump to step aside from the race because his indictment has become a "huge distraction."
Manchin: Trump indictment 'a very sad time for America'
Sen. Joe Manchin, D-W.Va., on Sunday called Trump's indictment "a very sad time for America."
"I would hope and pray that whatever comes forth, if they've done due diligence, they're very, very accurate in what they're doing and understanding that the rule of law is that basically no one's above the law, but no one should be targeted by the law," Manchin said during an interview with NBC News' "Meet the Press."
Manchin, however, also declined to endorse President Joe Biden for re-election.
Asked whether Biden should run again in 2024, Manchin replied, "Once the people of America speak, and that's our president, then I'm going to do everything I can to help them be successful, whether it's Donald Trump or whether it's Joe Biden."
New York Young Republican Club planning rally Tuesday with Marjorie Taylor Greene
The New York Young Republican Club, which organized a sparsely attended protest against Manhattan DA Alvin Bragg last month, is planning another rally Tuesday, this time headlined by Rep. Marjorie Taylor Greene, R-Ga.
Gavin Wax, one of the organizers, said at least two other elected officials might attend, although he didn't name them since he said they hadn't confirmed.
The group plans to gather at a small park near the Lower Manhattan courthouse around noon on Tuesday. Greene is expected to arrive around 1 p.m. Wax says he's expecting a larger crowd this time because of Greene's attendance.
When asked why Greene apparently changed her mind about joining a protest — she had previously said they weren't necessary — Wax said: "She saw that we were able to gather and protest peacefully. ... She understands the severity of the situation." 
"We view Alvin Bragg as derelict in his duties as district attorney," Wax said. "He's wasting taxpayers' resources for a political witch hunt."
Trump's Sunday morning announcement that he will address the public from his Mar-a-Lago club following his expected arraignment Tuesday raises fascinating questions about his liberty to speak about the case.
Some legal experts believe the judge in the case may consider issuing a gag order to lower the temperature around a trial that Trump has publicly denounced and has subjected the prosecutor, Manhattan DA Alvin Bragg, to threats.
The prospect of limiting what an active candidate for president can say — at a time he is arguing that the prosecutor and Democrats seek to silence his political movement — is a thorny question for the bench.
There's little question that Trump would figure out how to turn a gag order into political gold with his base, even if there are particular words he can't utter. He is making that clear by announcing his intent to make a speech the day of the arraignment. So, once again, Trump is pushing democratic values into uncharted — unprecedented — territory.
Former Manhattan DA warns Trump could face further legal trouble if he threatens judicial system
Former Manhattan District Attorney Cyrus Vance Jr., who began the investigation that led to Donald Trump's indictment, condemned the former president's attacks against his successor on Sunday and warned that another criminal offense could "change the jury's mind about the severity of the case."
In an interview on NBC News' "Meet the Press," Vance said, "I've got to say that I was disturbed to hear the former president speak in the way he spoke about the district attorney, [Alvin] Bragg, and even the trial court in the past week."
Trump escalated his rhetoric in the weeks ahead of the grand jury vote, warning of "potential death and destruction" should he be indicted, and referred to Bragg as an "animal."
Vance, who left the Manhattan DA's office at the end of 2021, suggested that Trump could face further legal backlash if he continues to wage attacks against Bragg and the judicial system, which he says could sway the jury in the case.
GOP Sen. Bill Cassidy gives first comments on Trump's indictment
Sen. Bill Cassidy, R-La., reacted for the first time to Trump's indictment on "Fox News Sunday," saying in part, "No one should be above the law, but no one should be a target of the law."
"As [former Attorney General] Bill Barr has said, this is less about the crime and more about the target. So it has to play out," Cassidy said. "This is kind of set in motion, but on the other hand, what I think is the particular problem is it's going to lead to all kinds of political theater that is going to distract from addressing the issues that are incredibly important to our country right now."
Cassidy was one of seven Republicans who voted to convict Trump during the second impeachment trial in the wake of the Jan. 6 attack on the Capitol. Cassidy also previously said he would not support Trump for president in 2024, prompting Trump to attack him as a "RINO," or Republican in name only.
Trump announces Mar-a-Lago speech Tuesday night
Former President Donald Trump will give remarks Tuesday evening at his Florida resort, his campaign announced Sunday.
Trump is expected to surrender to authorities and be arraigned earlier that day in Manhattan. The former president was indicted Thursday and is facing about 30 charges in New York City related to document fraud connected to hush money he allegedly paid to cover up affairs, NBC News previously reported.
The exact charges are unknown because the indictment remains under seal until Trump appears in court for his arraignment. That is expected on Tuesday, though Manhattan District Attorney Alvin Bragg could unveil the charges sooner. News organizations, including NBC News, have asked the judge for the indictment's immediate release.