What to know about a possible Trump indictment
Former President Donald Trump faces possible criminal charges in New York relating to a hush money payment to adult film star Stormy Daniels in 2016.
The possible crime Manhattan District Attorney Alvin Bragg is investigating is whether Trump falsified business records. The key witness who has gone before the grand jury was Michael Cohen, Trump's former attorney and fixer, who made the payment to Daniels.
Trump maintains he has committed no crime, and his attorneys argue he was the victim of extortion. He has been critical of Cohen, Bragg and Daniels.
The legal underpinnings of the proceeding appear far from open-and-shut. Read more here.
Robert Costello releases 300 Michael Cohen-related emails
In an attempt to undercut the Manhattan DA's key witness in the Trump case, former Michael Cohen legal adviser Robert Costello on Wednesday shared with NBC News hundreds of emails about Trump's former "fixer."
The emails, which Costello said he handed over to Manhattan prosecutors this week, show the former federal prosecutor has given a consistent account of his dealings with Cohen over the years but do not appear to include any kind of smoking gun pertaining to the hush money probe.
After he testified before the grand jury Monday, Costello told reporters that prosecutors "cherry-picked six emails" from the 321 he said he had turned over to the DA's office. "Of course they took them out of context," said Costello, who portrayed Cohen as a liar in his testimony. "You need to see each and every email," he continued, adding, "There must be 100 instances in those documents of him lying to us."
The bulk of the emails, however, are not exchanges between Costello and Cohen; instead, many are messages Costello sent to Cohen that went unanswered, as well as messages from Costello and other lawyers complaining that Cohen was not returning their calls or emails or forwarding one another and Cohen news stories about his case.
Among the exchanges in which Cohen engaged with Costello are messages showing he appearing to string Costello and his firm along, reassuring them he wanted them on his legal team while repeatedly postponing signing a retainer agreement. No agreement was ever signed, and Cohen denied in later emails that he'd told Costello he wanted him on his legal team, despite earlier emails to the contrary.
In the emails, Cohen also denied to Costello reports that he was going to "flip" on Trump — which he later did. He pleaded guilty in 2018 to criminal charges that included arranging hush money payments on Trump's behalf, including the one being investigated by the DA, and lying to Congress.
The only message that appeared to be directly relevant to the Manhattan DA's case was from December 2018, when Costello emailed a colleague saying Cohen had once told him "he had nothing on The President."
Costello told reporters Monday that he testified about Cohen's former stance in his appearance before the grand jury, where he waived immunity. Costello said he did so because he felt he didn't need immunity because he was telling the truth.
The six emails Costello said the DA shared with the grand jury appeared to show Costello acting as a middleman for another of his clients, Trump ally Rudy Giuliani. On April 19, 2018, two days after Costello first met with Cohen, Costello told him Giuliani would be joining Trump's legal team. "I told you my relationship with Rudy, which could be very very useful for you," Costello wrote.
On April 21, 2018, Costello wrote to Cohen that he'd spoken with Giuliani and that he was "thrilled" Costello was joining his team, news Giuliani allegedly told him he'd pass on to Trump. "He said thank you for opening this back channel of communication and asked me to keep in touch," Costello wrote of Giuliani.
Weeks later, after Cohen hadn't returned several of his calls and emails, Costello wrote to another lawyer at his firm, saying, "Our issue is to get Cohen on the right page without giving him the appearance we are following instructions from Giuliani or the President."
According to notes Costello shared with NBC News from a meeting he had with federal prosecutors in Manhattan in April 2019, the back channel reference meant "just a channel, not secretive." The interview, which was consistent with how he described his grand jury testimony, was voluntary and could have exposed Costello to criminal charges had he lied.
Costello said he shared the same notes with Trump's lawyers and the DA's office.
Cohen pushed back Monday against several of Costello's claims, including that he'd signed a waiver of attorney-client privilege, which would allow Costello to speak publicly about their interactions. Cohen said on MSNBC, "I don't recall waiving anything."
"If there was something that was signed, perfect. I will own the fact that I'm making a mistake. But I don't recall signing" such a waiver, he added.
Costello shared a copy of the waiver Cohen signed, dated Feb. 7, 2019.
Costello and a lawyer for Cohen did not immediately respond to a request for comment early Wednesday evening.
How many cases is Trump facing?
The former president faces legal cases — both criminal and civil — in a number of places. Trump has denied wrongdoing in all of the pending cases.
Manhattan DA plans to convene grand jury Thursday
The Manhattan DA plans to convene the grand jury again Thursday, according to two sources familiar with the matter.
Manhattan DA Alvin Bragg seen leaving his office Wednesday
Bragg was seen leaving his office shortly before 5 p.m. ET Wednesday.
Earlier in the day, his office told members of the grand jury that they should be on standby for tomorrow, two sources familiar with the matter said.
'Joker' sequel to film scene including fictional explosions outside N.Y. courthouse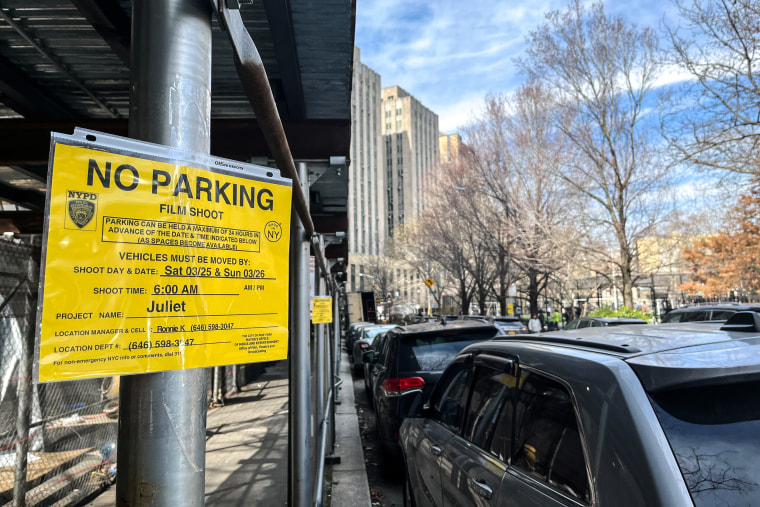 "Joker: Folie à Deux," a sequel to the 2019 film "Joker," is slated to be shooting in front of the courthouse over the weekend — the same courthouse where onlookers and media are assembled waiting for a possible Trump decision.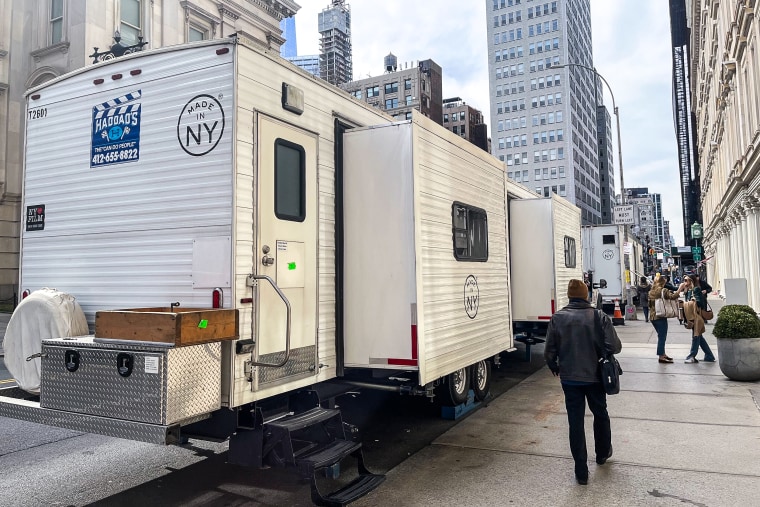 A scene from the film that will be shot in the area is expected to include 700 protesters; Lady Gaga, who is starring in the film; stars; and explosions.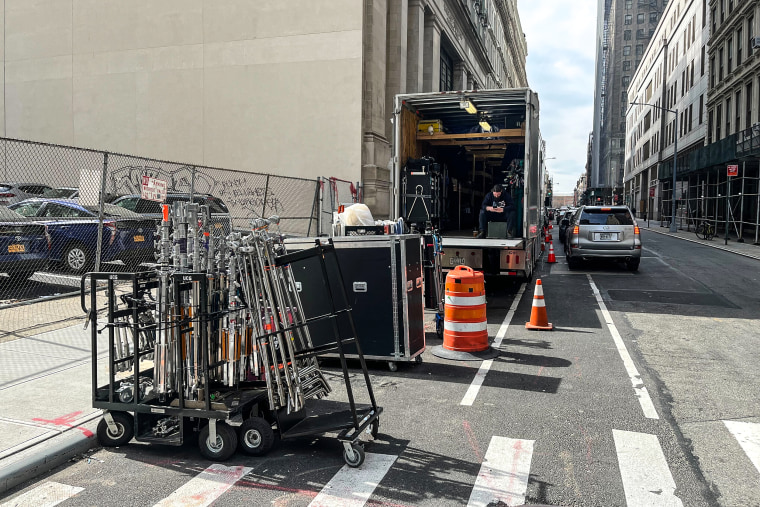 Trump ally Bob Costello says he 'threw a wrench' into hush money case
Former Cohen adviser Bob Costello said today that Bragg should "call a timeout" in the hush money case involving Trump and decide whether to proceed.
"They should be having second thoughts about moving forward. My statements are truthful and go back years. In legal terms, they are called prior consistent statements. I think I threw a wrench in their monkey works," Costello told NBC News after it was reported that Bragg's office told the grand jury not to come in today.
Costello, who testified before the grand jury on Monday on Trump's behalf, said that Cohen waived his attorney-client privilege with Costello and as a result, Costello said he "can now talk about everything he said to me."
"It's highly unusual that he did that,  it was stupid and the dumbest thing he has ever done," Costello said. "Cohen told [MSNBC'S] Ari Melber he never waived the privilege, which is a lie. He gave a gift to Donald Trump. None of the stuff he does makes sense."
Trump's team targets legal strength of Manhattan DA's case
Trump, who has used social media to wage a political assault on Bragg's office, has focused his attacks on undermining perceptions about the legal strength of the district attorney's alleged case against him.
In a post on Truth Social today, Trump claimed, without evidence, that Bragg was having a "hard time" with the grand jury and that the district attorney was constructing a case that has "NEVER BEEN BROUGHT BEFORE AND ACTUALLY, CAN'T BE BROUGHT."
A study conducted by Just Security, a left-leaning blog, shows that New York DAs commonly prosecute people for falsifying business records, a charge likely to be included in a potential Trump indictment.
But his campaign circulated an excerpt of a New York Times article that examined the challenges Bragg might face in connecting the case to Trump's 2016 election campaign. For a crime of falsifying business records to carry a felony charge, it has to be used to conceal or commit another crime.
"Bringing an untested case against anyone, let alone a former president of the United States, carries the risk that a court could throw out or narrow the case," Trump's campaign quoted the article as saying.
Trump indictment is 'inevitable,' his former chief of staff says
Mick Mulvaney, Trump's former acting chief of staff, said today that the ex-president's indictment seems "inevitable."
"I think it's inevitable he's going to get charged for something in the next couple of days," Mulvaney told NBC News.
He added, "I don't think he's going to get arrested anytime soon."
Mulvaney served as Trump's top adviser for more than a year before a stint as special envoy to Northern Ireland. He resigned from his post after the Jan. 6, 2021, attack on the U.S. Capitol by Trump supporters.
"Law and Order: SVU" episode films down the street from courthouse where grand jury meets
Only in New York: An episode of the popular NBC series "Law and Order: Special Victims Unit" was being filmed in lower Manhattan on Wednesday.
NBC News national correspondent Gabe Gutierrez described it on MSNBC as a "surreal scene" in the area, with more security barricades, larger police presence — and the filming of "Law and Order."
Some of the actors who were there included Ice-T, who plays a detective, Odafin 'Fin' Tutuola, and Peter Scanavino, who also plays a detective, Dominick 'Sonny' Carisi Jr.
Grand jury told not to come in today
The New York grand jury that's been investigating the hush money case and is expected to soon consider an indictment of Trump has been told not to come in today, NBC News confirmed.
The Manhattan District Attorney's Office told the members that they should be on standby for tomorrow, two sources familiar with the matter said.
Business Insider was the first to report the delay.
The grand jury last met Monday when its members heard testimony from key Trump ally Robert Costello. The jury has been meeting Mondays, Wednesdays and Thursdays.
Trump probe: What exactly is an indictment?
If the Manhattan DA presses a felony criminal charge against Trump, it will necessarily be through a process called an indictment.
Indictments are the only way a formal felony charge can be brought against a defendant in New York state. They are voted on by a grand jury, which typically has 23 people on it.
Prosecutors present their evidence to the grand jury — in this case that's included testimony from former Trump lawyer Cohen — and at the end of the presentation, instruct the grand jury on the charges and the law.
The panel then votes on whether or not to indict. At least 16 grand jurors need to be present for the vote, and the vote does not need to be unanimous. If 12 people vote in favor of the charge, the prosecutor would draft an indictment and the jury foreperson would sign it.
It then gets filed with the court under seal, and generally does not become public until the defendant appears in court to answer the charge at a hearing called an arraignment.
The indictment process in New York is skewed heavily in favor of the prosecution — they only have to show there's reasonable cause to believe a felony crime has been committed — a far lower standard than the standard of "beyond a reasonable doubt" needed to get a conviction, and prosecutors can be selective in what evidence they present to the panel. The targets do not get to present a defense before the grand jury, although they do have a right to testify on their own behalf. Trump decided not to exercise that right as do most defendants, because that testimony can be used against them at trial.
The imbalance has long been criticized by defense lawyers and even some judges. "If a district attorney wanted, a grand jury would indict a ham sandwich," the state's then-chief judge, Sol Wachtler, said in 1985.
Sen. Tim Scott responds to a possible Trump indictment
Sen. Tim Scott, R-S.C., a potential 2024 presidential candidate, commented for the first time on the possible Trump indictment in an interview with local South Carolina radio station WGTK-FM 94.5.
"Here's what we know about District Attorney Bragg," Scott said. "He does not want to lock anybody up as it relates to violent criminals. He's the guy that wants no jails. The only thing he wants to do is weaponize the law against his political enemies. President Trump is a victim of that."
"Well, here's what we know for sure. This is a travesty and it should not be happening, especially in the greatest country on Earth," he added. "That's one of the reasons why as I tour the country on the Faith in America tour, people are starving for truth. They're starving for hope. They want the rules to apply. And what we're seeing with DA Bragg is exactly the opposite. He's weaponizing his power to go after his enemies, not our nation's."
Emails and communications between Daniels and Trump attorney turned over to Manhattan DA
Emails and communications between Daniels and Trump attorney Joe Tacopina's law firm dating back to February 2018 have been turned over to the Manhattan District Attorney's Office.
NBC News learned that Daniels' attorney, Clark Brewster, sent them to the office. This was first reported by CNN.
The emails provide details about the nondisclosure agreement Daniels signed with Trump, much of which was confidential, Brewster said. He also said that the emails led to a conference with Tacopina, which Tacopina denies.
When NBC News asked Tacopina last week about contact he had with Daniels, he said, "Of Course not!, Never met her. Never spoke to her. She tried to hire me by calling my office and spoke to a paralegal, but I never spoke to her or took her case."
How often has the Manhattan DA charged falsification of business records?
Prosecutors in New York have filed 117 felony counts for falsification of business records since District Attorney Alvin Bragg assumed the role, according to internal data kept by the office.  
Those cases include 29 individuals and companies. The New York Times was first to report the data.
Such context could become important if, in fact, that's what the office charges Trump with for his involvement in the hush money payment to Daniels.
Trump says Bragg is 'searching for yet another witness'
In a social media post yesterday, Trump suggested that Manhattan District Attorney Alvin Bragg was "searching for yet another witness" to testify against him, although he didn't say who that person may be or what the individual could talk about — or how he would know that information.
Cohen told reporters this weekend that the DA had asked him to be available Monday in case he was needed as a rebuttal witness after Bob Costello, another attorney from Trump's orbit, testified Monday.
But after leaving the courthouse, Cohen said no additional testimony from him was needed.
The grand jury proceedings are taking place behind closed doors amid intense speculation about when the panel could vote on possible charges. Another witness would likely further delay a resolution.
'Reeks of political revenge': Republicans circle the wagons around Trump
Ahead of a possible indictment, Republicans in Congress have largely rallied to Trump's defense. Sen. Cynthia Lummis, R-Wyo., yesterday said the case seemed "politically motivated."
"You know, President Trump, before he ran the first time, and ever since then, has been the subject of so many investigations, so many allegations that I just don't think it sticks to him anymore," she said. "You know, people either love him or they hate him and that's the way it is now. I think that's the way it'll continue to be. So I don't see it as influencing this election."
Sen. Lindsey Graham, R-S.C., said, "I just think it just kind of reeks of political revenge." Graham is a close ally of the former president.
Why is everyone asking if Trump got arrested yet?
In recent days, it has become apparent that a grand jury in New York could be nearing a vote on possible charges against Trump.
No one from Bragg's office has come out and said that's the case — that would violate the rules governing grand juries. But public signs, comments and reporting point to a likely resolution soon.
Trump this weekend even stoked speculation that action was imminent when he posted on social media that he was going to be arrested. His spokesperson later said that he had not been informed by Bragg's office that was the case.
The grand jury could vote on an indictment today. Or not. If it did, the indictment could become public within hours. But it could also be kept secret, or "under seal," for days or even weeks.