First lady Melania Trump, who spent the first part of Friday unable to leave her Hamburg residence, was sent in to end the meeting between her husband and Russian leader Vladimir Putin after it ran overtime, Secretary of State Rex Tillerson said.
President Donald Trump and Putin, Tillerson explained, had such good chemistry that they didn't want to stop talking even after their scheduled time was up. The task then fell to the first lady to nudge them toward finishing up.
"It didn't work," Tillerson told reporters. The meeting between Trump and Putin went on for another hour after that, and lasted more than two hours in full.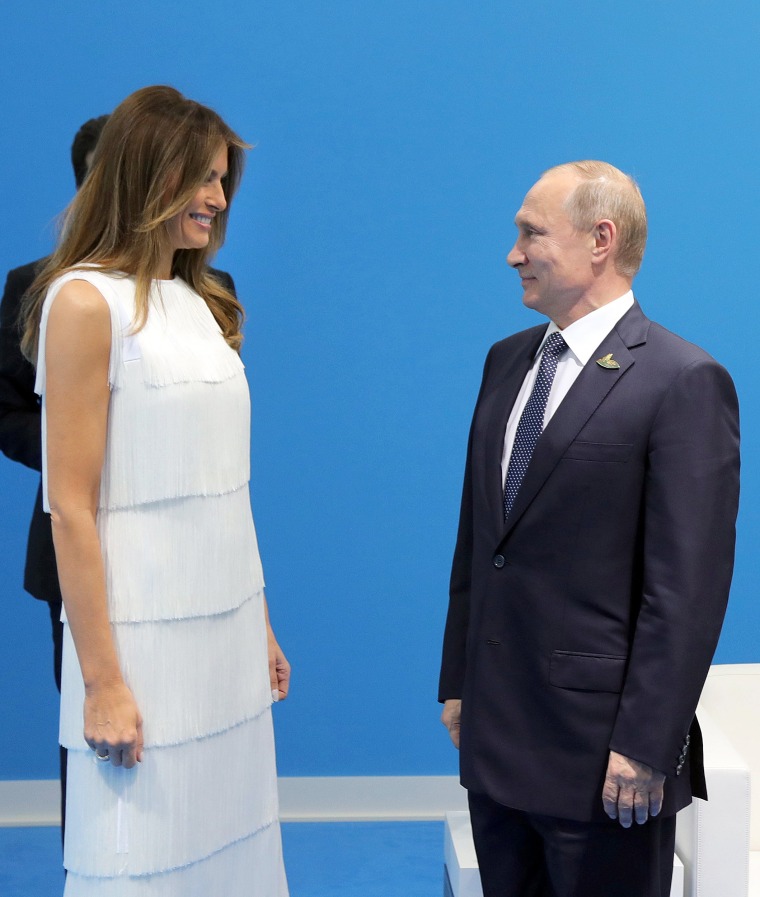 Earlier, Melania Trump had been scheduled to partake in a tour of the German Climate Computer Center with the husband of German Chancellor Angela Merkel. But she was prevented from leaving the residence where she and the president are staying due to security concerns stemming from ongoing protests outside the G-20 summit in Hamburg, the White House said.
Violent protests have raged throughout the northern German city ahead of the international conference, a gathering of the leaders of major economies.
PHOTOS: Handshakes and Water Cannons as G-20 Kicks Off
The demonstrations continued Friday morning, prompting Hamburg police to refuse clearing Trump from leaving her residence for a time, said Stephanie Grisham, the first lady's communications director.
The ongoing melee, however, didn't prevent the first lady from tweeting her well-wishes at those who were injured in the demonstrations.
"Thinking of those hurt in #Hamburg protests. Hope everyone stay safe! #G20," she tweeted Friday morning.
Clashes had first broken out near the site of the summit Thursday, with German riot police confronting thousands of protesters who had taken to the streets amid the arrival of President Donald Trump.
Upwards of 10,000 people belonging to an array of anti-Trump and anti-capitalist groups — many wearing masks — stormed the streets in a protest some had dubbed "Welcome to Hell," with some participants attacking authorities, setting fires, hurling rocks at officers and buildings, chanting slogans and touting angry banners. German riot police, in turn, attempted to disperse the protesters with tear gas, smoke bombs and water cannons.
At least 15 Hamburg police officers were injured in the unrest after unruly crowds hurled stones and bottles at them, authorities said.
Even after authorities in Hamburg, Germany's second-largest city, appeared to regain control in some areas, smoke and gas from the munitions used by police billowed through the air, creating an unsettling backdrop for the summit.