WASHINGTON — Michael Cohen, Donald Trump's former longtime attorney, said he met for roughly two-and-a-half hours Wednesday with Manhattan District Attorney Alvin Bragg in connection with a grand jury that's hearing testimony about hush money paid to an adult film star who alleges she slept with the former president.
Cohen had announced the meeting with prosecutors on his Political Beatdown podcast, saying on Tuesday it would be his "15th appearance" with the district attorney's team to discuss the matter.
In an interview after Wednesday's meeting, Cohen told MSNBC's Nicolle Wallace that he would be meeting with the DA's office again.
"I will be returning to the district attorney's office," Cohen said, while declining to provide details on the timing.
NBC News reported in late January that prosecutors convened a grand jury to hear testimony for Bragg's probe into the $130,000 payment to Stormy Daniels during Trump's 2016 campaign.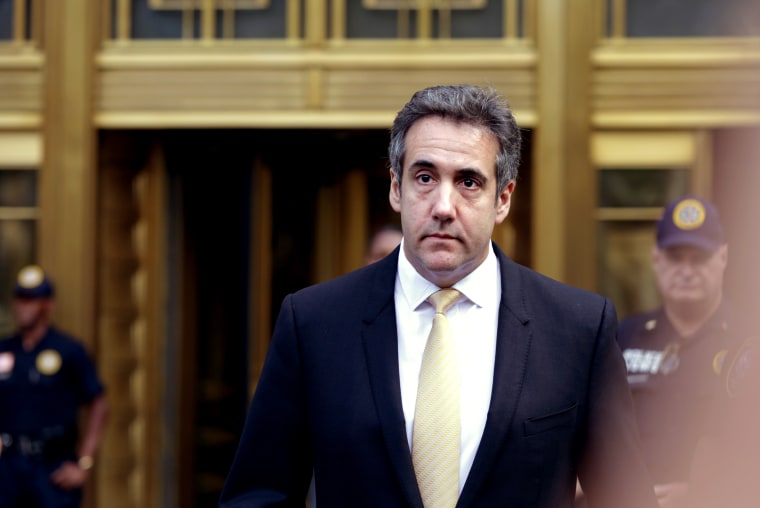 Cohen's meeting comes a day after Mark Pomerantz, who previously led the Manhattan district attorney's investigation into Trump's alleged financial crimes, said in a new book that the case against Trump is strong and that Bragg should have filed charges against the former president.
Bragg said Tuesday that he hadn't read Pomerantz's book, "but I continue to be concerned that it could jeopardize or undermine our ongoing investigation."
On his podcast Tuesday, Cohen pushed back on criticism of Bragg's handling of the investigation.
"I do believe that Alvin Bragg is serious," Cohen said. "I think he legitimately believes that there is a case to be made against Donald Trump."
In 2018, Cohen pleaded guilty in federal court to making the illegal payment to Daniels for the "principal purpose of influencing" the 2016 presidential election and said he did so at Trump's behest. Cohen was sentenced to three years in prison for that and other crimes.
Trump has denied ever having slept with Daniels, but he acknowledged that he repaid Cohen the $130,000.
In 2018, Trump tweeted that the money was "not from the campaign" and that the deal had been "a private contract between two parties, known as a non-disclosure agreement, or NDA."
"The agreement was used to stop the false and extortionist accusations made by her about an affair ... despite already having signed a detailed letter admitting that there was no affair," Trump said on Twitter.