"Morning Joe" hosts Joe Scarborough and Mika Brzezinski on Friday morning forcefully responded to President Donald Trump's Twitter attack, saying it was "amazing how many lies he packed into two tweets."
The pair postponed their vacation to appear live on their MSNBC show in the wake of his Thursday morning tirade that drew outrage from across the political spectrum. They said they received calls and texts from concerned friends and family, but stressed that the president's disparaging remarks aren't really about them.
"We had so many people saying, 'Hope you're OK.' 'Hope you're OK,'" Scarborough said. "We're OK. The country's not."
Brzezinski said: "I think it's been fascinating and frightening and really sad for our country."
In the tweets, Trump used insulting names against the cable news hosts, but the comment that drew widespread condemnation was his claim that Brzezinski "was bleeding badly from a face-lift" when he saw her on New Year's Eve.
Scarborough on Friday said the president has an "unhealthy obsession with Mika" and is "much more vicious with women."
"He appears to have a fragile, impetuous, childlike ego that we've seen over and over again, especially with women," Brzezinski added.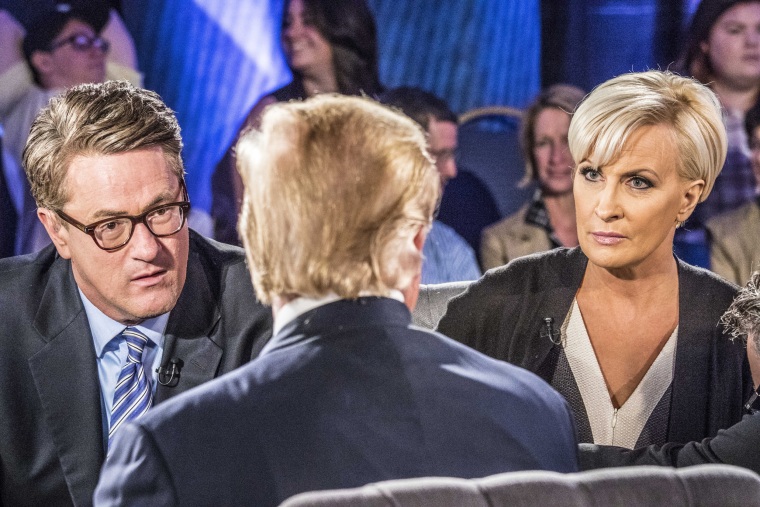 Before Trump tweeted Thursday morning, Scarborough and Brzezinski were on "Morning Joe" discussing reports that Time magazine had asked the Trump Organization to remove phony covers featuring him from several of his golf clubs.
"I thought it was hilarious ... I knew in real time that the president would be tweaked by that," Brzezinski said.
"It is unbelievably alarming that this president is so easily played by a cable news host," she added.
Trump tweeted a response about two hours after Brzezinski and Scarborough went on air Friday, saying he tuned in to the show, "for first time in long time."
Scarborough then tweeted: "Yet another lie. I have texts from your top aides and phone records. Also, those records show I haven't spoken with you in many months."
Scarborough said on the show that the National Enquirer was working on a story about him and Brzezinski, but that the tabloid would "spike" the story if they apologized to the president for their coverage of him.
"Donald is friends with the guy who runs the National Enquirer," Scarborough said on the show.
"They were pinning the story on my ex-husband," Brzezinski added. "And I knew he would never do that. So I knew it was a lie and they had nothing."
National Enquirer editor-in-chief Dylan Howard responded after the show that a story was reported in early June about Scarborough and Brzezinski's relationship, but that "at no time did we threaten either Joe or Mika or their children in connection with our reporting on the story. We have no knowledge of any discussions between the White House and Joe and Mika about our story, and absolutely no involvement in those discussions."
In a Friday op-ed in The Washington Post, Scarborough and Brzezinski said they were concerned that Trump's "unmoored behavior" is going beyond personal attacks.
"America's leaders and allies are asking themselves yet again whether this man is fit to be president," they wrote. "We have our doubts, but we are both certain that the man is not mentally equipped to continue watching our show, 'Morning Joe.'"
"The president's unhealthy obsession with our show has been in the public record for months, and we are seldom surprised by his posting nasty tweets about us," Scarborough and Brzezinski wrote, adding that they "believe it would be better for America and the rest of the world if he would keep his 60-inch-plus flat-screen TV tuned to 'Fox & Friends.'"
The pair said on "Morning Joe" that it was Trump, then-president-elect, who invited them to dinner at Mar-a-Lago on Dec. 30. Scarborough said Brzezinski opted not to go, but then she changed her mind after Trump asked Scarborough if she could visit the next day.
Brzezinski said they had a short meeting with Trump and the first lady that following night before quietly exiting.
"We were shuffled into a side room — it was actually a bedroom — talked for 20 minutes. We left through this party of people dressed to the nines," she said.
They also disputed Trump's claim about Brzezinski's face, writing in The Post that "Mika has never had a face-lift." Brzezinski said on "Morning Joe" that she had skin under her chin "tweaked."
Related: Trump's Diatribes Against the Press Are Producing a Backlash
"He takes something small, he tries to weaponize it," Scarborough said. "This has been one of our great frustrations. He just ends up hurting himself."
Scarborough said he was alarmed when he got a call from a member of Congress who told him that Trump was speaking to about 20 lawmakers on the health care bill when the talk suddenly shifted to the "Morning Joe" hosts.
The congressman said the president mentioned how Brzezinski had been bleeding from an apparent face-lift and appeared in a rage, according to Scarborough.
"This congressman said, 'I don't even know why I'm calling you, but I was scared for you guys and wanted you to know,'" Scarborough said.
MSNBC issued a response Thursday as the comments sparked backlash from both sides of the aisle and reignited Trump's past remarks related to women that have been decried as sexist.
When asked about Trump's tweets, House Speaker Paul Ryan told reporters Thursday: "Obviously I don't see that as an appropriate comment."
Several members of Trump's own Republican Party tweeted messages denouncing the president's posts.
Trump was a frequent guest on "Morning Joe" during the start of his 2016 presidential run. But his contentious relationship with the media has only grown since taking office earlier this year. He attacked CNN, The Post and The New York Times on Twitter earlier this week.
White House spokeswoman Sarah Huckabee Sanders responded to the furor by saying that voters "knew what they were getting when they elected Donald Trump." She said Trump was defending himself against continuing personal attacks from the "liberal media."
"The president has been attacked mercilessly on personal accounts by members on that program ('Morning Joe'), and I think he's been very clear that when he gets attacked he's going to hit back," Sanders said at a Thursday press briefing.