New Hampshire Democrats are hoping to turn the November midterm elections into a referendum on a new law barring part-time residents from voting in the state.
Last week, Gov. Chris Sununu, a Republican, signed into law House Bill 1264, requiring students and other part-time residents to become permanent residents of the state if they want to vote. Currently, students must show they are "domiciled" in the state when they register to vote.
The new law will force permanent residents to comply with laws such as state motor vehicle registration. Students with cars, for example, would have to pay for a new, in-state driver's license and register their cars in the state, a cost critics argue could deter the historically Democratic voting bloc from the ballot box.
"It's a poll tax," said Garrett Muscatel, a Dartmouth College student and candidate for state representative. "Especially on students who may not be New Hampshire residents permanently, but they live here and they spend most of their time here, and they want to be members of their community."
Republicans have said changing the law is crucial to restoring trust and integrity in elections as allegations of voter fraud (unproved so far) run rampant. Democrats say that if the party regains control of the state government in 2018, they'll do away with it.
Muscatel, who is also a plaintiff in a lawsuit against another restrictive voting bill, Senate Bill 3, said the new law was one of the reasons he decided to run for office.
And he knows the costs of becoming a resident first hand: Muscatel said he recently spent $300 to register his car in preparation for his Statehouse bid. The process, which he said took about a month, included obtaining a letter from the university affirming his campus residency to prove to the town clerk that he lived there, and a 45-minute drive each way to the New Hampshire Division of Motor Vehicles.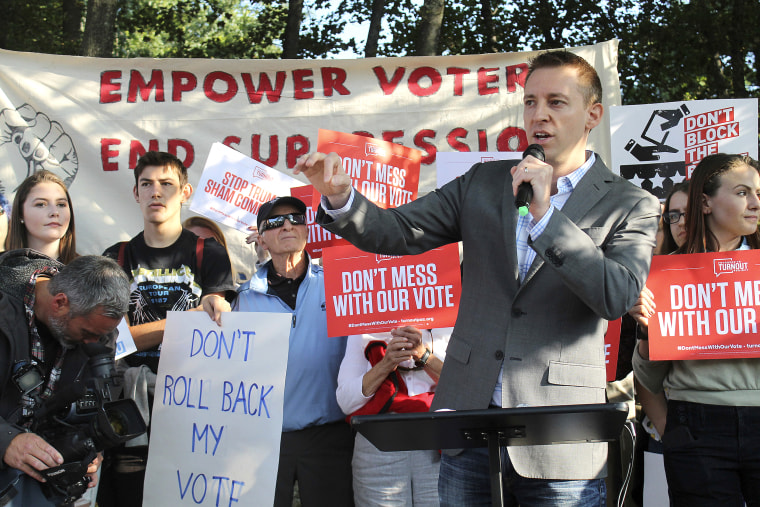 "It's one of the most devious voter suppression laws we've seen in the last few years," said Jason Kander, president of the national voting rights group Let America Vote and a candidate for mayor in Kansas City.
Republicans "decided to make New Hampshire a pilot project in generational voter suppression," he continued.
Let America Vote will be sending volunteers door-to-door across the state to campaign against Sununu and legislators who voted for the law.
"It's 2018 in America, if you are making it harder to vote, we have a solemn duty to make it harder for you to get re-elected," Kander, a former secretary of state in Missouri, told NBC News.
NextGen America, an advocacy group founded by billionaire Tom Steyer, also is organizing around the issue, recruiting young voters, running phone banks and knocking on doors in swing districts where the youth vote is a key factor.
The bill's primary sponsor, state Rep. Sherman Packard, a Republican, dismissed the criticism.
"This was aimed at making sure that the people who vote in the state of New Hampshire are the residents of the state of New Hampshire," Packard said. "This is nothing but a bunch of B.S. — sorry — coming out of the Democrats. We're not trying to suppress anyone."
Broadly, residency requirements are not new to voting. In 2016, 26 states required voters to have lived in the state for a period — from 10 to 30 days — before voting, according to the National Council on State Legislatures.
In New Hampshire, which has had one of the nation's highest turnout rates, the state legislature last year passed Senate Bill 3, a bill that put in place new requirements for same-day voter registration and steep penalties for failure to comply. The New Hampshire Democratic Party and the League of Women Voters sued; a hearing over whether to continue holding off on implementing the law is expected next month.
"Republican leadership does not value the priorities of young people to the point where they don't even want them to vote," said Lucas Meyer, president of the New Hampshire Young Democrats. "We should be doing everything we can to right this wrong."