From coast to coast, thousands of people across the U.S. have spent their President's Day holiday weekend attending rallies sparked by Donald Trump's anti-immigration policies.
Rally goers wielding signs in Dallas, Los Angeles and New York poured into the streets on Saturday calling for the establishment of sanctuary cities in order to end ICE raids. On Sunday, more than a thousand people rallied in New York City in support of Muslim Americans.
Meanwhile, hundreds of scientists took to the streets of Boston urging Trump to recognize climate change and tackle environmental issues. They held signs in the shape of telescopes and beakers that read "Scientists Serving the Common Good." The rally was taking place at the same time as the city's yearly American Association for the Advancement of Science conference.
Here's a look at other rallies scheduled for Monday.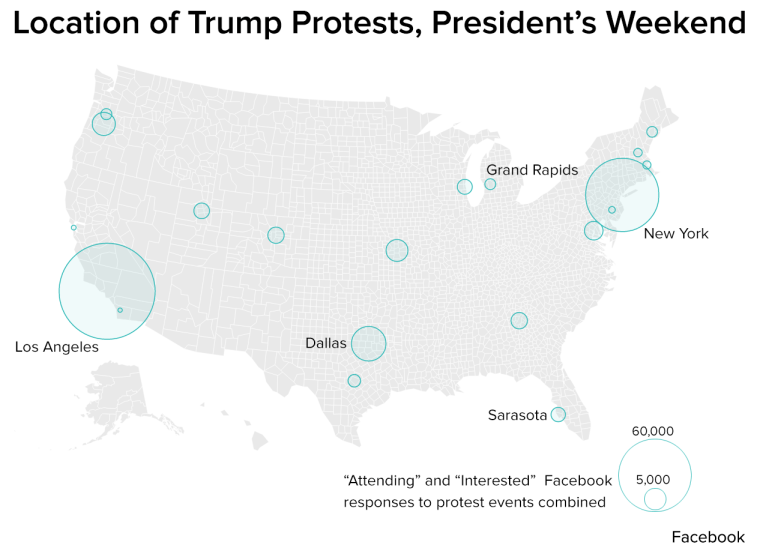 "Not My President's Day — Rally," Los Angeles
This Los Angeles' "Not My President's Day" rally was the first of its kind to pop up on Facebook, inspiring many of the other "Not My President's Day" rallies that are taking place across the country this weekend. The purpose of the Monday rally is to show that President Trump "has attacked every value Californians embody," according to its Facebook page, where 4,200 have signed up to attend.
"Not My President's Day — Rally" New York
More than 14,000 New Yorkers are said to be attending the peaceful rally while 47,000 said they were interested in going on Facebook. Kashish Samsi, "Stronger Together" singer; disability activists Elizabeth Melas and Anastasia Somoza; and Youngsters Against Trump are some of the scheduled speakers. Arts for Art and The Resistance Band will be performing, according to Nova Calise, the rally organizer.
"Not My President's Day Rally" Washington, D.C.
Members of the D.C. community plan to come together Monday to "stand in support of our brothers and sisters of different nationalities, backgrounds, races, religions, ability and sexual identity," to show that "Donald Trump's hate does not have a mandate anywhere, especially not in our District." Speakers will be announced on the rally's Facebook page and Twitter over the weekend, Meghan Loisann Schneider, one of the coordinators, said.
"Not My President's Day — Rally" Chicago
Unlike the several of the rallies, one planned for Chicago on Monday claims not to have a specific message, but a pointed purpose: unity.
Focusing on just one issue, like immigration, would serve the administration's purpose and further divide the country, Laura Hartman, Chicago rally coordinator, explained.
"We want to fight the entirety of the administration," she said.
Members from the ACLU, the American Federation of Government Employees, Sousaphones Against Hate, and others from NMPD's partner organizations are scheduled to speak at the event where nearly 4,000 people are expected.
There is also a planned reading of Coretta Scott King's 1986 letter to the Senate opposing Jeff Sessions, that Elizabeth Warren was silenced while reading earlier this month.
"Presidents Day Protest KC," Kansas City, Missouri
More than a thousand people are signed up on Facebook for Monday's rally in Kansas City, Missouri, which bills itself as an "informative gathering to hear from grassroots local and national organizations," community groups and private citizens.
"Not My President's Day Rally," Denver
Hundreds of people plan to attend a rally at the Colorado State Capitol in Denver on Monday. "Let's show this administration that Denver will continue to denounce these vile policies," organizers wrote on Facebook.
"Not My President's Day March," Milwaukee, Wisconsin
The Milwaukee Coalition Against Trump is planning this Monday rally and march to Sen. Ron Johnson's office that hundreds have signed up to attend.
"Not My President's Day," Salt Lake City
Salt Lake City's Monday sister march has garnered hundreds of attendees. Organizers bill the event as non-partisan "for anyone who objects to any of the harmful policies and fringe issues put forth by the new White House administration."
"ImPEACH NOW! (Not My) President's Day March," Atlanta
Georgia organizers are planning a "peach-ful" march on Monday in Atlanta that hundreds of demonstrators have signed up for on Facebook.