New York Gov. Andrew Cuomo is expected to act soon on a pair of bills aimed at President Donald Trump, the governor's office said.
Cuomo has expressed support for both bills, one aimed at making it easier for Congress to obtain the president's state tax returns and the other seeking to curb his pardon power.
State lawmakers were unsure about why the bills have languished as long as they have since being passed by the state Legislature in May.
"We've been clear in our support for this legislation, however, more than 900 bills passed both houses of the Legislature this session and each one is closely reviewed by our Counsel's office to ensure that they are drafted correctly and do what they say they do," Rich Azzopardi, a senior adviser to Cuomo, told NBC News in a statement. "That said, we anticipate taking action on these bills soon."
Regarding the tax bill, a decision on signing it could come as soon as Wednesday. Sponsors of the pardon bill did not have an update on whether it would reach the governor's desk.
The tax legislation would amend state law, making it easier for New York to turn over the state tax returns of certain public office-holders, along with entities those people control or have a large stake in, that are requested by the leaders of the three congressional tax-writing committees.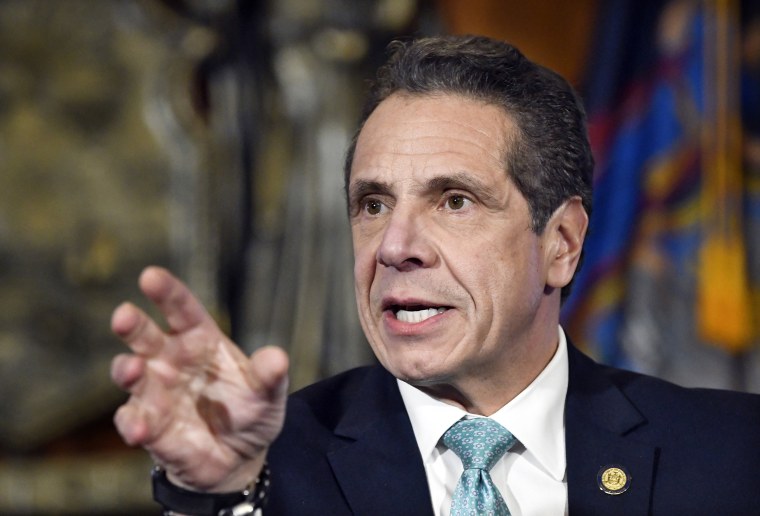 The other bill would allow state prosecutors to pursue charges against certain people even if they had received a presidential pardon.
The moves by the Democratically controlled state Legislature in Trump's home state were seen as a clear shot at the president, who has refused to release his tax returns and has spoken about the possibility of pardoning those accused or convicted of crimes stemming from former special counsel Robert Mueller's investigation.
The tax bill has been met with resistance from the one Democrat who could actually utilize it. House Ways and Means chairman Richard Neal, D-Mass., said he won't request the state returns because he feels doing so would harm his efforts at obtaining Trump's federal returns. Just this week, Neal sued the IRS and the Treasury Department for those returns.
The pardon bill, meanwhile, got a boost last month when the Supreme Court declined to change a longstanding rule saying someone being tried for the same crime more than once does not violate the Constitution's double jeopardy protection.