CIRCLEVILLE, Ohio - As questions swirl around what President Donald Trump knew about his former national security adviser's communications with Russia, many of his supporters who found hope in his economic message remain steadfast.
"I didn't like that it happened, but it did — and you've got to move on," said Jerry Leist, a retired farmer in the area, of Gen. Michael Flynn's abrupt Monday night resignation. "Am I concerned about it? Not nearly as concerned as I am about other things — jobs, immigration, other things. That's way above Russia, which will always be a problem."
Joyce Tatro-Manes, a middle school math teacher who says she wrote in John Kasich but "backed the Republican ticket" in November, told NBC News on Tuesday that her hopes for Trump's presidency had not changed since the Flynn story broke. However, she said she worries that Trump "is not going to be able to do all these great things that he promised if he's mired in controversy."
Related: Could Trump Really Bring Back Manufacturing Jobs?
Many residents of Circleville, with its population of 13,000, found hope in a jobs agenda that Trump promised would lift up hurting rural and industrial towns like theirs. Four years ago, Mitt Romney won this county — Pickaway County — by 19 percentage points. Trump beat out Democrat Hillary Clinton by 42 percent.
Over the past few days, a number of the president's supporters told NBC News that they remain confident that he will deliver on the campaign promise that earned their vote, echoing a sentiment that prevailed among his voters during Trump's tumultuous campaign,
"I think that when Donald Trump said he was going to bring more jobs, people genuinely believed him — because he really does usually do what he says," Tatro-Manes said this weekend from the sideline of her third-grade daughter's basketball game at Circleville's elementary school. She calls herself a lifelong Democrat and is the daughter of union members.
"To vote Republican in an election like this was a huge deal for me," she added.
"You couldn't believe it?" she said, turning to her husband, Dan Manes. He, with an acknowledging grin and shoulder shrug, replied: "I couldn't believe it."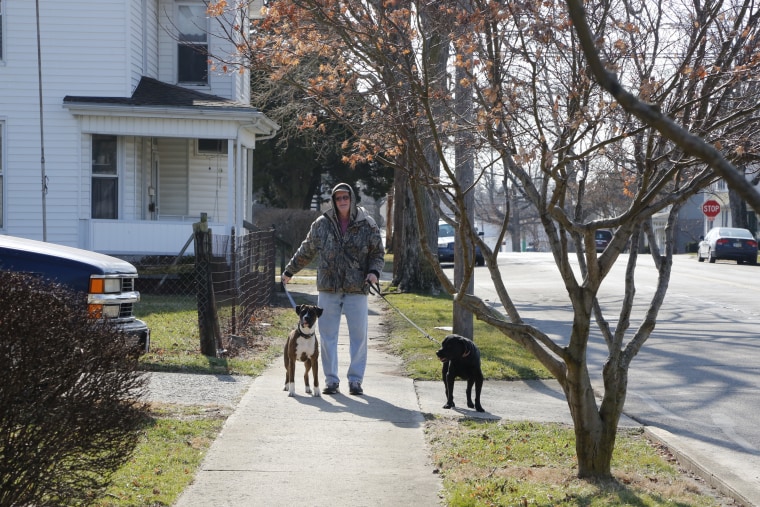 Manufacturing in Circleville has been on the decline for years. General Electric is moving forward with plans to close its plant this summer. When the Thomson Electric factory shuttered in 2004, it not only affected Pickaway County, but workers from eleven other central and southern rural Ohio counties. And the DuPont chemical plant, another longtime fixture here, is down to just 450 full-time employees, leaving the parking lot on the edge of the city now just halfway full.
Today, the largest employer is the county hospital.
"We do need more industry, more business that can help the people that live in this area. They need to be able to have a living wage," said Donna Butterfield, who retired from that DuPont plant after 30 years. She now works at Wittich's Candy Shop, where she noted that other younger employees cannot make ends meet purely from the shop's hourly pay.
"Most of the small businesses around here pay minimum wage. You can't pay rent, you can't pay your utilities on that low income," Butterfield said. Like others, Butterfield lamented the decrease in well-paying, blue-collar jobs that once fueled the city and made it an attractive place to reside.
Just 15 percent of Circleville's residents hold a college degree — half of the national average.
This is why a new tissue plant is the talk of the county this winter.
The Italian company Sofidel will soon hire 300 workers in what will be the county's first new plant since the 1980s. Employees who will fill the jobs on the floor are expected to earn $13, $14 or $15 an hour, a sturdy, living wage income for the county.
But the tissue plant is just a start in making up for what else community members openly fear is a decline in this still-charming town. Drugs have penetrated families. Homeowners bemoan the rise in rental properties. And the closed movie theaters are remembered fondly as sources of community entertainment.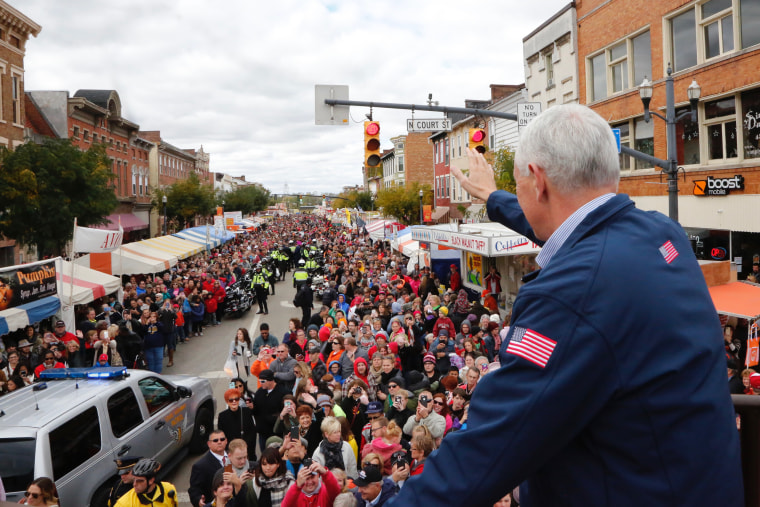 Among the voters here, there are those like Leist, whose Sunday school class at Circleville's Community United Methodist Church turned into a conversation centered on members' reasoning for backing the real estate mogul, who say Trump is "saying what I'd like to say to most politicians."
"We've never had the chance to say anything or do anything," he added.
For Leist and other voters like him, Trump represented a megaphone for their grievances and concerns about the fate of their community.
"My vote was not cast without prayer," said Linda Kennedy, who attends the same Sunday school class. "It's pretty hard to vote for someone who had said the kinds of things he had said in the campaign about people to people and not think that basically God could just strike me down for it — because he was horrible."
Kennedy noted that she had yet to tell anyone outside of her immediate family who she voted for in November.
She picked Trump, she said, because of the "idea of needing some change."