CLEVELAND — Former President Donald Trump tuned back in to Ohio's Senate primary at a pivotal moment this week — as Secretary of State Frank LaRose, one of the Republican contenders for the seat, answered for the failure of a ballot measure that he had championed.
But what caught Trump's attention wasn't so much LaRose's reaction to the landslide loss or the setback that loss represents to the GOP's anti-abortion rights base. Instead, Trump was keyed in to the final moments of LaRose's interview on NBC's "Meet the Press NOW" on Wednesday.
Host Chuck Todd asked if then-Vice President Mike Pence was right to ignore Trump's pressure to block certification of the 2020 election results. LaRose said he believed that Pence "made the best decision he could with the information in front of him."
Siding against Trump can be costly in GOP primaries, especially in states like Ohio, where Trump won twice by comfortable margins, and especially at a time when Trump's own poll numbers remain robust despite federal charges related to his efforts to overturn the 2020 election. LaRose's remarks were relatively lukewarm — he asserted that he wasn't privy to the same information that Pence was — but that didn't stop people from making sure that Trump heard them.  
"The video was sent to Trump by multiple people, and he has watched it," said a source close to Trump who requested anonymity to share details of private communications.
LaRose campaign strategist Brett Buerck sought to clarify the remarks Friday in a statement to NBC News.
"To be clear, Frank wasn't expressing agreement with or praise for the Vice President's actions," Buerck said. "His position is that a lot of people wish they'd done things differently on January 6th. Mike Pence made decisions based on what he knew at the time. Not everyone agrees that he did, and that includes President Trump."
It's unclear if LaRose's comments on Pence will result in Trump punishing him in the Senate race. The two are not particularly close, and LaRose has in the past been critical of Trump and others who raise baseless allegations of election fraud. But Trump endorsed LaRose's successful re-election bid for secretary of state last year. And LaRose has endorsed Trump's 2024 presidential campaign while projecting hope that Trump will return the favor.
Given the state's rightward lean over the last decade, Ohio's Senate race next year is expected to be one of the most expensive in the country. It will start with what already has the makings of a messy, Trump-influenced primary for the right to challenge Democratic Sen. Sherrod Brown, who is seeking his fourth term.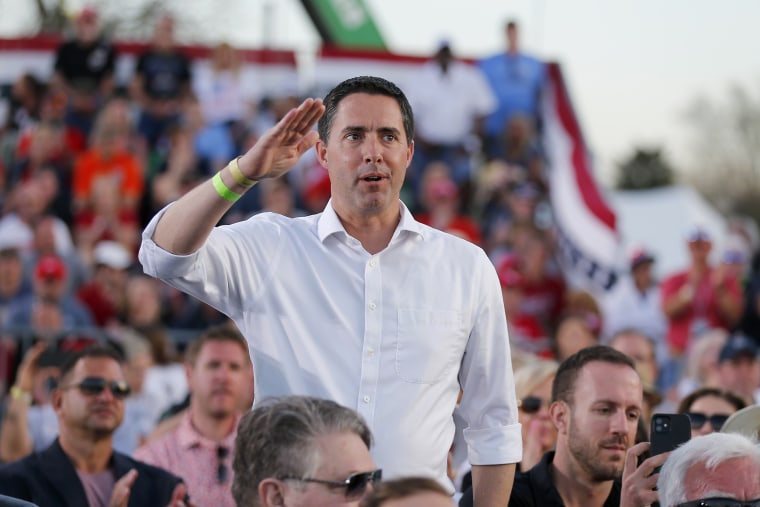 Trump's endorsement in Ohio's Republican Senate primary last year helped lift now-Sen. JD Vance out of a crowded field of better-funded rivals. In the early days of the 2024 race, the former president has publicly praised and encouraged the candidacy of Bernie Moreno, a Cleveland-area businessman. The GOP primary's other candidate, state Sen. Matt Dolan, has aggressively rejected Trump's election denialism and is more likely to draw vocal opposition than he is an endorsement from him. 
Moreno also has a history of Trump-bashing — he called him a "lunatic" and "maniac" in early 2016 emails obtained two years ago by NBC News — but has since nurtured close ties to Trump world and boasts a potentially influential endorsement from Vance. Buerck, noting Moreno's days as a car dealer, said in his statement Friday that Trump was "smart enough not to be conned by a used car salesman into buying a lemon."
Conor McGuinness, a Moreno spokesperson, fired back: "On Tuesday, all Ohio Republicans got a preview of what would happen with Frank LaRose at the top of the ticket in 2024 — a 14-point landslide loss that crushed conservatives."
Trump has stopped short of officially bestowing his support on Moreno or LaRose, prompting some to wonder if he'll remain neutral and for how long.
"Trump's team is smart on political calculus," said a high-ranking GOP official who was granted anonymity to share candid observations. "Do you really think they'll endorse against the sitting secretary of state who will stand in judgment of his race with Biden?"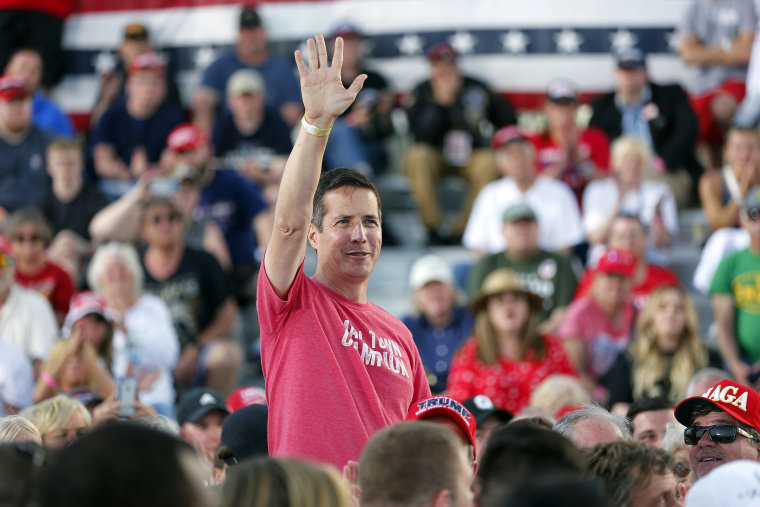 The source close to Trump indicated that any expectation of neutrality is misguided. 
"There was never a neutrality agreement and anyone saying otherwise is killing their campaign," the source said.
LaRose's first weeks as a Senate candidate have been overshadowed by his involvement in Tuesday's special election for Issue 1, which in part would have raised the bar for voters to amend the Ohio Constitution from a simple majority to 60%. Had it passed, the new threshold would have applied to an abortion-rights measure on the November ballot.
As secretary of state, LaRose administered the special election. But he also was the most visible Issue 1 cheerleader. He drew scrutiny in both roles. Critics accused him of poor management, citing early ballot language flubs and an email to voters from his office that gave the wrong date for the special election.
Others, including Moreno, complained about LaRose's messaging — he once said Issue 1 was "100% about keeping a radical pro-abortion amendment" out of the Ohio Constitution — and how he launched his Senate bid three weeks before Tuesday's vote.
LaRose and his allies are not telegraphing alarm after the defeat. Limited public polling has shown LaRose, helped by high name-recognition after two successful statewide campaigns, as the early front-runner. They also believe that donors and voters will reward LaRose for championing a measure so closely tied to the anti-abortion movement.
Richard Uihlein, an Illinois shipping magnate and GOP mega-donor, gave $4 million to Protect Our Constitution, accounting for most of what the pro-Issue 1 group reported raising between June and July. That has prompted speculation that the billionaire could help finance LaRose's Senate bid. A spokesperson for Uihlein did not respond to a request for comment.
But the Trump factor may loom largest of all — a calculation LaRose seemed to make Wednesday when he first attempted to tiptoe around the Pence question that landed on Trump's radar.
"Listen, I'm a supporter of President Trump," said LaRose, easing in to his reply. "I've endorsed him. I was the only secretary of state in the country to earn his endorsement last year. But I think that, you know, any leader needs to do what they think is the best thing under the circumstances that they're given."