OSAKA, Japan — Wherever he goes, President Donald Trump has a habit of being the center of attention, a pattern honed during decades as a celebrity businessman, reality TV star, unconventional presidential candidate and ultimately White House resident.
But as the race to try and unseat him heats up, Trump is finding that for the first time since he catapulted onto the American political scene, there's another show in town that's dominating the headlines.
As he arrived in Japan this week for the Group of 20 summit, the political world back at home was focused not on his latest tweets or his ambitious agenda for the trip, but on the 2020 candidates converging in Miami.
And even as he launched into a packed day of meetings with some of the world's most important leaders — Russia's Vladimir Putin, Germany's Angela Merkel and Japan's Shinzo Abe — the headlines and cable news banners were dominated by the second Democratic debate playing out at exactly the same time.
Throughout his first full day in Japan, the Democratic primary never seemed far from Trump's mind. So preoccupied was the president by what was going on in Miami that he provided running commentary on it throughout the day.
"All Democrats just raised their hands for giving millions of illegal aliens unlimited healthcare. How about taking care of American Citizens first!?" Trump tweeted midday in Osaka, just before meeting with Merkel.
Then as he sat down with the German chancellor for a meeting, Trump explained that he'd passed a television tuned to the NBC News debate on his way to the meeting. He proceeded to give Merkel and reporters his take on the array of Democrats jostling on the debate stage.
"They definitely have plenty of candidates. That's about it," Trump said. "So I look forward to spending time with you rather than watching that."
Indeed, Trump seemed intent on reminding both foreign leaders and the media that his show still garners top billing. He told Brazil's President Jair Bolsonaro that every leader at the G-20 summit had been congratulating him.
"We're the hottest country in the world right now, the United States of America, and everybody wants a part," he said later during a three-way meeting with Japanese Prime Minister Abe and Indian Prime Minister Narendra Modi.
To be sure, a visit by Trump still commands front-page attention almost anywhere he goes.
As he landed in Osaka, his name was splashed on the cover of The Japan Times, with a bold-faced headline reading "Trump puts Abe on back foot for G-20." Outside the 5-star hotel where Trump was staying, a small crowd gathered Friday waving "Japan Loves Trump" signs, donning his signature red MAGA hats and chanting "Four more years! We love Trump!"
Nor is Trump the first president to fall victim to the reality that even for an enigmatic leader whose public presence seems all-consuming at first, eventually other world events or colorful characters compete for attention. During President Barack Obama's second term, he found it harder and harder to command the headlines even when making high-profile visits overseas, particularly once the 2016 race to replace him got under way.
And many of Trump's previous foreign trips have been overshadowed by story lines that were still about him, but perhaps not the ones he wanted. His first Asia trip, in November 2017, began the day after his former campaign chairman Paul Manafort and two other campaign aides were charged by then-Special Counsel Robert Mueller. While in Argentina for last year's G-20, his former attorney, Michael Cohen, pleaded guilty to lying to Congress about his plans to build a skyscraper in Moscow.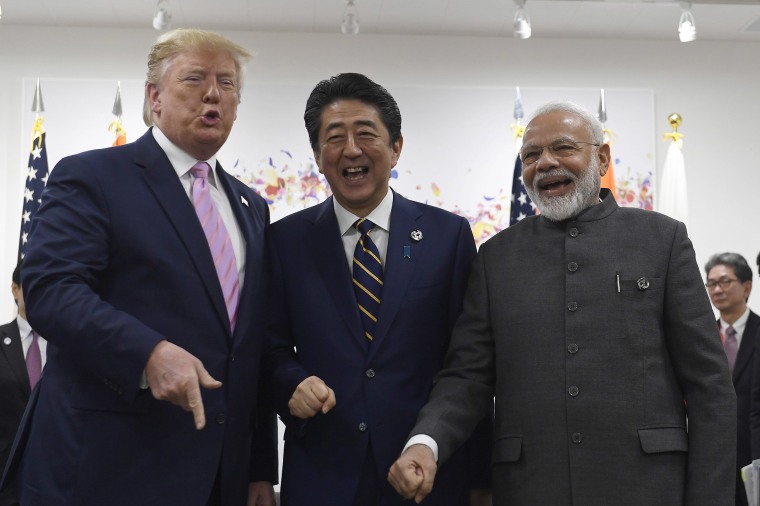 Yet Trump, more than most presidents, has seemed particularly intent on keeping himself at the center of attention, even when it means reading headlines about himself that might make other politicians cringe.
That task may grow harder and harder as time progresses and even the most outrageous comments by the president begin to seem par for the course. That's especially the case now that the American public increasingly tunes into the two dozen Democrats now competing in battleground states across the U.S. for the chance to take on Trump.
"I am in Japan at the G-20, representing our country well, but I heard it was not a good day for Sleepy Joe or Crazy Bernie," Trump tweeted as his day closed in Osaka, referring to former Vice President Joe Biden and Vermont Sen. Bernie Sanders. "One is exhausted, the other is nuts — so what's the big deal?"
And as he took a question on Venezuela in his meeting with the Brazilian leader, Trump segued seamlessly from lamenting the humanitarian crisis there to circulating unsubstantiated gossip about the opposing political party, saying unprompted that he'd "heard a rumor that the Democrats are going to change their name from the Democrat Party to the Socialist Party.
"I'm hearing that," Trump said. "But let's see if they do it."