WASHINGTON — When reports began to emerge last month that Russian mercenaries had attacked a U.S. base in Syria, Russia issued a flat denial, and the U.S. was silent.
Then, leaked recordings surfaced on the internet.
"We've had our asses f--- kicked. So one squadron f--- lost 200 people …the Yankees knew for sure that the Russians were coming."
The tapes seemed to show Russian guns-for-hire acknowledging a crushing defeat in the Feb. 8 incident. It was an embarrassment for the Kremlin, which was forced to admit that Russian citizens had been killed by the U.S. military — something an American general later confirmed to NBC News.
With their election interference and ongoing manipulation of social media platforms like Twitter, the Russians have been regularly outfoxing America in the information realm, U.S. intelligence officials acknowledge. Who turned the tables this time?
Not the White House, the State Department or the CIA. The recordings were published by a U.S.-government-funded website called Polygraph.info, whose reporter says she got them from a source close to the Kremlin.
Polygraph is a relatively new fact-checking arm of an obscure, diminutive media effort by the U.S. to highlight Russian misdeeds and counter Russian propaganda.
It's an anomaly in the Trump administration — perhaps the only part of the U.S. government whose job is to regularly punch back against what experts say is a stream of Russian disinformation aimed at America and the West.
"At the end of the day, the Russians are engaging in information warfare — they're telling lies," said John Lansing, a former television executive who oversees the effort. "And we're confronting them toe-to-toe with fact-based, truthful, professional journalism."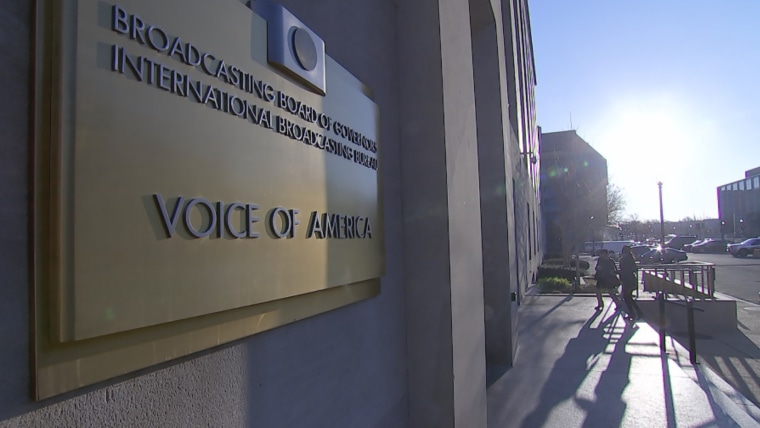 Russia's proficiency at information war has been on display in the wake of the U.S.-led military strike Friday night in Syria. Russia called the strikes illegal and said the chemical weapons attacks that prompted them were staged. To get that message out, there was a 2000 percent spike in activity in the hours since the strike by fake Russian propaganda accounts on social media, a Pentagon spokeswoman said Saturday. A website that tracks a slice of those accounts, Hamilton 68, found that they were pumping out the Russian government narrative in English.
They're "eating our lunch"
The U.S. is ill-equipped to respond. Polygraph, part of the tiny corner of the government that's trying, has a staff of five that doesn't usually work on the weekends.
"We focus mostly on Russia right now because there is a large flow of disinformation that's coming from Russia," said Jim Fry, a former Dallas television reporter who runs Polygraph from Washington.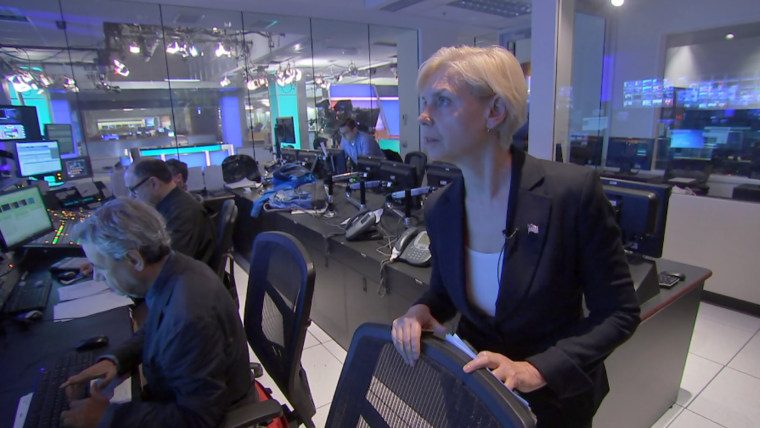 Polygraph is a joint venture of the Voice of America and Radio Liberty, which are funded by — but independent of — the U.S. government. They fall under the umbrella of the Broadcasting Board of Governors, whose mission is to promote freedom and democracy and "tell America's story" around the world. But they are walled off, editorially, from the administration in power.
"The law protects us from interference by U.S. government officials," said Tom Kent, who spent 44 years at The Associated Press before becoming president of Radio Liberty and Radio Free Europe. "They can't tell us what to broadcast."
During the Cold War, the VOA and Radio Liberty sought to counter communist propaganda and funnel information to the news-starved citizenry behind the Iron Curtain.
Those muscles — and budgets — have long since atrophied. But in recent years, there have been growing calls for a new twist on that old mission.
When Lansing became CEO of the Broadcasting Board of Governors in 2015, he said he was confronted on Capitol Hill and throughout the government with a single question:
"Why are the Russians eating our lunch in terms of information warfare?"
People were talking mainly about RT, the former Russia Today, which spends hundreds of millions of dollars a year on an English language broadcast and web platform that regularly skewers American and the West. The U.S. government has labeled RT a propaganda operation.
The State Department came under criticism earlier this year when news reports highlighted its failure to spend $120 million that had been allocated to push back on Russian propaganda abroad.
Lost in that conversation was the fact that one month into the Trump Administration, Lansing and his team launched Current Time America, a 24-hour Russian-language broadcasting and web platform. The budget was $20 million — around one-tenth the size of RT's budget, Lansing says. But one year later, Current Time America is available on TV screens in 30 countries, and officials counted 400 million view views on social media last year.
Still, U.S. information efforts are minuscule compared to the Russian campaign. While Current Time America is available in Russia, the Russian government makes it difficult to find — keeping it off cable systems and requiring special tuning for satellite reception.
The broadcasting board's total budget this year is about $660 million dollars, about a third of what was spent in 1991, adjusted for inflation.
"I think we should be investing more," Lansing said.
"There are facts"
The Russian government labels the entire U.S.-funded journalism operation "propaganda" that is "part of a broader, wide-reaching American system of pressure on our country."
Irina van Dusen, who heads the effort as chief of Voice of America's Russian-language programming, knows what propaganda looks like. She grew up in the Soviet Union, listening to the VOA on an illegal short wave radio for scraps of accurate reporting.
She got her journalism degree in Moscow, but decided that if she wanted to practice real journalism, she would have to move to the West.
During the Cold War, she says, the VOA was trying to break through jamming and censorship. Now there has been a proliferation of Russian TV and web channels that put out a cacophony of news, nearly all of it favorable to Vladimir Putin. The task in 2018 is trying to break through a fog of disinformation.
The prevailing view in Russia, she said, is that "There is no truth. There is only different versions, different narratives. … We stand by the fact that there is truth. And there are facts."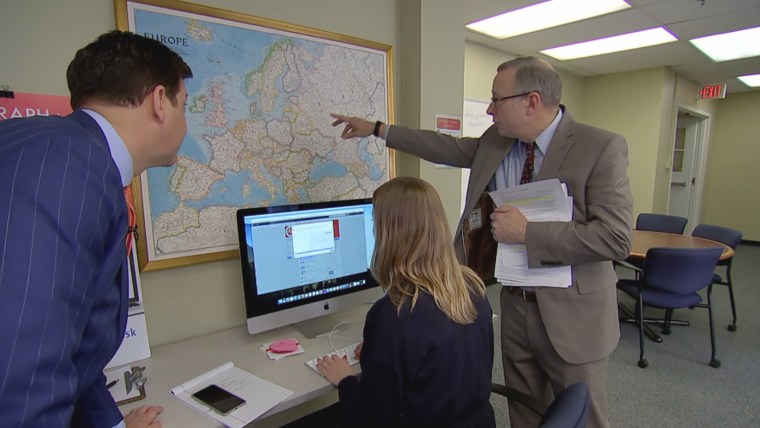 From a TV studio near not far from where special counsel Robert Mueller comes to work each day, Current Time America covers Washington, offering live broadcasts of Congressional hearings with simultaneous translations.
"People can listen, see how it's done, how policies are made, what questions asked, what facts are being brought up," she said.
The channel also covers Russia, to "provide Russian speaking audiences with a true portrait of the society, you know? As opposed to state-run Russian television that — interprets everything that is done in the world … as some kind of a United States manipulation and United States meddling in world affairs."
Polygraph.info, and its Russian-language counterpart, Factograph, try to be slightly edgier than a traditional news operation.
"What our reporters do every day is they begin the day looking at Russian media," said Fry. "Looking at what's coming out of Russia. And then we decide whether there's something to fact check. Usually, almost every day, there's more to fact check than we could possibly do with our staff."
The site is modeled after other media fact check efforts, including Politifact and factcheck.org. It highlights a claim, say, by Putin or another Russian official, and brands it for veracity, with labels like "Partially True, "False" or "Misleading."
In March, the site fact-checked a Putin documentary that alleged the Russian leader had always believed that the Ukrainian territory of Crimea was part of Russia. It highlighted remarks by Putin in 2008 in which he said something very different: "Crimea is absolutely not a disputed territory." Six years later, Putin seized Crimea from Ukraine, to international condemnation.
Polygraph also challenged Russia's denial that the nerve agent used to poison a former spy in the U.K. was made only in Russia, and its assertion that no chemical attack took place in Syria.
Polygraph reporters are not afraid to endorse criticism of the U.S. when it's accurate. When Russian foreign minister Sergei Lavrov criticized a list of Russian oligarchs that the Treasury Department admitted it cribbed from Forbes magazine, Polygraph labeled his comments, "Partially True."
In January, reporters examined a fur coat shown off on Facebook by Russia's foreign ministry spokeswoman. She said it was a fake, bought at a fair in Russia. Polygraph found that the fair didn't sell any coat — and that the coat may have been a fur from an endangered ocelot.
Polygraph's traffic numbers are usually in the low thousands, but that video got 37,000 views, Fry said.
The audio recordings of the Russian mercenaries were a huge coup, even if the site did not seem to get much credit for the scoop. Fry said a Polygraph journalist in Europe, who did not want to be identified, obtained the tapes from a Kremlin source. He acknowledged that he could not rule out U.S. intelligence involvement in distributing the tapes, but that would also be true if the audio had been obtained by a mainstream journalism organization, he said.
The recordings describe an incident in which a number of Russian mercenaries led a group of pro-Assad fighters in an attack on a U.S. base beginning Feb. 7. The mercenaries were from the Wagner Group, it's been widely reported — co-owned by Russian oligarch Yevgeniy Prigozhin, who is close to Vladimir Putin. Prigozhin is also one of the defendants in the indictment brought by Mueller against Russians accused of illegal election activity.
It was the largest ever attack on U.S. troops in Syria, and it was perhaps the first time in many decades that Russian and American troops fought in open combat. Russian mercenaries were among the hundreds who died as the Americans strafed, bombed and shelled the assault force, Army Brig. Gen. Jonathan Braga told NBC's Richard Engel.
The tapes, Fry said, depicted "people who worked for this Russian paramilitary company who were involved in this attack. … It showed they knew they were (counterattacked) by Americans. And it showed that there were people who were killed."
Interestingly enough, he added, "within days of our story, the Russian government started admitting there had been involvement of the private military company, the Russian company, in that attack."
Sometimes it's obvious that Russians are more nimble than the Americans at the information game.
On Friday, when the Russian defense ministry accused Britain of faking the chemical attack in Syria, RT was leading its website with an article highlighting the allegations — making no mention of denunciations from the United Nations and U.S. and British officials.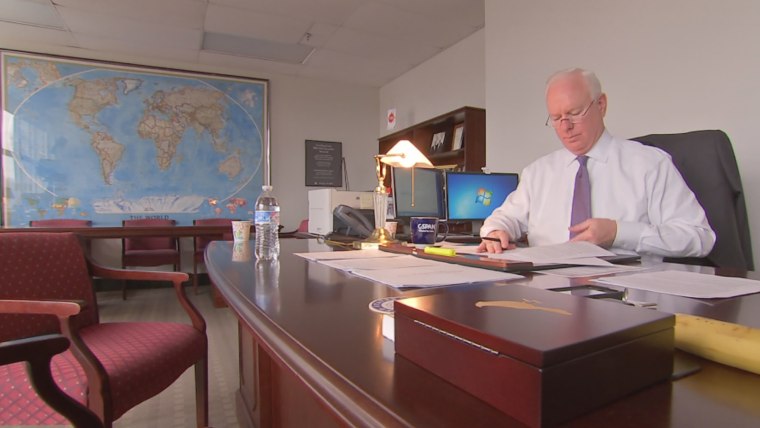 Polygraph, meanwhile, was leading with a story fact-checking a statement from Russian state media that Hitler had become more popular than Harry Potter in Latvia. It made no mention of the bogus Russian allegation against Britain.
"We didn't get to that today," Fry said, reached by phone. "I wish I could respond as quickly as what they put out."
As of Sunday morning, the Polygraph site had not been updated to respond to Russian allegations about the U.S.-led strike in Syria.
The president and the truth
They won't say so publicly, but many who work at the various news agencies under the Broadcast Board of Governors have misgivings about serving an American president with a documented history of misstating facts.
The Pulitzer Prize-winning website Politifact posts nine pages of statements by Trump it rated as "false."
And, although he has called out Russia for its backing of the Syrian regime of late, the president has been noticeably reluctant to criticize Vladimir Putin.
Lansing is philosophical about the situation.
"I don't worry about what the president says on this front," he said. "But I can tell you, nobody's told us to stop."
"Ultimately," Lansing said, "we believe the truth prevails."