The White House distanced itself from a new report Wednesday that alleges Trump's former campaign manager, Paul Manafort, was hired by a Russian billionaire more than a decade ago in order to advance the agenda of Russian President Vladimir Putin.
The explosive report by The Associated Press appears to undermine assertions by the Trump administration and Manafort that he had never worked to promote Russia's global influence.
White House Press Secretary Sean Spicer told NBC News it would be "inappropriate" to comment.
Spicer later said at a press briefing that "to suggest that the president knew who (Manafort's) clients were from a decade ago is a bit insane. (Manafort) is not a government employee, he didn't fill out any paperwork attesting to something. There is nothing that he did that suggests at this point that anything was nefarious."
Manafort, working as a consultant, signed a $10 million annual contract with Russian oligarch and aluminum magnate Oleg Deripaska in 2006 after pitching plans to help Russian interests around the world, the AP reported.
Deripaska is among Putin's inner circle of billionaire businessman.
Related: Donald Trump Aide Paul Manafort Scrutinized for Russian Business Ties
"We are now of the belief that this model can greatly benefit the Putin Government if employed at the correct levels with the appropriate commitment to success," Manafort purportedly wrote in a confidential 2005 memo to Deripaska obtained by the AP.
NBC News has not seen the document.
Last August, NBC News reported on a court filing that showed Deripaska paid Manafort $7.35 million toward management fees for him and his partners in connection with an investment fund.
As part of his work for Deripaska, Manafort did not use his public-facing consulting firm, Davis Manafort, according to the AP. The pair reportedly had a falling out in 2014 over how money Deripaska gave Manafort was used to invest in a Ukrainian TV company.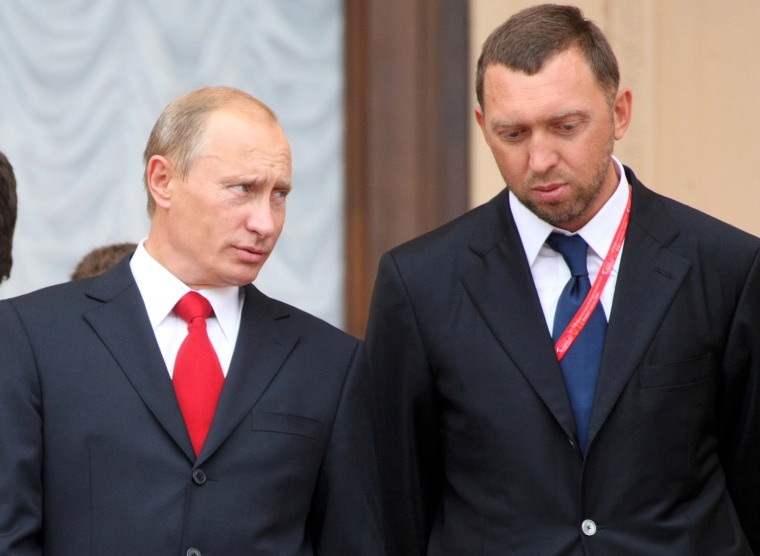 Manafort in a statement Wednesday said that he has previously acknowledged doing work for Deripaska's aluminum company, Rusal, which does business in several countries, including the Balkan nation of Montenegro.
"For example, one of the projects involved supporting a referendum in Montenegro that allowed that country to choose membership in the EU, a measure that Russia opposed. I did not work for the Russian government," Manafort said. "Once again, smear and innuendo are being used to paint a false picture. I look forward to meeting with those conducting serious investigations of these issues to discuss the actual facts."
Manafort served as Trump's unpaid campaign chairman last year before he resigned in August. His tenure was plagued by questions about his ties to the pro-Russian government in Ukraine.
South Carolina Sen. Lindsey Graham told NBC News that the AP report "is something that disturbs me if true."
"I'm sure President Trump didn't know anything about this ... But I can tell you this, this is something that disturbs me if true. I don't know if it is true and that's why I'm glad the FBI is investigating all these kinds of matters," Graham said.
Rep. Eric Swalwell, D-Calif., a member of the House Intelligence Committee, said Wednesday that Manafort should testify before the panel as part of its investigation into Trump's Russia ties and that if he won't appear voluntarily, he should be subpoenaed.
"The dots continue to connect around Paul Manafort and his ties to Russia," Swalwell told MSNBC. "Our investigation will not be complete if he does not testify."
NBC News previously reported that Manafort's firm was involved with Ukrainian businessman and philanthropist Dmytro Firtash to redevelop a New York hotel named the Drake, although the deal never went through.
Related: Timeline: Trump Associates and Aides and Their Brushes With Russia
In previous interviews and statements to NBC News, Manafort said he "never had a business relationship" with Firtash. "There was one occasion where an opportunity was explored. ... Nothing transpired and no business relationship was ever implemented."
The extent of any alleged ties between the Trump campaign and the Kremlin during the 2016 election is now under investigation, FBI Director James Comey told a House Intelligence Committee on Monday. Manafort is just one of a handful of Trump associates or aides whose past conversations or connections with Russian officials have been called into question.
Spicer on Monday downplayed Manafort's campaign role, telling reporters that he "played a very limited role for a very limited amount of time."
Manafort also responded after Comey revealed there's a federal probe, and denied having any role in the alleged Russian-orchestrated cyberattacks against the Democrats last year or speaking with a Russian official or others who might be involved.
"Despite the constant scrutiny and innuendo, there are no facts or evidence supporting these allegations, nor will there be," Manafort said in a statement.