While there is still no official word from the Trump team on who will take the national security adviser spot vacated by Michael Flynn and rejected by retired Navy Vice Adm. Robert Harward, a senior administration official tells NBC News President Trump has nailed it down to a final five.
Trump has appointed retired Army Gen. Keith Kellogg as acting adviser — but whether the president brings him on permanently or taps someone else like Flynn, who was known for his maverick temperament, remains to be seen.
However Trump tweeted Friday morning that Kellogg, "who I have known for a long time, is very much in play for NSA."
A decision will likely come before the end of the week or possibly sooner, a senior official told NBC News.
Related: Flynn Resigns as National Security Adviser Over Talks With Russia
Trump had been said to be considering Gen. David Petraeus, the 64-year-old retired four-star general who led all American forces in Iraq and Afghanistan and later became the CIA director during the Obama administration.
Petraeus took himself out of consideration after the Trump White House made it clear he could not control staffing and policy decision making, former officials told NBC News. One factor is believed to be a separate foreign policy strategy group established by Trump strategist Steve Bannon parallel to the NSC.
Ultimately, the post is intended to require someone who can serve as a key confidant to the president on sensitive security issues.
"You are the first to see the President in the morning when the President shows up for work in the Oval Office and the last person to see the President before he or she makes any major foreign policy or national security decision," Stephen Hadley, a former national security adviser to President George W. Bush — and a potential contender for the post — wrote last year about the position in a paper for the Scrowcroft Institute.
Related: Who Knew What About Flynn and Russia — and When?
Here are the potential picks for Trump's national security adviser, based on what senior administration officials told NBC News:
Retired Lt. Gen. Keith Kellogg
Now the acting national security adviser, Kellogg was a top policy adviser for Trump during his campaign and was among the original contenders for the post before it eventually went to Flynn.
The 72-year-old retired lieutenant general comes with a top-notch resume: He's an Army veteran who did two tours in Vietnam and earned numerous commendations, including the Bronze Star. He was also a former commander of the 82nd Airborne Division and chief operating officer of the Western coalition in Baghdad after the U.S.-led invasion of Iraq in 2003.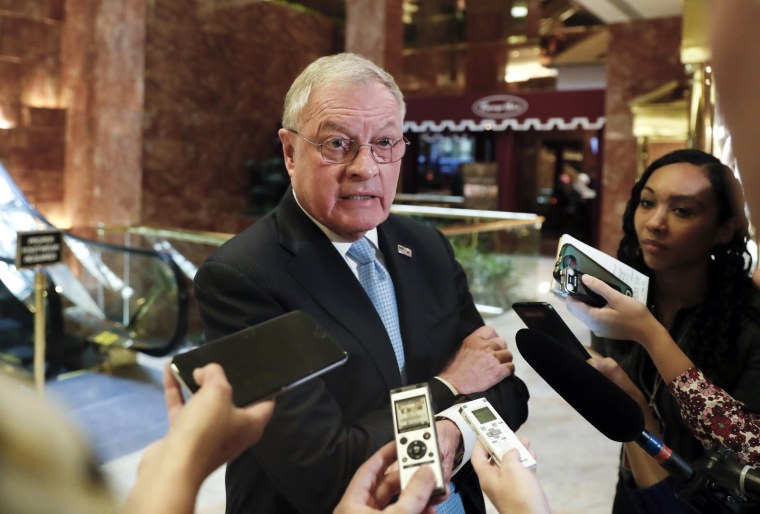 Retired Army General Keith Alexander
Another four-star retired general, Keith Alexander, has also made it to the president's shortlist. Alexander attended the United States Military Academy at West Point, along with Petraeus.
Alexander, 65, became the director of the National Security Agency in 2005 and remained in that role until 2014.
But his tenure is most famously linked to the Edward Snowden leaks, which exposed NSA surveillance programs. Alexander defended the controversial programs exposed by Snowden and testified they helped authorities prevent planned terror attacks.
Compared to the other four, Alexander is considered more digitally astute as he also was the first head of the Cyber Command unit which oversees cyber security and operations.
Former UN Ambassador John Bolton
John Bolton served as President George W. Bush's ambassador to the U.N.
The 68-year-old received a degree from Yale Law School in 1974 and went on to lend himself to several leadership positions within the State Department and the Department of Justice in the Reagan and Bush administration.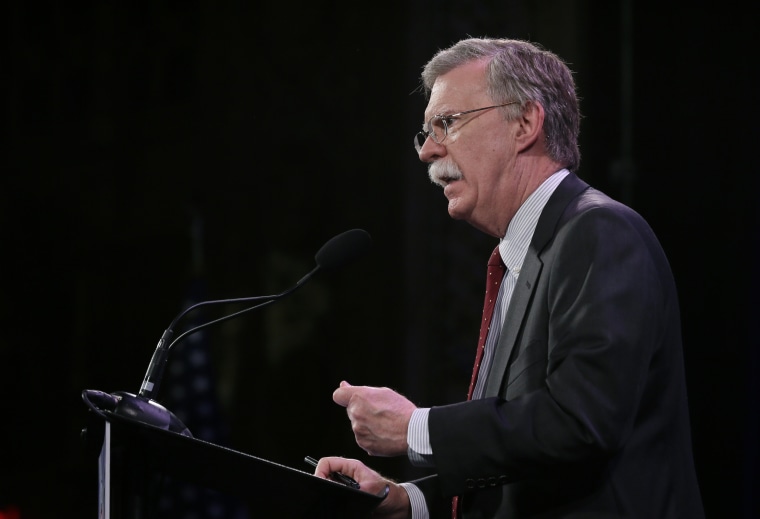 Bolton has drawn controversy over his sharp views, such as his support for the war in Iraq and most recently calling on President Trump to designate the Muslim Brotherhood as a terrorist organization.
But he still garners support from some GOP heavy hitters. Former presidential candidate and Senator Ted Cruz, R-Texas, in an interview with CNN on Friday suggested Bolton for the post, calling him a "very, very strong" candidate.
Before Rex Tillerson was named as Trump's choice for Secretary of State, Bolton's name was among several said to be considered by the president for that post.
Lt. General Herbert Raymond McMaster
Youngest of the bunch is McMaster, 54, who is the deputy commanding general for Futures for Training and Doctrine Command and the director of the Army Capabilities Integration Center.
In addition to his military experience, McMaster has a Phd in American history from the University of North Carolina at Chapel Hill.
He has involved himself in mapping out plans to combat Islamist terrorists in several hot spots and has also, according to Politico, taken a keen interest in figuring out how to outmaneuver possible Russian attacks.
West Point Superintendent Lt. Gen. Robert Caslen Jr.
Caslen has served as the superintendent of the U.S. Military Academy since July 2013, but he's had a long career before that.
A 1975 West Point graduate, Caslen led a battalion of the 101st Airborne Division during the Gulf War. Before taking over at Army's military academy, Caslen served as the Chief of the Office of Security Cooperation in Iraq and served as the commander of the Combined Arms Center, which oversees 18 different military schools, centers and training programs across the United States, according to West Point.
Despite his credentials, Caslen has also seen his own bit of controversy. The Defense Department's inspector general found in 2007 that Caslen and others breached the military's ethics code when he participated in a fundraising video for an evangelical Christian organization.
Caslen accepted responsibility for the ethics violation and said he would be mindful in the future, according to the inspector general's report.