This story was originally published by The Center for Public Integrity, a nonprofit, nonpartisan investigative news organization in Washington, D.C.
With their gazes already trained toward 2018 midterm elections — and even the 2020 presidential race — conservative super PACs are this year pummeling their liberal counterparts in fundraising, according to a Center for Public Integrity analysis of new Federal Election Commission filings.
Several super PACs supporting President Donald Trump's 2020 re-election bid combined to raise significant cash during the first half of 2017.
The Committee to Defend the President, a super PAC formerly known as Stop Hillary PAC, raised $3.26 million during the first half of 2017, mostly from small-dollar donors.
Click Here To Read the Center for Public Integrity's Version of This Story
"The members of the Committee to Defend the President are passionately committed to supporting the passage of the president's America First Agenda and the call for his re-election," said Ted Harvey, a former Colorado state senator who's chairman of the pro-Trump group.
Harvey added that the super PAC provides Trump shield against an "unprecedented onslaught of liberal intolerance and hate."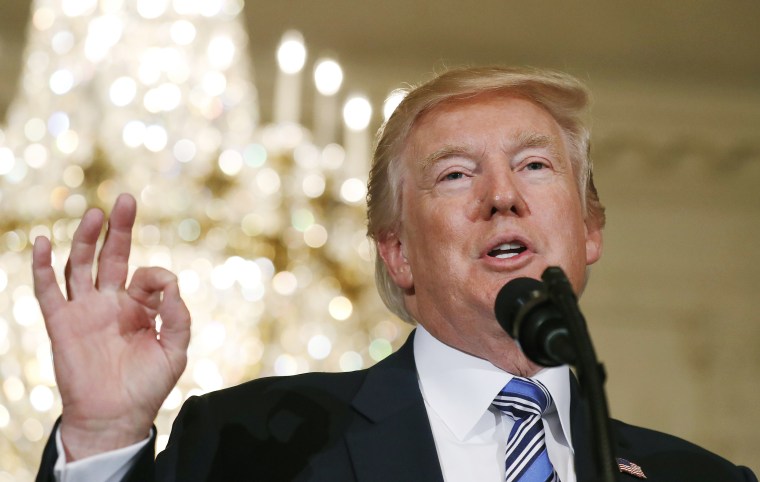 Great America PAC, raised almost $1.9 million from Jan. 1 through June 30, according to a disclosure it filed Monday night with the FEC.
But with the 2020 election more than 39 months away, what's the hurry?
"The entire Democrat political machine is solely focused on blocking the President's agenda and defeating him and other conservatives in the next two election cycles," said Ed Rollins, lead strategist at Great America PAC. "Given this reality, it's essential for us at Great America PAC to work twice as hard to help ensure the president's short-term success and create a more favorable environment for his re-election campaign."
By early May, these super PACs had together spent more than $1 million to support Trump's 2020 re-election bid. They've since spent hundreds of thousands of dollars more. By law, super PACs may raise and spend unlimited amounts of money to advocate for or against political candidates.
Another pro-Trump super PAC active in 2017 is Rebuilding America Now, which reported income of $1.15 million during the first half of 2017 — almost all coming in the form of "media." The PAC has largely spent its cash on food, travel, legal fees, and $35,000 a month to one of the group's leaders, Laurance Gay, for "political strategy consulting."
Meanwhile, Ronald Weiser, founder of architecture firm McKinley Associates, gave $200,000 in seed money to pro-Trump PAC America First Action, which formed in April. As for June 30, it had yet to spend any of it directly advocating for Trump.
Florida-based America First Agenda, yet another new pro-Trump super PAC, raised about $21,000 since forming in April.
Make America Number 1, the pro-Trump PAC largely backed by billionaire megadonor Robert Mercer during Election 2016, has raised less than $740 since Jan. 1, although it still had $873,000 in the bank as of June 30. The group blew through $134,000, or nearly 65 percent of its spending, on legal fees to law firm Greenberg Traurig.
Future45, another pro-Trump super PAC largely funded last year by casino magnate Sheldon Adelson and Linda McMahon, who Trump appointed to head the Small Business Administration, secured $105,000 from only two sources so far in 2017.
Nearly all the money this year, $102,500, came from super PAC Liberty 2.0, which was bankrolled by Murray Energy, Hobby Lobby and oil company Continental Resources during the 2016 election cycle. Environmental Protection Agency Administrator Scott Pruitt's leadership PAC handed over $2,000.
Click Here To Read the Rest of This Story
The Center for Public Integrity is a nonprofit, nonpartisan investigative news organization in Washington, D.C.