WASHINGTON — Mitt Romney is a serious political threat to President Donald Trump.
That explains why Trump, in defiance of his change-agent brand, is encouraging Sen. Orrin Hatch, R-Utah, to run for an eighth term — which could block Romney's path to the Senate. The potential danger posed by Romney is why Trump is choosing kind words for the failed 2012 presidential hopeful. And it's why some Republicans think Romney ought to throw caution and courtesy to the wind and run whether or not Hatch does.
"All the old lanes and rules and mores and norms have just been blown apart because of Trump. You end up in a situation where the last person playing by the rules loses," said Rick Wilson, a Florida-based GOP strategist and major Trump critic. "Mitt Romney should consider running for the seat."
It's easy to see a scenario in which Romney combines his national name-recognition and the platform of a Senate seat to become a persistent thorn in Trump's side — a leader of the establishment wing of the Republican Party who has some credibility with conservatives, a reputation for decency and easy access to the national media.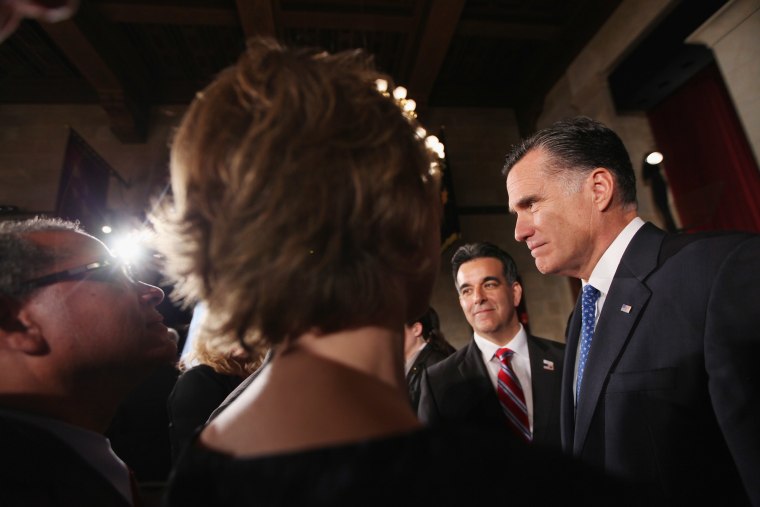 While that's a nightmare for Trump, it's a dreamscape for Republicans who feel like their party, and its commitment to conservatism, was hijacked. In March 2016, Romney re-emerged on the national political scene to call Trump "a phony, a fraud," who was "playing the members of the American public for suckers." It was a cathartic moment for the GOP establishment, and it marked Romney as a champion of the anti-Trump forces in the party
But the episode also hurt Romney's relationship with the future president, who had backed him in 2012. "He was begging for my endorsement," Trump said in response to Romney's speech. "I could have said, 'Mitt, drop to your knees.' He would have dropped to his knees."
Several months later, when Trump considered naming Romney secretary of state — making sure the media snapped a picture of them dining as the matter was being discussed — the denouement was public embarrassment for Romney, who had been portrayed as groveling by Trump confidants. Roger Stone, a longtime Republican operative and Trump adviser, said Trump had only entertained Romney "to torture him."
And yet there's something about Romney's stature that has kept Trump from a no-holds-barred assault like he does with other political figures who rub him the wrong way.
As Trump, visiting Utah, endorsed the 83-year-old Hatch on Monday as "a true fighter" who should remain in the Senate "for a very long time to come," the president declined to say anything bad about Romney when asked by a reporter if he was sending Romney a cease-and-desist message.
"He's a good man," Trump replied. "Mitt's a good man."
Romney, however, had a different message several hours later.
As if offering a preview of what he might do as a senator, Romney responded by vilifying Roy Moore, the Alabama Senate candidate who Trump had endorsed earlier in the day. Moore has been accused of sexual misconduct with teen-age girls, and Romney said there's no virtue in supporting him.
"Roy Moore in the US Senate would be a stain on the GOP and on the nation," Romney tweeted about the president's candidate. "Leigh Corfman and other victims are courageous heroes. No vote, no majority is worth losing our honor, our integrity."