President Donald Trump's new attorney, Rudy Giuliani, said Sunday that he can't rule out the possibility of his client's invoking his Fifth Amendment right against self-incrimination in the Russia investigation — and that Trump wouldn't have to comply with a subpoena to testify.
"He's the president of the United States. We can assert the same privileges other presidents have," Giuliani said Sunday morning on ABC's "This Week." He added that "we don't have to" comply if Trump is subpoenaed by the special counsel to testify.
Giuliani told NBC News' Peter Alexander on Sunday night that it was less and less likely that Trump would speak with special counsel Robert Mueller in his investigation of Russian interference in the 2016 presidential election. He said Mueller and his investigators were being "heavy-handed" and were "setting the president up for perjury."
Referring to Martha Stewart's conviction for lying to investigators in an insider trading case in 2004, Giuliani said on ABC News: "They don't have a case on collusion. They don't have obstruction. ... I'm going to walk him into a prosecution for perjury like Martha Stewart did?"
Giuliani also doubled down on his assertion that the $130,000 hush payment from lawyer Michael Cohen to adult film actor Stormy Daniels shortly before the presidential election wasn't a campaign contribution and therefore didn't violate campaign finance law. Daniels claims that she and Trump had an affair in 2006, which Trump denies.
"It was not a campaign contribution because it would have been done anyway," he said, adding even if it were a campaign contribution, "it was entirely reimbursed with personal funds."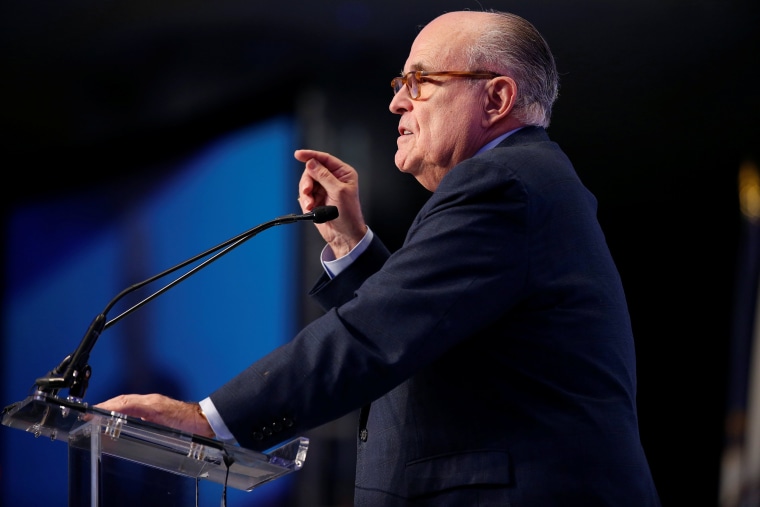 He added that $130,000 was "not a lot of money" for such types of settlements.
"I never thought $130,000 was a real payment. It's a nuisance payment," he said Sunday. "When I settle — when it's a real possibility, it's a couple million dollars, not $130,000. People don't go away for $130,000 with a meritorious claim."
But Giuliani walked back comments he made on Fox News' "Fox & Friends" about the timing of the payment to Daniels.
"Imagine if that came out on October 15, 2016, in the middle of the, you know, last debate with Hillary Clinton," Giuliani said on Fox on Thursday. "Cohen didn't even ask. Cohen made it go away. He did his job."
Giuliani revealed for the first time last week that Trump had reimbursed Cohen for the $130,000 payment, but he has since said that he doesn't know when the president learned what the payment was for. Giuliani's account contradicted Trump's previous statement that he didn't know of the payment.
Meanwhile, Daniels's attorney, Michael Avenatti, called the assertion that $130,000 is a minor payment "absurd."
Cohen had said previously that he paid Daniels out of his own pocket and without Trump's knowledge. Cohen is facing a criminal investigation over the payment to Daniels and a reported payment of $150,000 from American Media Inc., publishers of The National Enquirer, to Playboy model Karen McDougal, who also claims that she had an affair with Trump, which he also denies.
"I think it's just ridiculous," Avenatti said on "Meet The Press." "I think it's just another absurdity that's being trotted out to the American people to deflect away from the facts."