For years, President Donald Trump flirted with the idea of opening a massive, Trump-branded skyscraper in Moscow.
After holding his Miss Universe pageant there in 2013, Trump tagged Russian billionaire developer Aras Agalarov in a tweet and promised that "Trump Tower-Moscow" was next.
The project never came to be. But the Trump Organization's attempts to get a deal green-lit caught the attention of congressional investigators and special counsel Robert Mueller probing Russian interference in the 2016 presidential election and whether there was any collusion between the Trump campaign and Russian officials.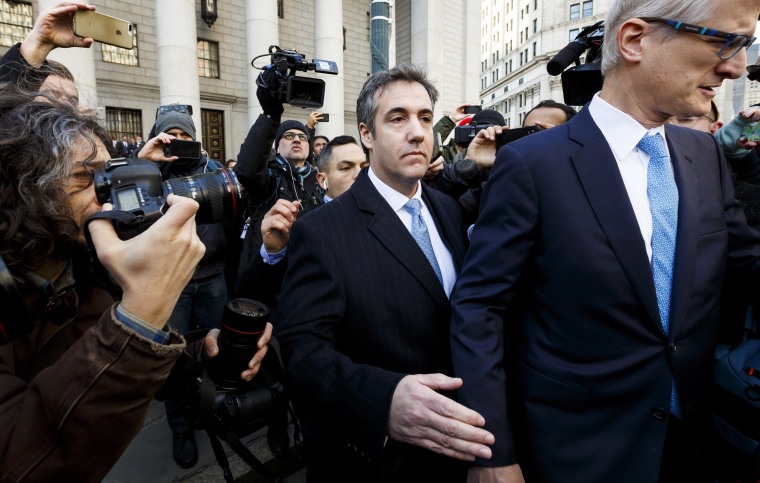 On Thursday, after the president's former longtime lawyer, Michael Cohen, pleaded guilty in federal court to a charge brought by Mueller that he lied to Congress about the scope and status of the project, the potential business deal was thrust back in the spotlight.
Efforts to build Trump Tower Moscow were pursued by the Trump Organization well into the president's 2016 campaign, despite Trump's repeated claims that he had no business interests in Russia, prosecutors said in court documents.
When did Trump begin pursuing a Trump Tower in Moscow?
The Washington Post, citing sources familiar with the matter, reported last year that discussions about a Moscow tower began in September 2015, as Trump's presidential campaign was in full swing, and that Cohen, a vice president at the Trump Organization, was the lead negotiator on the project.
The arrangement — as is the case for a number of Trump-named ventures — involved an investor, who was unidentified by The Post, building the project under a licensing agreement with Trump that required his name be placed on the tower.
Trump personally signed a letter of intent to pursue a Trump Tower in Moscow in October 2015, Buzzfeed News and ABC News reported.
The Post notes that these moves hardly marked the beginning of Trump's interest in doing a real estate deal in Russia. For more than three decades, Trump sought to build a property in Moscow, beginning with a failed 1987 effort to partner with the Soviet government on a hotel.
"Russia is one of the hottest places in the world for investment," Trump said in a 2007 court deposition, the Post reported, adding, "We will be in Moscow at some point."
Buzzfeed, in May 2018, reported that the discussions to build a tower were so advanced that architectural renderings of the proposed skyscraper existed, showing "a sheer, glass-encased obelisk situated on a river" which "would have soared above every other building in Moscow."
What did the Moscow project entail?
An internal Trump Organization document obtained by CNN last year showed that the letter of intent included details of the proposed project, such as the Trump Organization netting a $4 million upfront fee without any upfront costs, receiving a percentage of the sales, and retaining control over marketing and design of the skyscraper.
Trump would have needed the approval of the Russian government to pursue the project, which is why the deal has come under such scrutiny from investigators looking into possible collusion.
What Cohen told Congress about the project
Cohen said in a statement to the House Intelligence Committee in August 2017 that the project was abandoned once the Trump Organization couldn't get the necessary approvals, saying the abandonment of the project was not connected to Trump's campaign.
Cohen also told Congress that he didn't receive a response after he reached out to Russian President Vladimir Putin's press office in January 2016 for assistance getting the project going.
But according to prosecutors, that wasn't true. Cohen actually had heard back from Putin's press team and spoke on the phone with a Russian official.
The Kremlin had denied ever responding to Cohen's request for help.
According to Mueller's charging document, Cohen also discussed traveling to Russia, but did not ultimately make the trip.
Who is Felix Sater, and what did he have to do with Trump's Moscow project?
In the charging documents filed Thursday, much was made of Cohen's communications with a second person, whom Mueller's team referred to as "Individual 2."
That person appears to be Felix Sater, the colorful Russian-born businessman and felon who helped Cohen market a Trump Tower in Moscow.
Sources familiar with Cohen's interview before the House Intelligence Committee last October said there was an extended focus on emails he received in 2015 from Sater about a potential deal to open a Trump Tower in the Russian capital. In the past, Cohen downplayed those conversations, in which Sater bragged about his access to top Kremlin officials, saying it was about "a real estate deal and nothing more."
On Thursday, Sater told NBC News that he discussed a plan with Cohen to give a $50 million penthouse in the proposed Moscow skyscraper to Putin. Buzzfeed was first to report on those discussions Thursday.
"That is a classic real estate marketing technique, to attract a celebrity to live in your building," he said. "I just took it to the next level. I would have made another $250 million, because every oligarch in Russia would have wanted to live there."
Sater also said that the pair stopped working on the Moscow deal as soon as the issue of Russian election hacking emerged in the news because it became clear it would become a political liability.
In fact, he said, it is not a coincidence that, according to court documents filed today, Michael Cohen canceled a planned trip to Moscow on June 14, 2016 — the same day the Post broke the story that Russians had hacked the Democratic National Committee.
"As soon as the Russian stuff broke, it was like, well, this deal is over," Sater said.
Sater said he has known for some time that Cohen faced potential legal jeopardy over the false testimony he gave about the timing of the deal. He has always told authorities the truth, he said.
Sater, who helped Trump develop Trump Soho in New York, was formerly the managing director of Bayrock Group, a New York City-based real estate firm. Sater's criminal past includes serving time in prison after he slashed a man's face in a bar fight with a broken margarita glass in 1991. He pleaded guilty in 1998 to involvement in a $40 million mafia-linked stock swindle, then became a U.S. government informant, helping, according to him, the CIA and other intelligence agencies hunt for terrorists and nuclear proliferators.
He became a broker for the Trump Organization, Donald Trump Jr. testified to Congress, hunting for opportunities in Russia and elsewhere.
"I was building Trump Towers by day and hunting bin Laden by night," Sater told the Los Angeles Times last year.
In 2015, then-candidate Trump professed not to remember Sater, but his son testified about Sater's role to the Senate Intelligence Committee in 2017.
What Trump has said about doing business in Russia
As a candidate, Trump said in July 2016 that he had no financial interests in Russia.
"I will tell you right now, zero, I have nothing to do with Russia, yes?" he told reporters.
On Thursday, addressing reporters just after Cohen entered his guilty plea, Trump said his former attorney was "lying" in exchange for a reduced sentence. Trump added that his namesake company's effort to build the Trump Tower in Moscow was "a well-known project" he ultimately scrapped.
"We were thinking about building a building," he said. "I decided ultimately not to do it. There would have been nothing wrong if I did do it."