About half a dozen Secret Service agents have testified before the grand jury that will decide whether to indict former President Donald Trump for his alleged role in the Jan. 6, 2021, riot at the Capitol and efforts to interfere in the peaceful transfer of the presidency, according to two sources familiar with their testimony. 
Roughly five or six agents have appeared, the sources said, in compliance with subpoenas they received. It is not known what the agents' proximity to Trump was on Jan. 6 or what information they may have provided to the grand jury.
Special counsel Jack Smith's investigation into the events of Jan. 6 is separate from his probe that led to Trump's recent indictment in Florida for the handling of classified documents. Sources told NBC News that about 24 Secret Service agents appeared before the grand jury that considered that case in Washington before the case moved to Florida.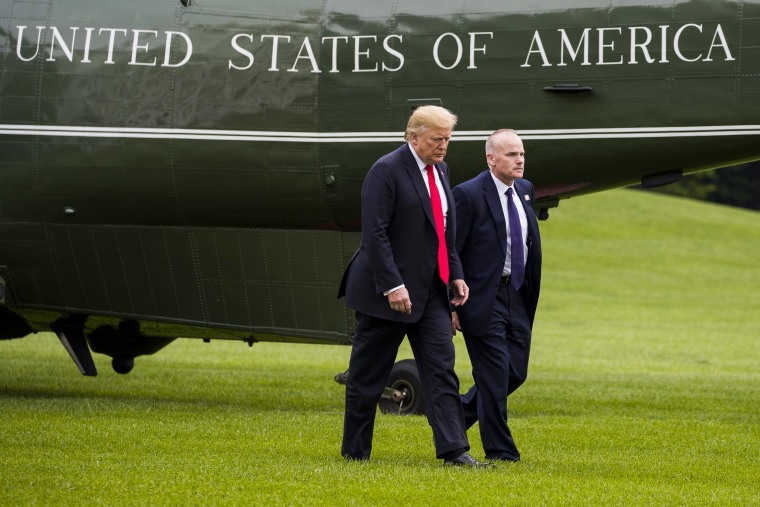 A spokeswoman for the Secret Service declined to comment. 
While the exact content of their subpoenas and appearances is not known, Secret Service agents who were close to Trump on Jan. 6 may be able to confirm, deny or provide more details on a story first told by former White House aide Cassidy Hutchinson to the now-defunct Jan. 6 committee in Congress. 
One year ago, Hutchinson told the committee she heard secondhand that Trump wanted Secret Service agents to drive him to the Capitol to join the rioters, tried to grab the car's steering wheel and then reached for the "clavicles" of the driver, Secret Service agent Bobby Engel. Trump later denied this account. 
Hutchinson said she learned of the incident from Tony Ornato. Ornato took a leave of absence from the Secret Service to serve as deputy chief of staff for Trump beginning in 2019 and then returned to the Secret Service when Trump left office. Both Engel and Ornato have since left the Secret Service and it is not known whether they have testified before the grand jury. 
Also of interest is what agents knew and discussed leading up to and during the Capitol insurrection. The Department of Homeland Security Office of Inspector General notified Congress last year that all text messages between agents on Jan. 5 and Jan. 6, 2021, were lost. The agency said it was part of a pre-planned software upgrade. Their communications, and anything agents may be able to recall, could inform the grand jury about the extent to which Trump knew about the potential for violence on Jan. 6 and how he responded to threats made against then-Vice President Mike Pence.