On Thursday, the president's oldest son is scheduled to speak at a fundraiser for Faulkner University, a private Christian college in Montgomery, Alabama, that offers degrees in everything from Bible Studies to biochemistry.
The Faulkner speech is the latest in a string of paid appearances Donald Trump Jr. has made or will make since his father clinched the Republican nomination — events in foreign countries and at public and private schools for which he will be paid as much as $100,000.
His speaking career predates his father's candidacy, but the optics changed when his father became the GOP candidate and then president. Trump Jr. is no longer just a real estate executive with a famous dad, but someone with access to the Oval Office. All his business deals and sources of income — including paid speeches — are being scrutinized for potential ethics violations, and for attempts by outside parties to influence the president.
Post-inauguration, Trump Jr. has given at least one paid speech in the UAE, where the Trump Organization has done significant business. He is also of interest to Special Counsel Robert Mueller's Russia investigation because of a 2016 meeting between Trump campaign staff and Russians initiated by one of his business contacts.
Trump Jr. does not work in or for the White House, so his speaking engagements don't violate the law.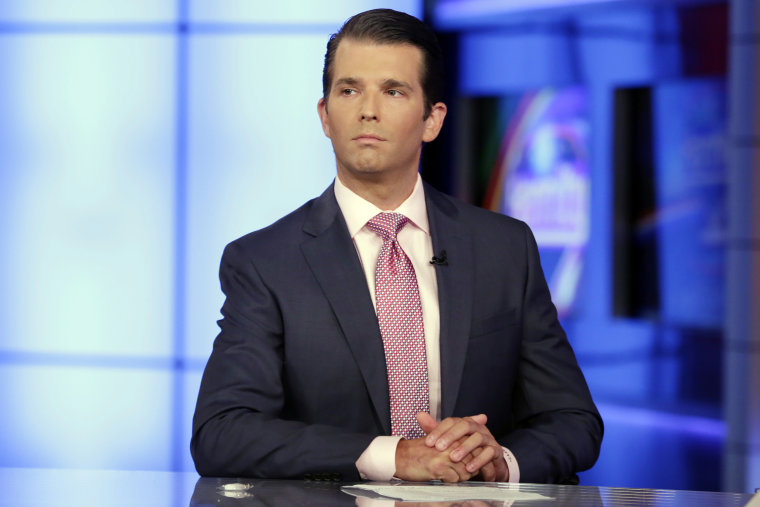 "The paid speeches do not break any laws, but create a risk of Trump's children getting unethical benefits from their father's role as president," said Noah Bookbinder, the executive director of Citizens for Responsibility and Ethics in Washington. "They also open the possibility of foreign governments using access to Trump's children as a way to influence U.S. policy."
Talent agency All American Speakers Bureau, which has worked with Trump Jr. in booking speaking engagements, listed his starting fee at $50,001 on the agency's website. Since NBC News first contacted the agency several weeks ago, the company has removed his profile from its site. A junior staffer said the agency had received about a dozen inquiries during the past few years about hiring Trump for speeches, but would not say how many contracts had been completed. Senior staffers did not respond to requests for comment.
Related: Mueller Team Asking If Trump Tried to Hide Purpose of Trump Tower Meeting
Trump Jr.'s next stop is the University of North Texas, which is paying him $100,000 to deliver the keynote at the UNT Kuehne Speaker Series, which raises money to support National Merit Scholars.
Norman Eisen, a former White House ethics lawyer, says the potential for conflict of interest rises when "entities being regulated by the federal government, such as public and private universities, are paying substantial sums to a presidential son who is known to be in regular contact with his father."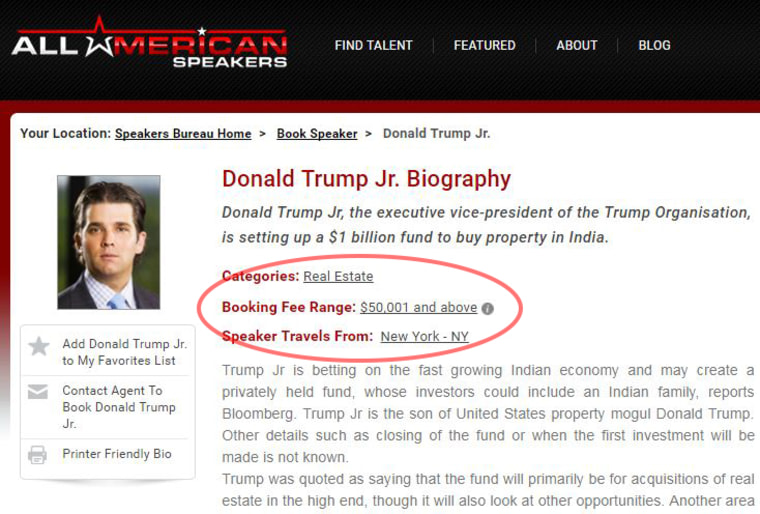 'He Needs to Be Careful'
During the 2016 campaign, Bill and Hillary Clinton faced intense criticism from political rivals, conservatives and ethics experts for mixing high-paid speaking gigs with their work for the Clinton Foundation. Critics said corporations or foreign governments donating money to the Foundation or paying for speeches were paying for access and influence.
When Hillary Clinton was secretary of state, money paid to her husband for his speeches or donations to the Foundation could be seen as a conflict of interest. After she left the State Department, payments to the Foundation or to either Clinton for speeches could be interpreted as attempts to curry favor with a future president.
Trump seized on the message, accusing the Clintons of a pay-to-play scheme in which they were auctioning off U.S. foreign policy to enrich themselves and their family charity.
Peter Schweizer, author of "Clinton Cash," a highly critical book on how the Clintons earned millions of dollars, has acknowledged multiple times to NBC News that there was no quid pro quo found on any supposed arrangement between Hillary Clinton, her State Department, Bill Clinton and the Foundation.
"As a former president, Bill Clinton deserved a very robust speaking fee, but he should not have substantially increased it after Hillary became secretary of state," said Richard Painter, a law professor at the University of Minnesota and a former White House ethics lawyer under President George W. Bush. "But I've never seen members of a current president's family cash in like the Trumps."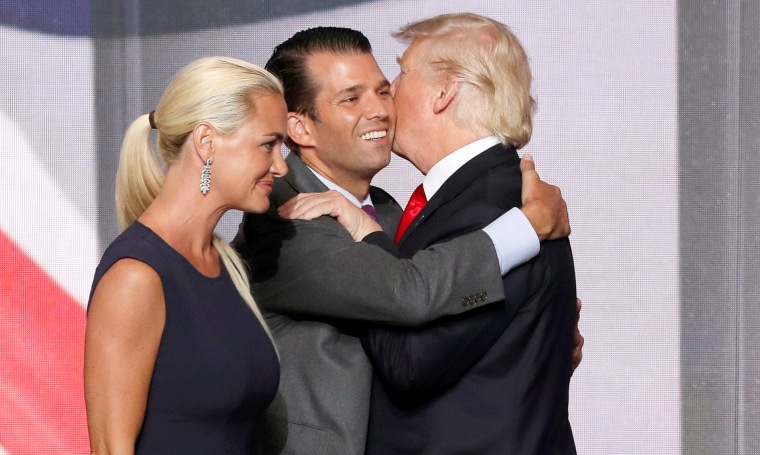 President Trump, meanwhile, has been doing business around the world for many years. He has licensing and management agreements in multiple foreign countries, golf courses in two, and met Russian oligarchs while pursuing failed real estate deals in Moscow and staging the 2013 Miss Universe pageant there. Donald Trump Jr. has been to Russia many times in search of business opportunities and his brother Eric said in 2014 that the Trump Organization gets "all the funding we need out of Russia" for golf-course projects.
Investigators for Robert Mueller, the ex-FBI director appointed to head a probe into any ties between Russia and the Trump campaign, have taken an interest in a meeting between Russians and Trump staffers that was arranged by a Trump Jr. acquaintance, music publicist Rob Goldstone. Goldstone, who had met Trump Jr. on a golf course in Florida several years earlier, emailed Trump Jr. telling him that a Russian real estate developer and pop star who knew the Trumps, Emin Agalarov, was offering the campaign information from a Russian prosecutor that would incriminate Hillary Clinton.
"I've never seen members of a current president's family cash in like the Trumps."
Trump campaign chair Paul Manafort, Trump's son-in-law Jared Kushner and Trump Jr. attended the resulting June 2016 Trump Tower meeting, as did Russian attorney Natalia Veselnitskaya and former Soviet intelligence officer Rinat Akhmetshin.
"Given his father's position and recent history with the Russia investigation, he needs to be careful to avoid the appearance of conflicts, ethics issues and improper dealings with foreign countries and in any situation," said Bookbinder. "You don't want people questioning if decisions were being made because the president's son is being paid."
Prior to his inauguration, President-elect Trump resigned from 400 different Trump businesses and turned over the day-to-day management of his empire to Donald Jr. and Eric, vowing that as president he would "in no way have a conflict of interest with my various businesses." The sons, in turn, said they would not be involved in the administration.
But even with the turnover, ethics experts say the Trump family continues to blur the lines between the Trump business empire and the business of the U.S. government.
"What we have not seen is a single representation that Trump or the Trump family has made, which has proven to be a legitimate effort to avoid conflict. At this point, all money flowing into the Trump family is tainted, and as a group they are bound and determined to open every conceivable pipeline for those that wish to curry favor," said Steven L. Schooner, a law professor at George Washington University specializing in public service ethics. "And it appears that the boys are the primary conduits for seeking new sources of income."
The president now faces numerous lawsuits over allegedly violating a constitutional clause that forbids government officials from accepting payments and gifts from foreign governments, which raises the question of whether the president is allowed to continue collecting profits from a global Trump brand.
The sons, meanwhile, took a business trip soon after the inauguration that raised questions. Just weeks after their father moved into the White House, Trump Jr. and his brother Eric flew to Dubai to celebrate the newest addition to the Trump empire, a development that features a nearly $10,000-a-year membership golf course.
The opening was celebrated with a lavish party that included speeches by both Trump sons and a grand display of fireworks over the golf course. The Trumps partnered with DAMAC Properties in Dubai, a publicly-listed company chaired by Emirati billionaire Hussain Sajwani, to build the property.
The Dubai project was the first new business launch for the Trump Organization since the inauguration and has been frequently pointed to by ethics experts as an example of the family's inability to separate business from government. Because their father was president at the time, the sons were accompanied by Secret Service agents and the government had to foot the bill for their hotel rooms, which topped $16,000.
In May, Trump Jr. was back in the desert kingdom to talk business with Sajwani, whose Instagram account featured a picture of him with Trump Jr. at a table full of French fries and Middle Eastern food. "It was great having my dear friend and business partner Donald Trump Jr. over for lunch. Discussing new ideas and innovation always makes our meetings more interesting."
That same week, Trump Jr. delivered the commencement speech for 440 graduates at the American University in Dubai, a private institution that credits H.H. Sheikh Mohammed bin Rashid Al Maktoum, the vice president and prime minister of the UAE, as one of its biggest supporters.
He told the graduates that armed with their education and professional relationships their "opportunities now are boundless."
The university did not dispute that he was paid for the appearance, but would not disclose how much. "AUD respects the confidentiality of such matters and cannot disclose this information," said Maya Amiouny, the chief financial officer of the university, via email.
"He's a citizen and can say what he wants, but he has to make it clear that he is not functioning as a White House policy representative and not welcoming people who want to use him to get access to the president," said Painter.
Faulkner University, where Trump Jr. speaks Thursday night, won't disclose his fee for the speech. Sponsorships for the fundraising dinner, which like the University of North Texas, has featured speakers Rudy Giuliani and George W. Bush in the past, can go for up to $40,000.
A spokesperson for the school, Rebecca Burylo, said the annual event "is always an excellent opportunity, not only to hear a wonderful speaker in Donald Trump Jr. but to celebrate Faulkner University with Montgomery and the surrounding area."
Trump Jr.'s next paid speech, at the University of North Texas, is scheduled for Oct. 24. Over the years, the school's Kuehne Speaker Series has brought in a long line of well-known former government and military officials, including Rudy Giuliani, a two-term mayor of New York City and Gen. Michael Hayden, the former director of two U.S. intelligence agencies.
"As a public university that supports the expression of differing points of view as part of the educational process," said a university spokesperson, "UNT offers a variety of lecture series and events, and welcomes speakers who represent all viewpoints, including conservative, liberal and progressive political beliefs as well as all positions in between."
The Dallas Morning News reported Wednesday that UNT's president, Neal Smatresk, wrote in emails to faculty members that he had tried to block the Trump Jr. speech. "I am trying to stop it, but it isn't an easy thing," he wrote in August to a professor.
A person familiar with the matter said Smatresk did express concern about the event triggering negative backlash.
Brint Ryan, the chief executive officer of Ryan LLC, a tax advisory firm based in Dallas and the chairman of the UNT System Board of Regents, is the presenting sponsor for this season's series event. Ryan's firm is donating enough to cover Trump Jr.'s $100,000 fee. Ryan was first introduced to the Trumps last year when he was invited to meet with then-candidate Trump and Steve Mnuchin a few months before the election to discuss his views on tax reform at a lunch at Trump's home in Beverly Hills. At the time, Mnuchin, now treasury secretary, was advising the campaign. After the election, Ryan met Trump Jr. at a Republican fundraiser in Dallas, where the candidate's son was the keynote speaker.
"He did a really good talk that night and that's when I got the idea he might be a possible lecture series speaker," said Ryan.
Since 2016, the Kuehne series has raised $1.65 million in funds that help support student scholarships. Ryan hopes to raise more than $300,000 in scholarship funds this year and says the controversy around the president's son will only generate more interest, sell more seats and raise more money.
"We have sold more sponsorships than we have ever sold and we will set a record for this event," said Ryan.
The Trump Organization declined to comment.