White House senior policy adviser Stephen Miller attacked a new book about the inner workings of President Donald Trump's White House as "garbage" and a "grotesque work of fiction" in a tense interview Sunday.
"The book is best understood as a work of very poorly written fiction, and I also will say that the author is a garbage author of a garbage book," Miller said on CNN's "State of the Union" on Sunday.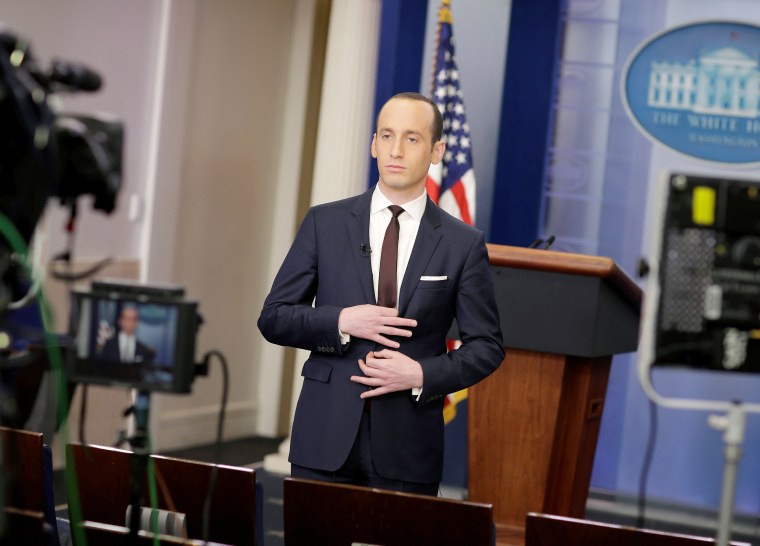 The tell-all book, "Fire and Fury: Inside the Trump White House," by Michael Wolff, has prompted a swift backlash from Trump and his White House. In the book, former White House chief strategist Steve Bannon is quoted as making a number of scathing critiques against Trump and his inner circle, including calling a meeting between Trump campaign officials and a Russian lawyer in Trump Tower during the presidential campaign "treasonous" and "unpatriotic."
"It's tragic and unfortunate that Steve would make these grotesque comments so out of touch with reality and obviously so vindictive, and the whole White House staff is deeply disappointed in his comments," Miller said on Sunday.
Miller described Bannon's role was "greatly exaggerated" and twice called Trump a "political genius."
The interview turned tense as Miller began repeatedly slamming CNN's political coverage and the media instead of directly answering host Jake Tapper's questions.
During the heated exchange, Tapper told Miller, in a reference to Trump: "There's one viewer that you care about right now, and you're being obsequious." He added, "I think I've wasted enough of my viewers' time" before cutting off the interview.
Related: 'Fire and Fury' author Wolff says White House staff discuss 25th Amendment daily
Trump tweeted about the interview later Sunday morning.
"Jake Tapper of Fake News CNN just got destroyed in his interview with Stephen Miller of the Trump Administration," the president tweeted.
The president also referred to Wolff's book as a "Fake Book" written by a "totally discredited author" in a separate tweet.
Trump defended his background and success during an impromptu audience with reporters and in a series of tweets on Saturday. On Twitter, Trump insisted that he was a "very stable genius" in defense against some critics' speculation about his mental health.
"Actually, throughout my life, my two greatest assets have been mental stability and being, like, really smart," the president said in a tweet.
NBC News has not confirmed much of the book. Wolff has been accused in the past of suspect reporting, most notably in his 1998 book "Burn Rate."
Wolff defended his work on Friday, insisting that he spoke with Trump on the record and called the president "a man who has less credibility than, perhaps, anyone who has ever walked on Earth."
"I will tell you the one description that everyone gave, everyone has in common: They all say he is like a child," Wolff said in an interview on NBC's "Today." "And what they mean by that is he has a need for immediate gratification. It is all about him."
Wolff added that "100 percent of the people around" Trump, "senior advisers, family members, every single one of them, questions his intelligence and fitness for office."