President Donald Trump said Tuesday there was a "very substantial chance" that his June 12 summit with North Korean leader Kim Jong Un would not take place as planned.
"There's a very substantial chance that it won't work out, and that's OK," Trump said at the White House, sitting alongside South Korean President Moon Jae-in. "That doesn't mean it won't work out over a period of time, but it may not work out for June 12."
Moments after suggesting a delay, Trump said, "There's a good chance that we'll have the meeting."
Victoria Coates, the National Security Council's senior director for international negotiations, told NBC News that the NSC is operating under the assumption that the summit will take place as scheduled.
"We're prepared, we'll have him [Trump] prepared, and when he makes a decision about whether it's the right thing to do for the American people, we'll be ready to follow his direction," Coates said.
Top White House officials echoed that sentiment later in the day.
"We'll continue to prepare for the summit and if they want to meet, we'll be ready," Press Secretary Sarah Huckabee Sanders said.
Secretary of State Mike Pompeo, during a surprise appearance at a State Department press briefing, said his team was "working to make sure there's a common understanding of … what will be discussed, but I'm optimistic."
"But again, this could be something that comes right to the end and doesn't happen. As the president said, we'll see," Pompeo added.
Moon, the South Korean president, was in Washington to encourage Trump to remain committed to the meeting, despite apparent hesitation in recent days from Pyongyang because of U.S. denuclearization demands.
The historic meeting between Trump and Kim, scheduled for June 12 in Singapore, was announced earlier this month. Days later, the reclusive North Korean regime said it would dismantle its nuclear test site this week, between Wednesday and Friday. Trump thanked Pyongyang and praised the move as a "smart and gracious gesture."
But in the weeks since, the summit has been in doubt.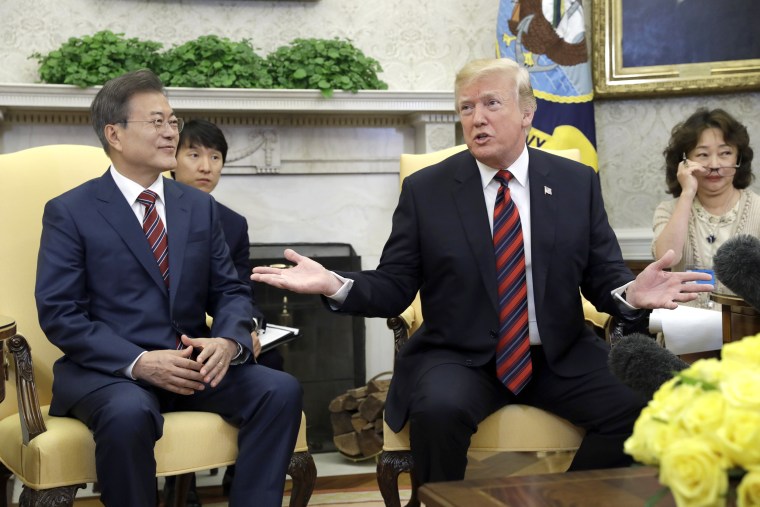 Last week, North Korea suggested the summit could be canceled if it was pushed toward "unilateral nuclear abandonment." Pyongyang also canceled high-level talks with South Korea, saying it was angry about a large military exercise currently being staged by Washington and Seoul in South Korea.
Trump, for his part, insisted Tuesday that the denuclearization of North Korea "must take place" as part of any agreement between the isolated nation and the U.S.
But he expressed flexibility on the details.
"All in one would be nice, I could tell you, I'm not going to go beyond that. It would certainly be better if it were all in one," he said, responding to a reporter's question about whether he would demand, as part of a prospective pact, that Pyongyang completely denuclearize immediately or whether it could happen incrementally.
"I don't know that I would totally commit myself, but all in one would be a lot better," he said.