Across the nation, protests against the stay-at-home orders that health experts say are needed to save lives are taking place, with more set for the coming days.
This week, about 100 protesters gathered outside the Ohio statehouse in Columbus to push for Republican Gov. Mike DeWine to reopen the state. In Raleigh, more than 100 demonstrators gathered to protest Democratic North Carolina Gov. Roy Cooper's stay-at-home order, where at least one protester was charged with violating the order. In New York, a few dozen people gathered Thursday outside the state Capitol in Albany to rally for returning to normal. Kentucky, Utah and Wyoming also saw similar protests.
More events are scheduled for Pennsylvania, Virginia, Texas, Oregon, Idaho and Washington state.
The largest took place in Michigan on Thursday, where police said 3,000 to 4,000 people showed up at the state Capitol in Lansing to protest Democratic Gov. Gretchen Whitmer's extended and expanded stay-at-home order, which was signed into law last week.
Asked about the protests at his press conference Thursday, one in which he unveiled his administration's guidelines for reopening, President Donald Trump said he believed the demonstrators would listen to him and added there is no daylight between his views and the governors when it comes to reopening.
"I think they're listening. I think they listen to me," Trump said of the protestors. "They seem to be protesters that like me and respect this opinion, and my opinion is the same as just about all of the governors. They all want to open. Nobody wants to stay shut but they want to open safely. So do I."
The protests have had a tea party flavor to them, with demonstrators carrying "Don't Tread on Me" flags and wearing "Make America Great Again" gear. Some have even waved Confederate flags.
"I'm only surprised they can tear themselves away from Rush Limbaugh long enough to go protest," Philippe Reines, a former top adviser to 2016 Democratic presidential nominee Hillary Clinton, told NBC News.
Critics say they're angry with the shutdowns, which have curtailed business and leisure activity in the name of a deadly virus they say hasn't hit their neck of the woods. But health experts have warned it won't take much for a relatively unaffected place to become a hot spot, as just one infected person is able to spread the virus to dozens of others.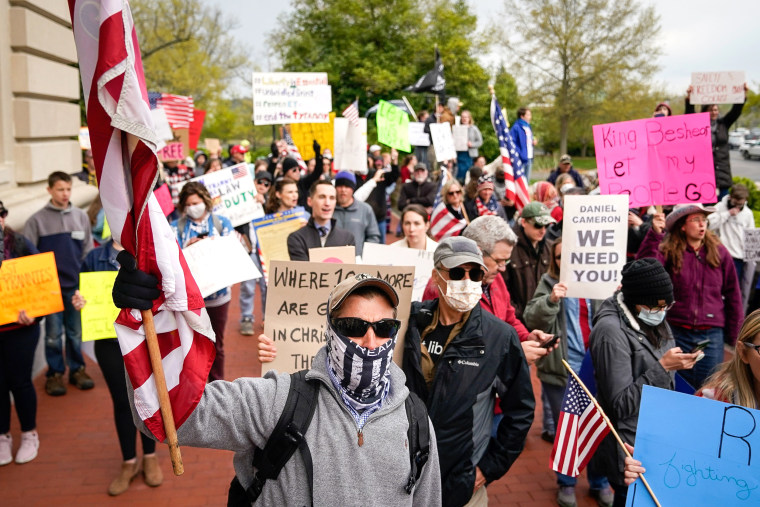 Push back to the orders is generating plenty of buzz online, where hundreds of thousands have joined groups, such as "Michiganders Against Excessive Quarantine," "ReOpen NC" and "Pennsylvanians Against Excessive Quarantine."
The stay-at-home measures have reignited — amidst a global pandemic — an age-old U.S. debate over government regulation vs. personal liberty. Across the country, states have implemented restrictive measures with the aim of saving lives.
"It made sense to prioritize public health for the past six weeks, but the accompanying economic devastation is bringing urgency to reopening the economy," said Matt Mackowiak, a Republican strategist. "In states across the country, including Michigan, North Carolina and Kentucky, citizens are rising up to protest executive overreach by local and state officials."
"Public guidelines are always best when they are made voluntary," he added. "Government officials have a responsibility to persuade the public to respond to their requests. There is no question that in some cases, we are seeing egregious executive overreach, and I expect protests to expand and increase in the coming days and weeks."
The rallies themselves could help spread the disease if demonstrators are not practicing safe social distancing measures. In Michigan, scores of protesters ignored organizers' requests and left their cars to demonstrate on foot and gather tightly near the Capitol building.
"We know this rally endangered people," Whitmer said Wednesday at a news conference, adding that such activity "will put more people at risks and could prolong how long we need to be in this posture."
The protests — and the idea of defying the stay-at-home orders — have been fueled by some prominent conservatives
"Time to get your freedom back," Fox News host Laura Ingraham tweeted Wednesday, sharing a video of cars lined up and headed to the Lansing protest.
The events are happening as states — and the federal government — are announcing plans related to reopening.
This week, seven Northeastern governors announced a pact with the goal of creating a plan to reopen the region's economy. A similar seven-governor pact was announced in the Midwest, while the three Pacific coast states announced such a group, too.
On Thursday, the Midwestern governors announced what factors they will consider when determining when to reopen. They included sustained control in the rate of new infections and hospitalizations, enhanced testing and tracing ability, sufficient capacity in the health care system to handle a resurgence, and guidance for best practices for social distancing in the workplace.
"I think the same factors you're hearing from governors across the country," Whitmer told NBC's "Today Show" Wednesday about the conditions for reopening. "It's knowing that we got a decline in number of tests coming in positively. It's that we get robust testing, and that is still a struggle across this nation."
Already, roughly 650,000 COVID-19 cases have been confirmed in the U.S., while more than 30,000 have died, according to a Johns Hopkins University tracker.
Earlier this week, Trump said he is "not going to put pressure on any governor to open," acknowledging that each state has different circumstances.
"The worst scenario," New York Gov. Andrew Cuomo, a Democrat, said this week, "would be if we did all of this, we got that number down, everybody went to extraordinary means, and then we go to reopen and we reopen too fast or we reopen and there's unanticipated consequences, and we see that number go up again."