President Donald Trump on Tuesday denounced the recent rise in bomb threats against Jewish community centers across the country, saying the anti-Semitism and racism that continue to afflict America must be addressed.
"Anti-Semitism is horrible, and it's gonna stop and it has to stop," Trump told NBC News in an exclusive interview, after touring the National Museum of African American History and Culture in Washington, D.C.
Federal authorities have been investigating a wave of phoned-in bomb threats to at least 10 Jewish community centers, including in Alabama, Ohio, Illinois, Texas and New York. No one was injured, and the threats appeared to be hoaxes, the Jewish Community Center Association of North America told NBC News on Monday.
The new spate of threats has brought the total number to almost 70 since the beginning of the year, according to the association.
In a separate count of hate crime incidents, the Southern Poverty Law Center found nearly 2,000 in the 34 days after the November election expressing anti-Semitic and other bias-related harassment.
"I think it's terrible," Trump said of the anti-Semetic threats. "I think it's horrible. Whether it's anti-Semitism or racism or any — anything you wanna think about having to do with the divide. Anti-Semitism is, likewise, it's just terrible."
He added, "You don't know where it's coming from, but I hope they catch the people."
Related: Muslims and Jews Band Together Against Hate
When asked about his immigration executive orders that have caused a measure of chaos at airports and have now been partially blocked by federal courts — pending new orders which could come out as early as Tuesday — Trump said he was focused on safety, and love.
"We have to have a safe country," he said. "We have to let people come in that are going to love the country. This is about love. This building is about love. And we have to have people come in that are going to love the country, not people that are gonna harm the country."
The president's comments come after he sidestepped a question at a press conference last week about personally rebuking anti-Semitism, instead choosing to brand himself as "the least anti-Semitic" person in America.
Trump's remarks Tuesday were met with stinging criticism from Steven Goldstein, the executive director of the Anne Frank Center for Mutual Respect, as a Band-Aid and a "pathetic asterisk of condescension."
"Make no mistake: The Anti-Semitism coming out of this Administration is the worst we have ever seen from any Administration," Goldstein said in a statement, adding, "When President Trump responds to Anti-Semitism proactively and in real time, and without pleas and pressure, that's when we'll be able to say this President has turned a corner. This is not that moment."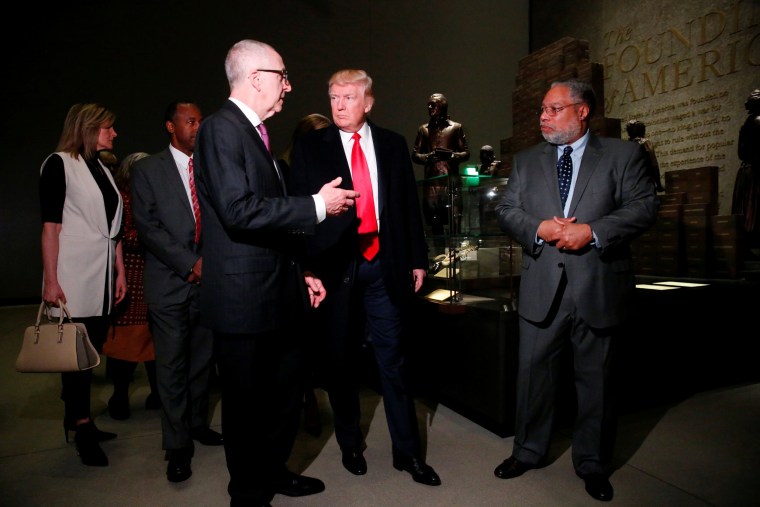 During his tour of the National Museum of African American History and Culture, Trump was shown an exhibit on slavery during the American Revolution. He was joined by eldest daughter Ivanka and two black members of his team: Housing and Urban Development secretary nominee Ben Carson and administration official Omarosa Manigault.
The museum, which this month reached a milestone of 1 million visitors since opening in September, includes an exhibit about Carson's humble beginnings in Detroit to his rise as a neurosurgeon and eventual Republican presidential candidate.
Trump later told reporters that he plans to visit the Holocaust Museum and going is "very important to me."
To kick off Black History Month, Trump held a round-table meeting with African-American leaders at the White House in early February. At the time, he lauded the African-American history museum — located on the National Mall — as a place where people can learn about prominent civil rights leaders such as Martin Luther King Jr. and Frederick Douglass.
As a candidate in October, Trump pledged a "new deal for black America," which included putting more police on the streets and targeting "blighted communities" with "disaster designation" in order to spur the transformation of urban cities.
Related: Obama Dedicates 'Glorious' New African-American Museum
Trump during the campaign was frequently criticized for painting a bleak picture of African-American communities.
During his first month in office, Trump's administration has been marked by numerous crises, battles with Democrats and the media, and protests over his signature policies on immigration. He defended his White House last week as running like a "fine-tuned machine."