Calling it a "historic moment for North America," President Donald Trump announced the federal government's approval Friday of the Keystone XL oil pipeline — setting in motion a controversial project opposed by environmental groups, landowners and some Native American tribes.
"It's gonna be an incredible pipeline — the greatest technology known to man or woman. And frankly, we're very proud of it," Trump said from the Oval Office, where he was joined by executives from TransCanada, which wants to build the project, as well as Energy Secretary Rick Perry and senior advisor Jared Kushner.
Trump pledged the pipeline's construction would bring new jobs, lower energy costs for Americans and reduce the country's reliance on foreign oil.
But the Obama administration disputed those points while repeatedly rejecting calls for its construction.
Trump's support of the project comes after he signed an executive order just days after taking office to revive construction of the $8 billion pipeline. It was a stark turnaround from the previous administration, which rejected the project in 2015 over its potential impact on the environment and a concern for climate change.
"The regulatory process in this country has become a tangled up mess," Trump said in January, when he also signed an executive order for the expedited approval of the heavily protested Dakota Access Pipeline.
Trump at the time ordered the State Department to make a permitting decision within 60 days from when the project's builder, Calgary-based TransCanada, submitted its request. The request was made Jan. 26.
The State Department, which had to weigh the national interests for the project, said Friday it formally signed off on the permit. Secretary of State Rex Tillerson, the former ExxonMobil CEO, recused himself from any deliberations because of the energy company's investment in producing oil from Canada.
Related: Tillerson Recused Himself in Keystone XL Decision, State Department Says
Once completed, officials say, the 900-mile pipeline would carry 830,000 barrels of oil per day from Canada into the U.S., first through Montana and ending at refineries on the Texas Gulf Coast.
A State Department environmental impact statement says 3,900 construction jobs would be created over two years, although there would be only 35 permanent positions and 15 temporary contractor positions once the pipeline is in operation. The department also said 42,100 indirect jobs would be created during construction related to food, housing and other services for workers.
TransCanada initially applied for a permit for the project in 2008, but it continually stalled after repeated legal disputes and political wrangling in Washington. Obama vetoed three bills that sought to approve the Keystone XL pipeline.
In 2015, when then-Secretary of State John Kerry advised against the project, he said it would negatively impact energy security, fail to lower gas prices for American consumers and be marginally beneficial to the economy.
Environmental groups, meanwhile, have vowed to continue blocking the project, and protesters with 350.org and the Sierra Club planned to rally in front of the White House on Friday afternoon.
"Keystone XL is all risk and no reward for the American people," Rhea Suh, president of the Natural Resources Defense Council, said in a statement. "It remains, and always will be, a threat to our land, water and climate. Today's decision can never change those facts."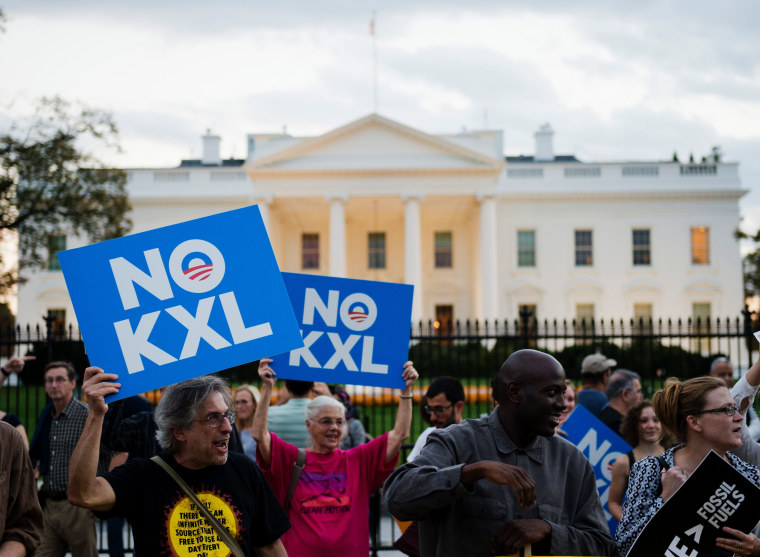 The pipeline still needs approval from the state of Nebraska, where it would stretch 275 miles. Officials there have been soliciting public comments, and dozens of rural landowners have chimed in to oppose the project, fearful that their properties would be lost under eminent domain.
Some Native Americans have also banded together to protest the pipeline running through tribal lands and said they're concerned that it is in close proximity to the Ogallala Aquifer, which provides fresh groundwater to Great Plains states.
"We've stopped the toxic Keystone XL Pipeline once, and we will do it again," Tom Goldtooth, executive director of the Indigenous Environmental Network, said in a statement, adding, "This fight is not over, it is just beginning."
At Friday's announcement, Trump asked TransCanada CEO Russ Girling when the project would begin. Girling told him that it remains held up in Nebraska, but said he wanted to reach out to landowners and tribal communities to review their concerns.
Trump said he knows the state's governor, Pete Ricketts, and joked: "I'll call Nebraska."