Businessman Louis DeJoy, a top donor to President Donald Trump and the Republican National Committee, has been picked to be the new head of the U.S. Postal Service.
DeJoy, a native of Brooklyn, New York, is a North Carolina-based businessman who formerly ran New Breed Corp., a private logistics and distribution company in Greensboro. He replaces Postmaster General Megan Brennan, who was appointed in 2015 when Barack Obama was president and was the first woman to hold the position.
DeJoy's appointment was made on Wednesday by the Postal Service's Board of Governors.
DeJoy is a large contributor to the president and other Republicans. Since January, he has donated over $360,000 to the president's re-election campaign and about $70,000 to the Republican National Committee, according to campaign finance data from the Federal Elections Commission.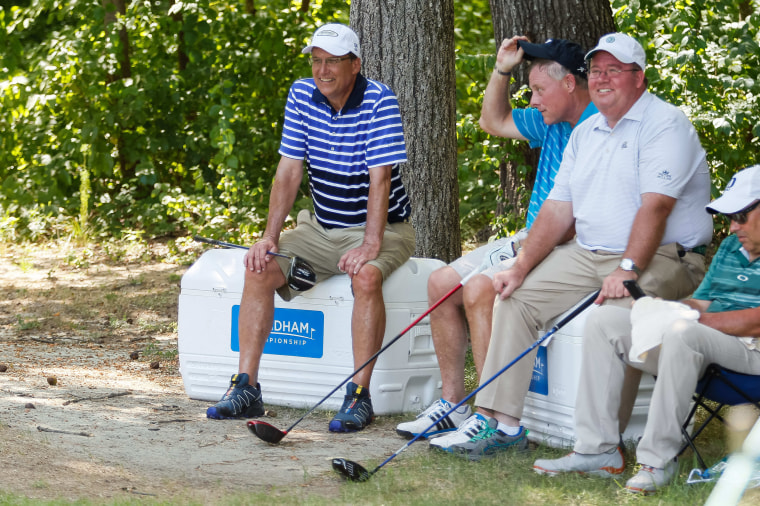 He is the husband of Aldona Wos, the former U.S. ambassador to Estonia, who is vice chairwoman of the president's White House Fellows program.
Trump has long railed against the Postal Service, particularly claiming the agency has been swindled by e-commerce giants that use the post office to send out millions of packages, such as Amazon.
Late last month, Trump blasted the Postal Service as "a joke" and vowed to block financial aid for the struggling agency unless it raised prices for packages "four times or five times."
Trump has called for the post office to hit Amazon and other tech companies with much higher prices for packages to make up for its budget woes. The president has also signaled that he won't support giving the agency billions of dollars in loans as the administration tries to protect the economy with aid packages during the coronavirus pandemic.
"They don't want to raise it, because they don't want to insult Amazon," Trump said at the time. "If they don't raise the price, I'm not signing anything."
House Speaker Nancy Pelosi, D-Calif., told reporters last month that Trump is looking to privatize the agency, which she called a "very big danger" for the country, especially in the middle of the coronavirus outbreak.
Trump, however, later tweeted: "I will never let our Post Office fail."
The appointment has already drawn criticism from some lawmakers.
Rep. Gerry Connolly, D-Va., chairman of the Oversight subcommittee on government operations, which oversees the agency, said in a phone interview Wednesday that the nomination raises eyebrows.
"I have no idea — is he is just going to take his marching orders from a hostile Donald Trump and an acolyte [Treasury Secretary] Steve Mnuchin, or is he going to embrace a broader responsibility as the new Postmaster General?" said Connolly, adding that he finds the move "anything but reassuring."
"It is somewhat alarming," he said.
However, in a 2004 interview, DeJoy told the Greensboro, North Carolina, News & Record that Trump was not his vision of executive leadership.
"I'd be fired," he said, referring to Trump's hit NBC reality show at the time, "The Apprentice." "That attitude that you are the most important person is self-destructive."
CORRECTION (May 7, 2020, 6:23 a.m. ET): An earlier version of this article misstated how the appointment of the new U.S. postmaster general was made. It was by the Postal Service's Board of Governors, not by President Donald Trump.
CORRECTION (May 7, 2020, 9:54 a.m. ET): An earlier version of this article misstated how former Postmaster General Megan Brennan was appointed in 2015. She was named by the postal service's board of governors, not by President Barack Obama.