COUNCIL BLUFFS, Iowa — Former President Donald Trump, a longtime fast food lover, seemed to reveal on Friday that he's not a frequent visitor of at least one well-known chain.
During a stop at a Dairy Queen here, Trump appeared perplexed by requests for a Blizzard — perhaps the most famous item on Dairy Queen's menu — while engaging with employees at the counter.
"Everybody wants a Blizzard. What the hell is a Blizzard?" Trump asked, while throwing his hands in the air, prompting laughter from the crowd.
"Take care of the people, OK? Will you take care of 'em for me, and we'll do the Blizzard thing, alright?" he added.
The Blizzard, a soft serve ice cream treat blended with a variety of confections, has been a mainstay of the ice cream chain, which started offering them in 1985.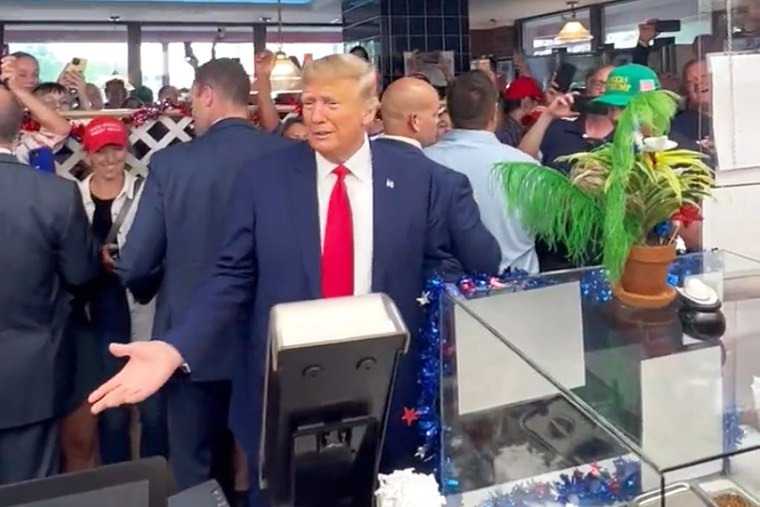 Earlier this year, Trump visited a McDonald's in East Palestine, Ohio, in the aftermath of a toxic train derailment. "What's your specialty today?" he asked employees behind the counter before saying, "I know this menu better than you do. I probably know it better than anybody in here."
After Trump's stop at the Dairy Queen on Friday, a spokesperson for the Democratic National Committee took a jab at Trump on Twitter by writing: "Donald Trump doesn't know what a blizzard is. You know who does? Joe Biden."
An accompanying video showed Biden demonstrating the signature feature of the so-called gravity-defying Blizzard, flipping a full cup of it, spoon and all, upside down while its contents remained frozen in place.
Vaughn Hillyard reported from Council Bluffs, Zoë Richards reported from New York.