President Donald Trump took a jab at Joe Biden on Thursday, blasting the former vice president on Twitter as "weak, both mentally and physically" and vowing that if they actually fought he "would go down fast and hard, crying all the way."
In a scathing early-morning tweet, Trump responded to earlier insults from Biden and wrote that "Crazy Joe Biden is trying to act like a tough guy."
"Don't threaten people Joe!" the president added.
Earlier this week, at a rally at the University of Miami attended by a sexual assault awareness advocacy group, Biden said he would "beat the hell out of" Trump if they had been in high school together and if he heard him demeaning women.
Biden, 75, who was captured making the remarks in a video posted to Facebook, told the audience that Trump, 71, once said, "'I can grab a woman anywhere and she likes it' and then said, 'I made a mistake.'"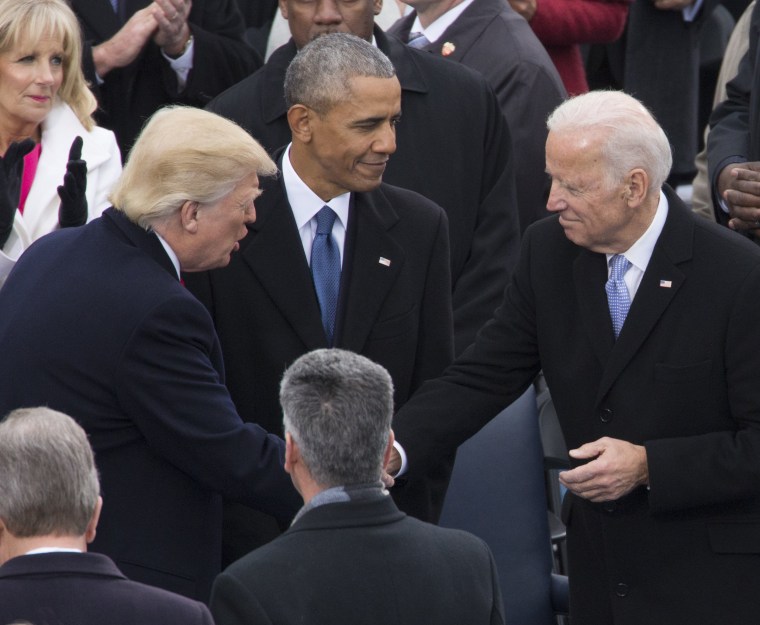 "If we were in high school, I'd take him behind the gym and beat the hell out of him," Biden said to applause. "I shouldn't have said that, but then I was told that's just locker room talk. Well, I've been in a lot of locker rooms my whole life, I'm a pretty damn good athlete. Any guy who talked that way was usually the fattest, ugliest S.O.B. in the room. For real!"
The former vice president's comments were in reference to 2005 footage from "Access Hollywood" showing Trump bragging about crude and degrading behavior toward women. Trump later apologized, calling his remarks "locker room talk."
Deputy White House Press Secretary Raj Shah said Thursday of Biden, a possible 2020 presidential candidate: "We'd like to see him at the ballot box. We'd like to see him in the boxing ring."
"This president obviously can speak for himself and hold his own, but I think that Joe Biden's rhetoric has been over the top, and I love how the media likes to criticize only this president, but when Joe Biden goes into kind of la la land, he gets a pass," Shah added during an appearance on Hugh Hewitt's radio show. "Well, we're not going to stand for that."