This is the first in a two-part series on the successes and failures of public-private partnerships, a funding mechanism that President Donald Trump has proposed to accomplish his $1 trillion dollar infrastructure plan to rebuild America. Today, we take a look at a project that's gone very wrong; on Tuesday, we will examine a success story.
Texas had high hopes for the southern segments of SH 130, a 41-mile stretch of the high-speed toll road east of San Antonio.
The state had put off building that stretch of road until a pair of investors stepped forward and offered what sounded like a great deal: Texas would get a big check for turning the rights to build and operate the toll road over to a private entity, a move that would give the state a new highway and a share of the tolls. The state would own the road and rake in revenue, but wouldn't have to put up the cash for its construction.
That's the kind public-private partnership model that President Donald Trump and some conservatives say the nation needs to rebuild its crumbling infrastructure without adding to the debt and deficit. Trump vowed a $1 trillion infrastructure plan funded by public-private partnerships in his first joint address to Congress in January and hired an expert in such deals, D.J. Gribbin, as the special assistant to the president for infrastructure policy. Since then, few details of Trump's plan have been released.
But a decade after Texas and its partners first shook hands, the corporation running the road is in bankruptcy — with more than $430 million still owed to U.S. taxpayers stemming from a loan approved by the U.S. Department of Transportation when Gribbin was general counsel in 2008 — and more than a billion owed to other investors, too.
It's the latest in a slew of toll road public-private partnerships that have fallen apart in the wake of the recession 10 years ago, at times leaving taxpayers struggling to recover their investment. The pitfalls could serve as a yellow caution light for lawmakers considering Trump's plan.
In Texas, the road has been blamed for flooding a small town, feral hogs roam dangerously across it and unrepaired potholes make for a bumpy ride, according to an investigative report on the project by the San Antonio Express-News. The state expected $245 million in toll payments over 50 years, but less than 4 years in it's seen just $3 million, according to the report.
How did a good deal go so bad?
In 2006, Texas built 50 miles of highway to the southeast of Austin, between Georgetown and Mustang Ridge, but opted not to continue it south through the final 41 miles; at the time, traffic projections suggested that revenues would cover just half the road construction costs, the Express-News reported.
Investors Cintra, a private developer of infrastructure, and Zachry, a construction company, saw an opportunity, offering Texas' Department of Transportation $25 million to design, build and operate the road in exchange for most of the toll revenue for 50 years. They later paid $100 million to the state for an 85 mile-an-hour speed limit.
The problems began almost immediately: Traffic projections were missed in the road's first year. Six months after opening in October 2012, half the expected traffic was taking the high-speed toll road. Moody's downgraded the loans again by the end of 2013 to junk bonds. In 2016, the private outfit operating the road filed for bankruptcy.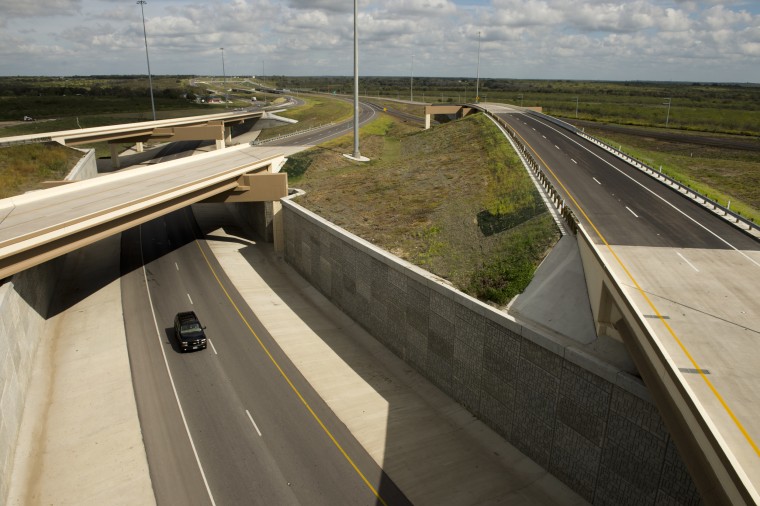 Texas' Department of Transportation has stressed that consumers will not see reduced service or feel the repercussions of the bankruptcy. The SH 130 Concession Co., the entity created to build and operate the road, declined to answer specific questions for this story but stressed the same. The U.S. Transportation Department said last year it would work to "maximize recoveries to the taxpayers."
A warning for the future of public-private partnerships?
Public-private partnerships are often seen as a way to get building and repair projects off the government books, but many do include significant public funding and federally-backed loans. When projects go south, what was seen as an easy win can turn into a complicated loss that takes years to sort out.
In 2011, San Diego's South Bay Expressway exited bankruptcy protection under a plan that cleared hundreds of millions of dollars of debt from its balance sheets. It was one of a slew of roads that saw a lucrative public-private partnership negotiated before the recession that failed to meet expectations after it.
"The worst of all possible worlds is where the government is putting its balance sheet on the line," said Martin Lawrence, an analyst in the investor advisory group Ownership Matters in Melbourne, Australia. "It's left holding the baby, and the private sector will catch most of the upside."
Related: Both parties say Trump's infrastructure plan needs repair
In Australia, public-private partnerships are common but rarely include government funding. Instead, governments simply offer up the rights to run tolls in a certain area without putting up their own cash into the program. When a project goes bankrupt, taxpayers aren't on the hook.
In the wake of the recession, there's already been a shift away from demand-based deals like SH 130, which was entirely dependent on how many people would drive on a new toll road.
Before the global financial crisis, there were a lot of toll roads built on traffic projections, said PricewaterhouseCoopers' Capital Projects and Infrastructure Director Kylee Anastasi. Afterward, with more cautious lenders, deals were struck in which the government would pay companies for the infrastructure's operations. "They weren't directly dependent on the toll revenues," she explained.
"Make sure that the structures are designed to suit the long-term interests of the people who want the infrastructure," Lawrence advised, adding that governments need to "be very, very careful about financial projections over a long period of time."