President Donald Trump described Democratic Rep. Adam Schiff of California as "little Adam Schitt" in a tweet Sunday, criticizing the likely incoming House Intelligence Committee chairman for his comments about acting Attorney General Matthew Whitaker earlier in the day.
The tweet was still up on the president's Twitter page more than an hour after Trump first posted it.
"So funny to see little Adam Schitt (D-CA) talking about the fact that Acting Attorney General Matt Whitaker was not approved by the Senate, but not mentioning the fact that Bob Mueller (who is highly conflicted) was not approved by the Senate!" Trump wrote.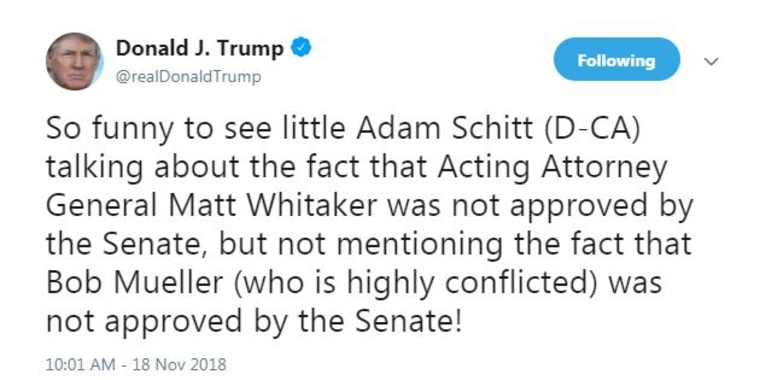 Schiff responded within an hour, tweeting, "Wow, Mr. President, that's a good one."
"Was that like your answers to Mr. Mueller's questions, or did you write this one yourself?" he added, referring to reporting that Trump will soon submit his written answers to special counsel Robert Mueller's questions.
Speaking on ABC's "This Week" on Sunday, Schiff said Democrats — who will regain control of the House in January — will challenge the legality of Trump's appointment of Whitaker.
"I think the appointment is unconstitutional," Schiff said, adding that Whitaker's appointment must be subjected to Senate confirmation.
Whitaker's appointment, which followed Trump forcing out Attorney General Jeff Sessions, has been the subject of much controversy, particularly as it relates to his role overseeing Mueller's probe. Top Democrats called for Whitaker's "immediate recusal," citing past commentary critical of the investigation into Russian interference in the 2016 presidential election and whether the Trump campaign colluded with Russians to influence the election.
On Friday, opponents of the appointment asked the U.S. Supreme Court to rule that Whitaker is not legally qualified to serve as acting attorney general. Meanwhile, the Department of Justice last week offered an opinion defending the legality of Whitaker's appointment.
Trump slid Whitaker, who was Sessions' chief of staff prior to his appointment, over to serve as acting attorney general by utilizing the Federal Vacancies Reform Act, a statute that allows for the president to fill such a void until a permanent replacement is named. However, legal experts have said the law only allows for the president to appoint a Senate-confirmed official, which Whitaker was not.
During a Sunday interview with Fox News anchor Chris Wallace, Trump said he "did not know" Whitaker "took views on the Mueller investigation," adding that those views didn't have "any effect" on the appointment. But, Trump said, his views on the probe are "right."
"What do you do when a person's right?" Trump said on "Fox News Sunday." "There is no collusion. He happened to be right. I mean, he said it. So if he said there is collusion, I'm supposed to be taking somebody that says there is? Because then I wouldn't take him for two reasons, but the number one reason is the fact that he would have been wrong. If he said that there's no collusion, he's right."
On his written answers to Mueller's questions, which Schiff referenced in his tweet, Trump said his legal team was "writing what I tell them to write."