FORT PIERCE, Fla. — The Mar-a-Lago property manager charged in a new indictment alongside Donald Trump over the handling of classified government documents had to once again delay his arraignment in a Florida court Thursday after he was unable to secure a local lawyer in time.
Carlos De Oliveira, 56, is accused of conspiring with Trump and Walt Nauta, a personal aide to the former president, to thwart federal investigators' efforts to retrieve sensitive files from Trump after he left office. De Oliveira was named as a co-conspirator alongside Trump and Nauta in special counsel Jack Smith's updated indictment last month. 
A Florida attorney, Donnie Murrell, who sat by De Oliveira in the courtroom had not yet filed a notice of appearance in the case. He told U.S. Magistrate Judge Shaniek Mills Maynard, who oversaw Thursday's hearing, that he hoped to do so by Friday afternoon after having ironed out some details. It is "close to being handled," he said.
Murrell asked to have De Oliveira be arraigned on Aug. 25, when a pretrial hearing is already scheduled, but Maynard rejected the request. Maynard agreed to waive De Oliveira's appearance at a hearing to enter his plea next Tuesday morning.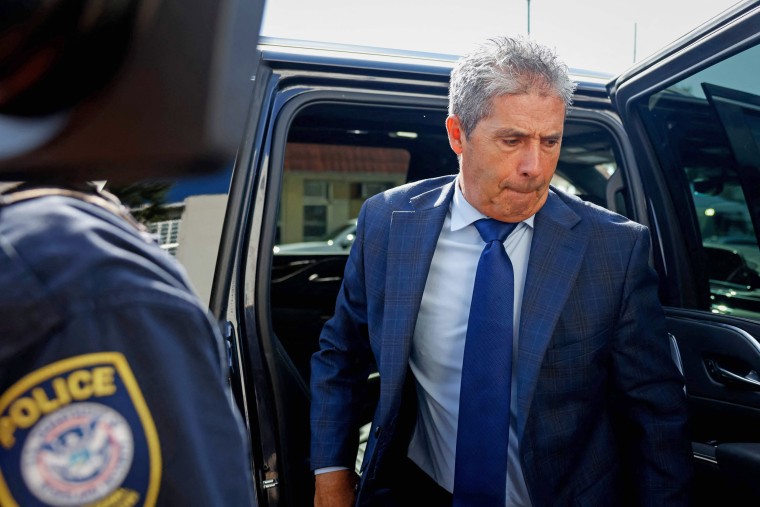 De Oliveira arrived at the courthouse at about 9:45 a.m. Thursday. Nauta arrived separately.
According to the indictment, De Oliveira told an employee at Trump's Palm Beach club that "the boss" wanted security video deleted after federal investigators requested the recordings from Trump's attorneys. He is also accused of making false statements to the government, saying he "never saw anything" when he was asked about his involvement in moving boxes containing the classified files. 
Appearing before a judge for the first time last week, De Oliveira was unable to enter his plea because he had not secured a Florida-based attorney. Hours before he was newly set to be arraigned, it was still not known whether he had retained local counsel.
Trump pleaded not guilty to the new charges and waived his notice of appearance at the arraignment in a court filing last week. The plea was entered by a lawyer.
Nauta pleaded not guilty to the updated charges through his lawyer. Asked whether he understood the charges, Nauta, speaking softly, said he did. "Thank you, your honor," Nauta responded when the judge wished him a good day.
Questions about who is set to represent Trump and his co-defendants have drawn close scrutiny since the first charges were announced in June, with routine processes drawn out at several junctures. Nauta's not guilty plea was twice delayed after he was unable to secure a Florida attorney.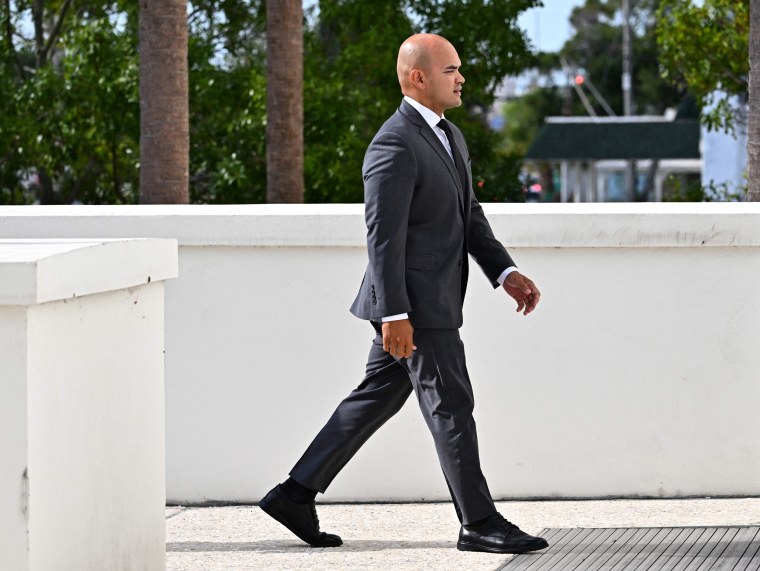 Mark Schnapp, a criminal defense attorney and former federal prosecutor in Florida's Southern District, said De Oliveira should have a lawyer by the hearing.
"Candidly, there's no reason he can't find a lawyer," Schnapp said. 
Trump's lawyers have also cited the threat of further legal jeopardy to push for a later trial date, and Trump has called for the case to be tried after the 2024 election, because he is running for president. 
The judge in Thursday's hearing could also address questions about the handling of classified information and potential conflicts of interest for lawyers involved in the case. Trump's political fundraising group has also paid attorneys representing his aides and employees.
In a court filing this week, the federal judge overseeing the case responded to a request by the government for a hearing over that issue by asking Smith, the special counsel, about whether prosecutors continue to investigate Trump before a different grand jury. 
Schnapp said the government's motion, which referred to charges developed by a grand jury in Washington, D.C., "opened the door" to the judge's inquiry and offered a potential opening for the defense to dismiss the obstruction counts. 
"In an extreme situation, this could be the basis for a motion to dismiss the superseding indictment or the new counts," said Schnapp, a former chief of the criminal division at the U.S. attorney's office in Miami. Still, he said, the motion was unlikely to succeed.