Donald Trump spent about eight hours at New York Attorney General Letitia James' office Thursday for a deposition in her $250 million lawsuit alleging fraud in the former president's real estate business practices.
Trump arrived at the Lower Manhattan office just after 9:30 a.m. ET, and his vehicle departed shortly after 6 p.m.
A spokesperson for the AG's office said that Trump spoke a lot and that James was present for part of that time. It was not immediately clear what questions Trump was asked.
In an overnight post on his social media platform, Truth Social, Trump called the deposition "another unjust & ridiculous persecution of The 45th President of the United States."
He also posted about the various investigations of him, calling them "election interference," and said that because of this case, he "will finally be able to show what a great, profitable, and valuable company I built, actually, some of the greatest real estate assets anywhere in the world."
In a statement Thursday morning, Trump attorney Alina Habba said Trump was "not only willing but also eager to testify" before the attorney general.
"He remains resolute in his stance that he has nothing to conceal, and he looks forward to educating the Attorney General about the immense success of his multi-billion dollar company," she said.
Habba did not immediately respond to a request for comment about the deposition Thursday night.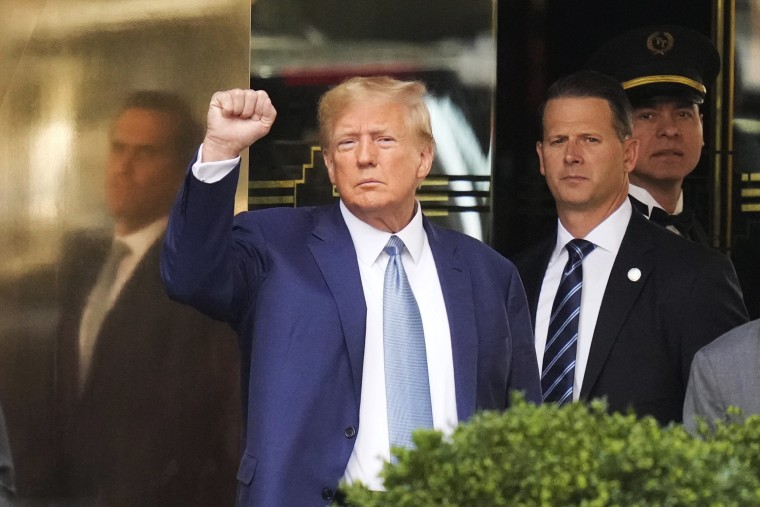 Trump sat for a deposition at the attorney general's office in August, invoking his Fifth Amendment right against self-incrimination more than 400 times. The trial is set for October.
Trump appeared in New York after he pleaded not guilty last week to 34 felony counts of falsifying business records related to his role in hush money payments toward the end of his 2016 presidential campaign in a case brought by Manhattan District Attorney Alvin Bragg.
Separately, James filed a lawsuit in September against Trump, his three oldest children and the Trump Organization in connection with her office's yearslong civil investigation into the company's business practices.
The lawsuit, which accused Trump of making efforts to inflate his personal net worth to attract favorable loan agreements, alleges more than 200 instances of fraud over 10 years.
James is seeking to permanently bar the Trump family from serving as officers of New York-based companies and prevent Trump and his company from entering into commercial real estate acquisitions in the state for five years. She is also seeking about $250 million in penalties.
In March, Trump asked a judge to extend the deadlines for fact discovery until late September and for expert witness discovery until December, arguing that the deadline that was set to complete that process — March 20 — was unfair and unrealistic given the "staggering" amount of evidence from James' office Trump's legal team had to review.
James urged the court last month to reject Trump's attempt to delay the case, saying she fears he will use his 2024 presidential run as an excuse to further try to postpone the trial.
Judge Arthur Engoron remains committed to an Oct. 2 trial date, but he recently agreed to move some pretrial deadlines to allow lawyers more time to review evidence, interview witnesses and file motions, The Associated Press reported.