President Donald Trump dissolved two of his economic advisory councils Wednesday after a rash of CEOs resigned in the wake of his response to a white nationalist attack in Charlottesville, Virginia, that occurred Saturday.
"Rather than putting pressure on the businesspeople of the Manufacturing Council & Strategy & Policy Forum, I am ending both," Trump tweeted. "Thank you all!
Trump's tweet came just moments after two more executives announced their resignations from his Manufacturing Council Wednesday. Leaders of another council, called the Strategic and Policy Forum, said they were disbanding the body because the Charlottesville debate had become "a distraction" to their purpose.
"As our members have expressed individually over the past several days, intolerance, racism and violence have absolutely no place in this country and are an affront to core American values," the group said in a statement. "We believe the debate over Forum participation has become a distraction from our well-intentioned and sincere desire to aid vital policy discussions on how to improve the lives of everyday Americans."
"As such, the President and we are disbanding the Forum," it added.
The developments came as public pressure mounted on executives to disavow Trump after he doubled down Tuesday on his initial response that counter-protesters demonstrating against white nationalism were equally to blame for the violence at race-fueled riots in Charlottesville over the weekend.
The advisory councils seem to have been largely symbolic, with few substantive initiatives on the table, according to people close to the CEOs and the White House who spoke to NBC News. The business leaders had joined with the intention to do good work, one source said, but the president's lackluster response to Charlottesville, among other issues, made it hard to stay on board.
At least one chief executive of a large consumer-facing company had considered dropping out since Trump announced a ban on transgender service members in a tweet last month, according to sources close to the council. But Steve Schwarzman, the chief executive of the Blackstone Group and chairman of the Strategic and Policy Forum, urged members to hang in there, sources said.
Most leaders on the councils thought Trump's statement on Monday, in which he condemned the hate groups by name, was sufficient. But they were furious and disgusted with Trump's follow-up remarks on Tuesday, according to the offices of two CEOs.
By Tuesday night, at least nine members decided to drop out individually, and reached out to Schwarzman, who then proposed dismantling the council entirely.
A dozen members of that strategy and policy council participated in a conference call Wednesday, during which they all agreed to dissolve the group, the people close to the decision said. Schwarzman then notified the White House. And after that, Trump tweeted that he was "ending both" advisory councils. The business leaders had expected that Trump would portray the developments as his own decision, the sources said.
Wednesday's departures began with Inge Thulin, the chairman and chief executive of 3M, who said he was stepping away from the Manufacturing Council because he felt "the initiative is no longer an effective vehicle for 3M to advance" its goals.
"Sustainability, diversity and inclusion are my personal values and also fundamental to the 3M Vision. The past few months have provided me with an opportunity to reflect upon my commitment to these values," Thulin said in a statement released by the company.
"I joined the Manufacturing Jobs Initiative in January to advocate for policies that align with our values and encourage even stronger investment and job growth – in order to make the United States stronger, healthier and more prosperous for all people. After careful consideration, I believe the initiative is no longer an effective vehicle for 3M to advance these goals," he added.
Within minutes, Campbell Soup Co. president and chief executive Denise Morrison also resigned, directly attributing her departure to Trump's recent comments.
"Racism and murder are unequivocally reprehensible and are not morally equivalent to anything else that happened in Charlottesville," she said.
"I believe the President should have been – and still needs to be – unambiguous on that point," she added. "Following yesterday's remarks from the President, I cannot remain on the Manufacturing Jobs Initiative. I will continue to support all efforts to spur economic growth and advocate for the values that have always made America great," Morrison said.
Those departures brought the total number of business and labor leaders to quit the manufacturing body to seven since Trump's initial response blaming "many sides" for the violence over the weekend.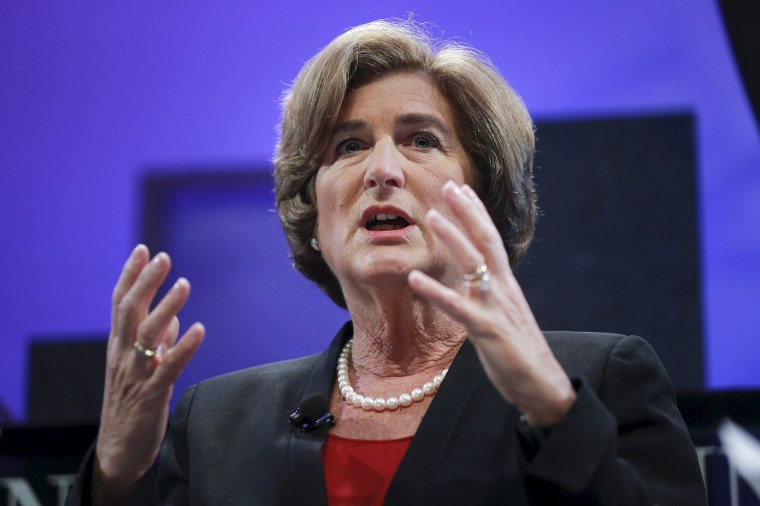 On Tuesday, AFL-CIO President Richard Trumka and Alliance for American Manufacturing head Scott Paul quit the panel, joining the chief executives of Merck, Intel and Under Armour, who left Monday in the wake of Trump's initial remarks.
Following the violence, Trump, in Saturday comments from his golf club in Bedminster, N.J., said, "We condemn in the strongest possible terms this egregious display of hatred, bigotry and violence on many sides, on many sides."
That remark sparked backlash from both Democrats and Republicans.
The rally in Charlottesville culminated with 20-year-old James Alex Fields Jr. allegedly plowing his car into a crowd of counter-protesters, injuring 19 and killing 32-year-old Heather Heyer.
On Tuesday Trump nevertheless reiterated the comments during a tense press conference from Trump Tower in Manhattan, blaming the Charlottesville bloodshed on "two sides."
Earlier in the day, he had also unleashed a Twitter tirade against the execs who had already announced their departures from his manufacturing council and boasted that he would easily replace them.
"For every CEO that drops out of the Manufacturing Council, I have many to take their place. Grandstanders should not have gone on," he tweeted Tuesday morning, adding at the end, "JOBS!"
Walmart CEO, Doug McMillon, a member of a separate council, Trump's advisory council on economic development, also criticized the president Tuesday.
"As we watched the events and the response from President Trump over the weekend, we too felt that he missed a critical opportunity to help bring our country together by unequivocally rejecting the appalling actions of white supremacists," McMillon wrote in an internal employee memo that was also posted to a public Walmart website.