WASHINGTON — Former President Donald Trump issued a full-throated endorsement of House GOP leader Kevin McCarthy on Wednesday morning, hours before Republicans planned to return to the floor to try again to elect a speaker.
"Some really good conversations took place last night, and it's now time for all of our GREAT Republican House members to VOTE FOR KEVIN, CLOSE THE DEAL, TAKE THE VICTORY," Trump wrote in a post on the Truth Social media platform. "REPUBLICANS, DO NOT TURN A GREAT TRIUMPH INTO A GIANT & EMBARRASSING DEFEAT."
Trump also spoke to some lawmakers by phone Tuesday, according to three people familiar with the calls.
"Trump talked to everyone all day," one of them said. "People who love Kevin. People who think he's Satan."
For the first time in a century, the House failed to elect a speaker on its first ballot Tuesday. In each of three votes, McCarthy, R-Calif., fell well short of the majority of the full House necessary to win the gavel. Democrats unified behind their leader, Rep. Hakeem Jeffries of New York, while McCarthy lost 19 House Republicans on two of the ballots and 20 on the third.
Rep. Jim Jordan, R-Ohio, who gave one of the nominating speeches for McCarthy, was the consensus choice of the anti-McCarthy wing.
But Jordan told Rep. Matt Gaetz, R-Fla., a vocal member of the loosely aligned anti-McCarthy group, that he wasn't interested in pursuing the speaker's job, said Rep. Marjorie Taylor Greene, R-Ga.
"Jim Jordan told Matt Gaetz on the House floor, he said: 'Matt, why are you doing this?' I don't want to be speaker. I want to be chairman of the Judiciary [Committee]," she told reporters Tuesday.
It was not immediately clear what effect Trump's redoubled public push on behalf of McCarthy would have with House Republican holdouts, several of whom are among his most loyal allies in Congress.
Trump had initially backed McCarthy publicly, but during the day Tuesday, it appeared that his enthusiasm for McCarthy had waned.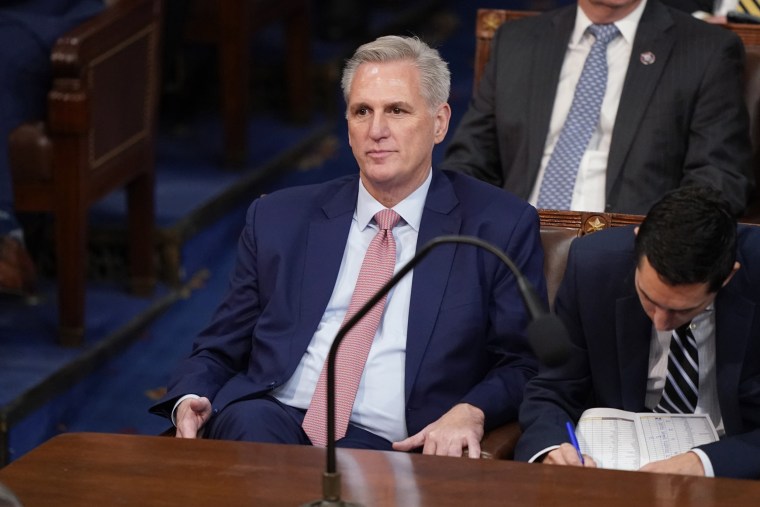 In a brief interview, Trump declined to reiterate his support for McCarthy, the longtime GOP leader.
"We'll see what happens," Trump said Tuesday. "We'll see how it all works out."
But he spoke to McCarthy later Tuesday night, offering reassurance.
"Trump has already reiterated support," McCarthy told reporters at the Capitol late Tuesday. "I talked to him tonight."
Trump, who is seeking to return to the Oval Office, runs some risk of attaching himself to another losing candidate after three consecutive elections in which Republicans failed to meet expectations at the ballot box. But the upside is clear for him: If McCarthy wins the speakership now, Trump will surely take credit for pushing him over the line.
Rep. Byron Donalds, R-Fla., the only lawmaker to flip from McCarthy's camp to vote for another candidate Tuesday, said his vote was still available.
"I'm not going to sit here and tell you that 'Oh it's over for Kevin.' I'm not saying that at all," Donalds said.