E. Jean Carroll, the writer who says Donald Trump raped her in a New York City department store in the 1990s, sued the former president because "she wants to get her life back," her attorney said in opening statements Tuesday.
"Donald Trump assaulted her in 1996 and defamed her when she said she made it up," lawyer Shawn Crowley told jurors.
Carroll, a magazine writer and columnist, alleges the attack took place in a Bergdorf Goodman department store on Fifth Avenue in New York City, when the "playful banter" she'd been engaged with Trump, then a businessman, took a "dark turn." She alleges in her lawsuit that Trump "seized" her, "forced her up against a dressing room wall, pinned her in place with his shoulder, and raped her."
Crowley told the jury that the pair had met before and that Trump asked her for help picking out some lingerie after he bumped into her at the entrance of the store. They had "moved through the store laughing and joking" before "everything changed," she said.
"The truth is she didn't see him as a threat that day, but she was wrong," Crowley said.
Trump lawyer Joe Tacopina told the jury that the case "comes down to: Do you believe the unbelievable?"
"The evidence will show you that what she is doing is an affront to justice. She is doing this for money, political reasons and status. And in doing so she is minimizing true rape victims and destroying their pain and capitalizing on them," Tacopina said. "You should not let her profit from this."
Trump has called the allegations "a con job," a "hoax" and "a complete scam," which led Carroll to sue him for defamation. Trump maintains that his comments aren't defamatory and that they are the truth — and it remains unclear whether he will show up to testify in his defense.
"It's ridiculous" to think an incident like that could happen in a department store, he said at his deposition in the case, according to court filings. "So I say that sometimes to people. And I say can you imagine this? The concept of this? And it's me. I — you know, a very famous person. It's a disgrace. Frankly it's a disgrace that something like that can be brought."
Jury selection started late Tuesday morning in federal court in lower Manhattan — just blocks from where Trump was arraigned this month on criminal charges of falsifying business records in a separate case involving hush money payments to women alleging affairs with him; Trump has pleaded not guilty to those charges and has denied those affairs and any wrongdoing.
The judge settled on a jury of six men and three women by early afternoon.
Although Trump wasn't present for jury selection, he was still a presence in the courtroom. When U.S. District Judge Lewis Kaplan asked potential jurors whether there was "anything about the nature of this case or the parties that would make it difficult for you to give a just and impartial verdict," 10 of the 48 stood. They were all dismissed.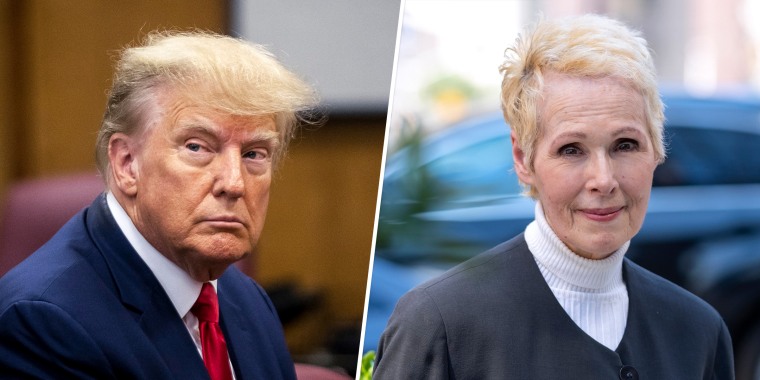 Trump sat for his videotaped deposition in October. Carroll's other attorney, Roberta Kaplan, said in court filings that she plans to use his deposition at trial.
It's unclear whether Trump, one of only two witnesses listed for the defense, will testify in person during the trial, which the judge said will last five to 10 days, or whether his attorneys will rely on the deposition. Tacopina was noncommittal in a court filing last week about whether Trump would attend the proceedings.
He told jurors Tuesday they'd hear Trump denying Carroll's account in sworn testimony, but he didn't specify whether it would be live or on video.
Pressed later by the judge about whether Trump would testify in court, Tacopina said he still needs a few more days to decide. The judge said he needs to know because of security concerns. 
Anonymous jury
The judge is using an anonymous jury, an unusual move for a civil trial but one he said is necessary.
"If jurors' identities were disclosed, there would be a strong likelihood of unwanted media attention to the jurors, influence attempts, and/or of harassment or worse of jurors by supporters of Mr. Trump," the judge wrote in a decision last month.
He urged potential jurors in the courtroom Tuesday not to use their real names with one another.
"If you're a Bill, you can be John for a few days," Kaplan said.
In court filings, lawyers for Trump and Carroll laid out some of the questions they wanted the judge to ask prospective jurors.
Trump's suggestions included "Are you familiar with the slogan #believe women?" and "Do you agree with it?" as well as "Do you think that the #metoo movement has gone too far?"
Another suggestion was "Do you believe that people falsely accuse others of sexual assault? Does that happen?"
They also wanted prospective jurors to be asked about their opinions of Trump as president, adding, "If you have negative views, are those strongly held beliefs?"
Questions suggested by Carroll's attorneys included whether jurors follow Trump on social media, have ever attended one of his rallies or believe the 2020 election results were illegitimate.
Another asks, "Is there anyone who would have trouble believing a victim of sexual misconduct if that victim chose not to seek immediate medical or other assistance?"
In the morning session, a woman was excused when she said she believed in the #MeToo movement. None of the initial potential jurors said they followed Trump or Carroll on social media.
The nine-person jury was selected after about two hours of questioning. Some but not all of the questions requested by Trump's and Carroll's attorneys were posed to potential jurors.
In her court filing, Carroll said she told two friends about the attack, which she alleges happened in 1995 or 1996 and lasted two to three minutes. She said she called one friend immediately afterward and the other within days. The second friend warned her not to tell anyone else about it, because "disaster would ensue," the suit says.
"Forget it! He has two hundred lawyers. He'll bury you," Carroll quoted the friend as saying.
Carroll said she heeded the advice because she "knew how brutal and dangerous Trump could be."
"Carroll did not mention the rape again for over twenty years. She did not want to be seen — or to see herself — as a victim of sexual assault," according to the suit.
The lawsuit says that position was bolstered when other women accused Trump of sexual misconduct during the 2016 election and he denied their accusations "while also savaging their reputations and insulting their appearance." She said she was also worried that coming forward "might make Trump more popular in states like Indiana," because "his electoral fortunes had steadily improved despite credible allegations of sexual abuse."
The suit goes on to say her thinking began to change after a New York Times story about rape allegations against Hollywood producer Harvey Weinstein helped set off the #MeToo movement.
She said she decided to open up about the alleged incident as a part of a book she'd been working on called "What Do We Need Men For? A Modest Proposal."
Trump's denials
After an excerpt of the book was published in New York Magazine in June 2019, then-President Trump issued a statement saying he'd "never met this person in my life."
"She is trying to sell a new book — that should indicate her motivation. It should be sold in the fiction section," the statement said. "Shame on those who make up false stories of assault to try to get publicity for themselves, or sell a book, or carry out a political agenda."
Carroll then sued Trump for defamation, but the case got stalled in an appeal over whether Trump was immune from liability because he was president at the time.
She sued last year in the case that's now going to trial after New York Gov. Kathy Hochul signed a law that opened a one-year window for adult victims of sexual offenses to file civil suits, even if the statute of limitations on their claims had expired, as it had for Carroll.
She seeks unspecified money damages for the alleged rape and defamation for comments Trump made about her on his social media website, Truth Social, after he left the White House.
"Carroll is not telling the truth, is a woman who I had nothing to do with, didn't know, and would have no interest in knowing her if I ever had the chance," the statement said. "And, while I am not supposed to say it, I will. This woman is not my type!"
Trump doubled down on the comments in his deposition in October, when he called Carroll a "whack job."
"Physically, she's not my type, and now that I've gotten indirectly to hear things about her, she wouldn't be my type in any way, shape or form," he said, according to a court filing.
In the same proceeding, he was shown a picture of him and Carroll standing together at an event and mistook her for his wife at that time, Marla Maples. "That's Marla. Yeah, that's my wife," he said. After the mistake was pointed out to him, he said the picture was "very blurry."
The two friends Carroll said she told about the alleged attack, Lisa Birnbach and Carol Martin, are expected to testify on her behalf, as are two other women who say Trump sexually assaulted them: Jessica Leeds and Natasha Stoynoff. Trump has denied those accusations, as well, saying the alleged incidents never happened.
The judge said he would allow the testimony of Leeds and Stoynoff — as well as the notorious "Access Hollywood" tape that captured Trump saying he could grope women without their consent — to let Carroll put forward her allegation that Trump has a propensity for sexual assault.
Crowley referred to the other accusers and the tape in his opening statement. "Kissed, grabbed, raped. … When you're a star you can do anything — call them a liar and call them too ugly to assault," she said.
In his deposition, Trump mocked Carroll and Leeds for saying they couldn't recall the date — or in Carroll's case, even the year — of the alleged attacks.
Trump told Carroll's lawyer that if such a thing had happened, "your client would know to the second," adding, "She'd know down to the second. She'd know the month, the date, the year down to the second."
Roberta Kaplan, who'd noted earlier in the deposition that Trump seemed not to remember when he got engaged to his wife Melania, then asked him the date he married the former first lady.
"I don't want to even give you the answer. I'm not going to dignify it," Trump responded, according to court filings.
Carroll's attorneys are scheduled to begin presenting her case Wednesday with witness testimony. They haven't yet said whom they plan to call to the stand.