Former President Donald Trump denounced Iowa Republican Gov. Kim Reynolds on Monday for declining to endorse a candidate in the still nascent GOP primary.
In a post on his Truth Social platform, Trump suggested that Reynolds is tacitly supporting former Florida Gov. Ron DeSantis in the primary, even as she remains nominally neutral.
"I opened up the Governor position for Kim Reynolds, & when she fell behind I ENDORSED her, did big Rallies, & she won," Trump wrote.
"Now, she wants to remain 'NEUTRAL.' I don't invite her to events! DeSanctus down 45 points!" he added, referring to DeSantis, his chief rival in the race to win the GOP's nomination for the White House.
Representatives for Reynolds and Trump did not immediately respond to separate requests for comment.
Iowa governors have long pledged to remain neutral throughout the state's closely watched presidential primary, declining to endorse candidates in their party. Reynolds has vowed to uphold that norm.
But Trump suggested in his post that Reynolds has been quietly favoring DeSantis, days after The New York Times, citing people close to Reynolds and DeSantis, reported that the two governors "forged a bond" at the height of the coronavirus pandemic and that one of Reynolds' senior advisers, Ryan Koopmans, also advises the pro-DeSantis super PAC.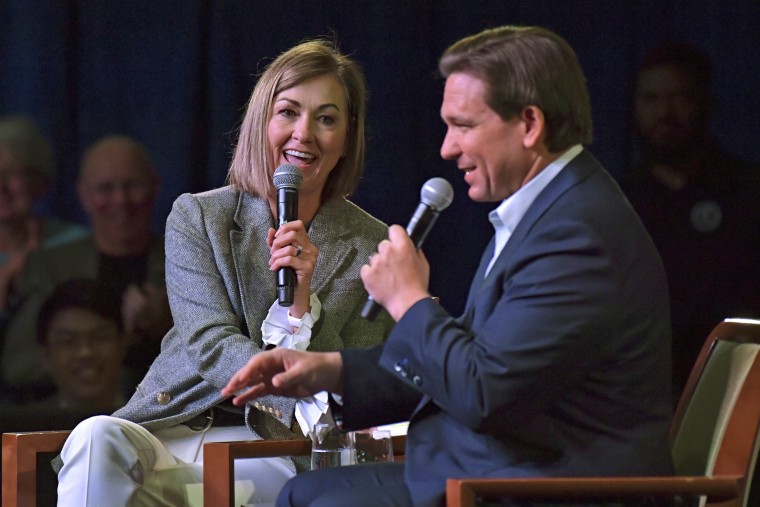 The closeness of Reynolds and DeSantis "has been the subject of internal Trump campaign discussions," the Times reported.
Trump implied in his Truth Social post that he also believes Reynolds owes him more loyalty for his past endorsements.
At a campaign event in Iowa last month, Trump said Reynolds would not have won her races without him: "I hate to say it, without me, you know, she was not going to win, you know that, right?"
As the Times noted, Reynolds won 95 of Iowa's 99 counties.
DeSantis came to Reynolds' defense Monday evening and cited her victory last year.
On Twitter, DeSantis called Reynolds "a strong leader who knows how to ignore the chirping and get it done. She earned a landslide re-election because she delivered big results, and she is poised to deliver even more for Iowans in the special session."
Former Arkansas Gov. Asa Hutchinson, who is also running for the presidential nomination, tweeted a defense of Reynolds on Monday afternoon.
Reynolds also received praise from GOP presidential candidate Nikki Haley, who tweeted: "Governor Kim Reynolds is a conservative rockstar who has delivered for the people of her state. Like I always say, Iowa grows strong women!"
On Saturday, the GOP announced that it will hold its caucuses on Jan. 15. Trump, the front-runner, lost in Iowa in 2016, and both he and DeSantis see the race as key to gaining momentum for 2024.