President Donald Trump heralded the Senate's passing of the GOP-backed tax bill Saturday as tremendous reform and said that people were going to be "very, very happy."
Trump, who spoke to reporters as he departed the White House for New York, said the overhaul of the tax code constituted the "largest tax cuts in the history of our country."
"They're going to get tremendous, tremendous tax cuts and tax relief and that's what this country needs," he said.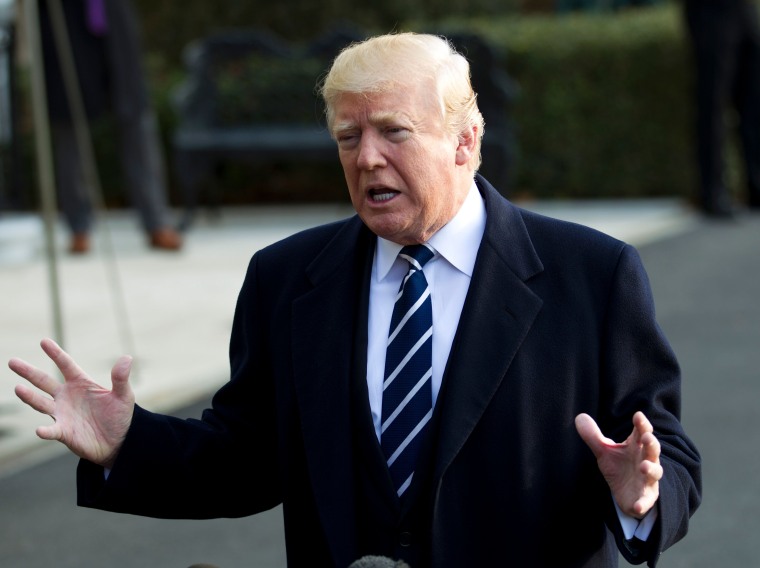 The contentious bill passed 51-49 along party lines in the early hours of Saturday morning, with just one Republican, Sen. Bob Corker, voting against it. The development brings the bill one step closer to being written into law.
A series of last-minute changes to the proposed legislation means the Senate bill must now be reconciled with the House version so that the same bill is passed out of both chambers.
Addressing the next steps, Trump said the bill would pass into conference — negotiations to reconcile the two bills — and that something "beautiful" would come out of it.
Related: Senate passes Republican-backed tax bill along party lines
"The House Republicans and the Senate Republicans are going to pick something that will be truly spectacular," he said.
While Trump lauded the bill's passage through the Senate, Democrats expressed dismay at the content of the reforms, as well as the way it was passed.
On Friday evening, a motion by Senate Minority Leader Chuck Schumer to adjourn the vote until Monday — in order to give senators more time to read the bill, which was riddled with handwritten notes — was voted down along party lines, 48-52.
"What happened early this morning — voting on the GOP tax bill just mere hours after senators received the final text — was irresponsible and downright disrespectful to the American people. What was in the bill was even worse. I voted NO," tweeted Sen. Kamala Harris, a Democrat from California.
Elizabeth Warren, the Democratic senator from Massachusetts, slammed the Republicans for being "morally bankrupt" as she said the bill was about more than economics, it was about values.
Related: Senators' pet projects added at last-minute into tax bill
"Tonight the @SenateGOP gave a giant tax break to the rich & left everyone else holding the bag," she tweeted early Saturday.
The bill, which passed just before 2. a.m. ET, would represent the first overhaul of the U.S. tax code in 31 years. It would slash the corporate tax rate, offer more modest cuts for families and individuals, and eliminate several popular deductions.
GOP leaders have touted it as a boon for the middle class, but independent analyses suggest two-thirds of middle-class earners would see tax increases in the long-term.