Writer E. Jean Carroll has already proven that Donald Trump defamed her, and a coming trial on her civil claims against the former president will focus solely on what money damages he owes her, a federal judge in New York ruled Wednesday.
In a 25-page ruling, U.S. District Judge Lewis Kaplan found the substance of Carroll's pending defamation claims were the same as that of the Trump insults that a jury determined were defamatory this year.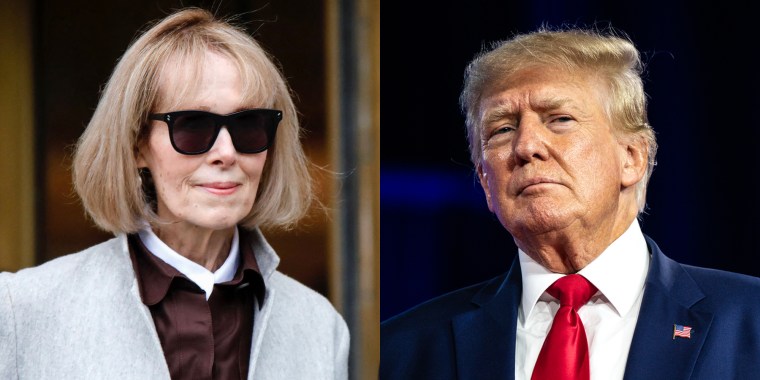 In May, a jury in a separate civil trial found Trump had sexually abused Carroll during an encounter in the dressing room of a New York department store in the 1990s and then defamed her after he left office by calling her claims a made-up "con job." The jury awarded Carroll $5 million in damages — a verdict Trump is appealing to the 2nd U.S. Circuit Court of Appeals.
The second case focuses on similar comments Trump made about Carroll when she first went public with her claims in 2019, while he was president.
"The truth or falsity of Mr. Trump's 2019 statements therefore depends — like the truth or falsity of his 2022 statement — on whether Ms. Carroll lied about Mr. Trump sexually assaulting her. The jury's finding that she did not therefore is binding in this case and precludes Mr. Trump from contesting the falsity of his 2019 statements," Kaplan wrote.
As a result, the trial in the pending case, which is scheduled for January, "shall be limited to the issue of damages only," Kaplan wrote.
Kaplan also denied a bid from Trump's attorneys to reduce any damages Carroll might get because of the earlier $5 million verdict.
Carroll filed the pending case against Trump first, but it had been tied up on appeal over issues having to do with presidential immunity.
Trump attorney Alina Habba argued that if the appeals court rules in Trump's favor in the earlier Carroll case, it would nullify the judge's ruling.
"We remain very confident that the Carroll II verdict will be overturned on appeal, which will render this decision moot. We also anticipate that the Second Circuit will stay this trial as it considers the meritorious defenses that have been raised by President Trump," Habba said in a statement.
Carroll lawyer Roberta Kaplan said, "We look forward to trial limited to damages for the original defamatory statements Donald Trump made about our client E. Jean Carroll in 2019."