Those who see Donald Trump as a criminal and those who see him as America's savior faced off Tuesday outside the New York City courthouse where the former president was criminally charged with illegally paying off an adult film star to conceal their alleged affair.
Separated from each other by a thick blue line of New York City police officers and penned in by metal barriers, protesters hurled abuse and tried to shout each other down in the hours before Trump arrived at the Manhattan Criminal Courthouse.
Earlier Tuesday, the pro-Trump rallygoers appeared to outnumber the anti-Trump protesters by about 2-to-1. But as the day wore on, more and more anti-Trump demonstrators began arriving and soon the Trump loyalists began to be outnumbered.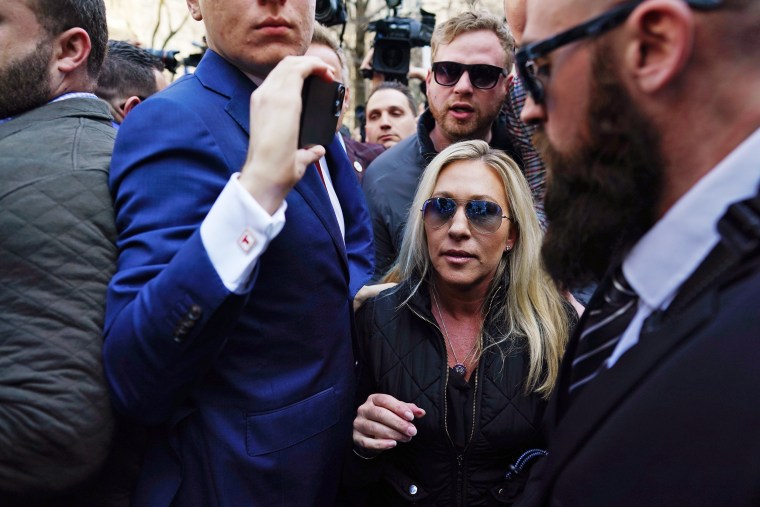 When Rep. Marjorie Taylor Greene, R-Ga., arrived at the courthouse to show her support for the ex-president, she was met with angry anti-Trump demonstrators and forced to make a hasty retreat back to the safety of her SUV.
Follow along for live coverage
When Greene grabbed a bullhorn and tried to speak, she was drowned out by demonstrators blowing whistles.
Ironically, the man who handed out the whistles was a Trump supporter, an NBC News reporter discovered.
"This is not a place to speak right now," said the man, whose name was not immediately available. "Make America great again."
Later, Rep. Alexandria Ocasio-Cortez, D-N.Y., shared an NBC News reporter's tweet about Greene getting shouted down.
"Welcome to NYC!" she wrote. "Where there are still social consequences for shameless bigotry."
Embattled Rep. George Santos, R-N.Y., also made a brief appearance at a small pro-Trump protest outside the courthouse. But he too didn't stay long.
After about 30 minutes, he cleared out, calling the unfolding drama "media chaos."
Trump supporter Ricardo Varona, 62, of the Bronx, stuck around for much longer.
Chanting "Trump not guilty," he added to the sometimes circus-like atmosphere by spinning two basketballs on his finger and on top of a miniature American flag. He said he wandered into the anti-Trump crowd and had some spirited debates.
"They asked, 'What am I doing over here?' I said, 'Listen, he's the greatest,'" Varona said. "I can go anywhere. Trump goes anywhere. I'm with him all the way."
On the other side of the political divide, 37-year-old Peter Lloyd, 37, of Garfield, New Jersey, said, "I'm firmly against Trump."
"He's detrimental to the country," Lloyd said.
When asked what his message is to Trump supporters, Lloyd said, "They're supporting a politician who does not care about them. They're moving toward their own downfall out of ignorance and spite."
Some of the venom from the Trump side was directed at the reporters covering the historic arraignment. One man held up a poster with a diatribe against the supposedly "liberal biased news media" that included a noose taped to the bottom.
New York City Mayor Eric Adams specifically warned Trump supporters that police would not hesitate to arrest anyone who broke the law while protesting against the former president's arraignment.
Police could be seen wading into the crowds to separate demonstrators in the midst of heated debates, but it wasn't immediately clear if they made any arrests.
When Trump finally arrived at the courthouse, he was greeted by a chorus of demonstrators chanting, "No one is above the law; Trump is not above the law."
Emerging from his SUV, a grim-looking Trump glanced over at the crowd while he adjusted his jacket. Then, he walked into the courthouse.