Former President Donald Trump said Thursday that he did not order a Mar-a-Lago staffer to delete security video at the center of an investigation into whether he mishandled classified documents.
"That's false," Trump told "Meet the Press" moderator Kristen Welker.
Pressed by Welker about whether he would testify to that under oath, Trump said, "Sure, I'm going to — I'll testify." 
"But more importantly, the tapes weren't deleted," he added. "In other words, there was nothing done to them. And they were my tapes. I could have fought them. I didn't even have to give them the tapes, I don't think."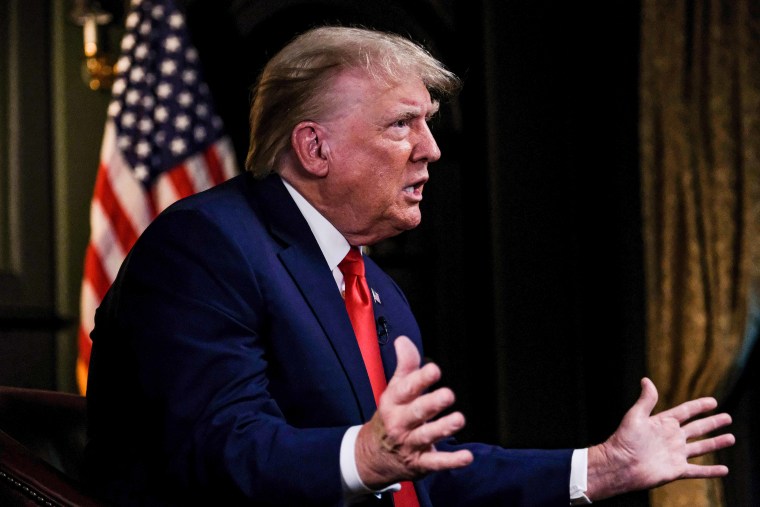 The interview, Welker's first as moderator of "Meet the Press," will air Sunday on NBC affiliates across the country. NBC News has also extended an invitation to President Joe Biden to sit down with Welker for an interview.
Tune into "Meet the Press with Kristen Welker" this Sunday for more from Welker's exclusive interview with former President Donald Trump. Check local listings.
The allegation was the basis of a superseding indictment filed in late July against Trump, his valet, Walt Nauta, and Carlos De Oliveira, a maintenance supervisor at Mar-a-Lago, Trump's estate in Palm Beach, Florida. That followed a federal grand jury indictment against Trump in June on seven criminal charges in connection with his handling of classified documents at Mar-a-Lago after he left the White House. (Nauta was also charged then.)
In the superseding indictment filed as part of special counsel Jack Smith's investigation, prosecutors alleged that Nauta and De Oliveira asked a third, unnamed staffer to delete security video after investigators issued a subpoena ordering that the tapes be turned over.
Nauta and De Oliveira, who have both been charged with obstruction of justice, told the third staff member that "the boss" had requested that the security video be deleted, the indictment alleged.
Nauta, De Oliveira and Trump have all pleaded not guilty.
Prosecutors have never said the video was deleted.
"I think I would have won in court," Trump told Welker. "When they asked for the tapes, I said, 'Sure.' They're my tapes. I could have fought them. I didn't even have to give them. Just so you understand, though, we didn't delete anything. Nothing was deleted."