Former President Donald Trump, who had endorsed Rep. Kevin McCarthy's bid for House speaker, declined to say Tuesday whether he still supports his longtime ally after McCarthy, R-Calif., failed to clinch the job in three consecutive votes.
"We'll see what happens," Trump said when asked directly whether he was sticking with McCarthy, the GOP leader, in a brief phone conversation.
"I got everybody calling me wanting my support. But let's see what happens and we'll go — I got everybody calling, wanting my support," he said. "That's all I can say. But we'll see what happens. We'll see how it all works out."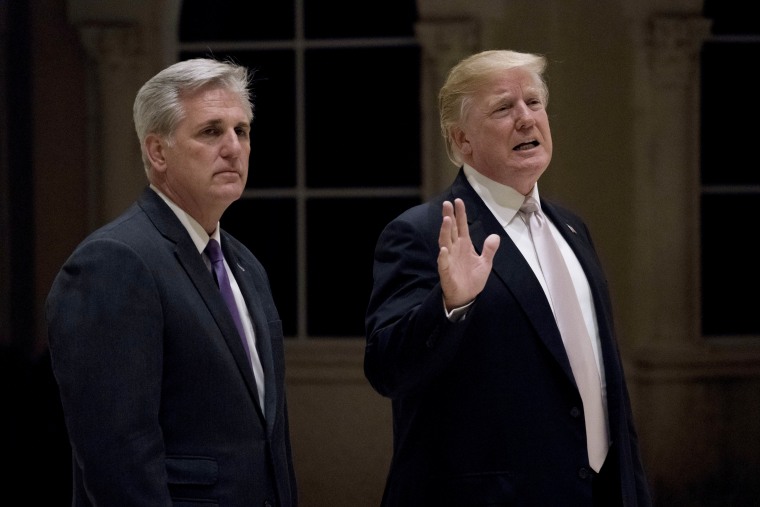 McCarthy's office did not immediately respond to a request for comment on Trump's remarks.
Trump had repeatedly backed McCarthy for the job and urged his allies in the conservative Freedom Caucus to unite behind McCarthy as well.
"I think he deserves the shot. Hopefully he's going to be very strong and going to be very good and he's going to do what everybody wants," Trump said of McCarthy in an interview last month with Breitbart. "I'm friendly with a lot of those people who are against Kevin. I think almost every one of them are very much inclined toward Trump, and me toward them. But I have to tell them, and I have told them, you're playing a very dangerous game. You could end up with the worse situation."
Despite Trump's urging, nearly two dozen Republicans voted for Republicans other than McCarthy, leaving him far short of the 218 votes needed to be elected speaker.
Trump's distancing himself from McCarthy could prove fatal to his already imperiled bid for speaker. McCarthy was a top ally of Trump when he was in the White House, and the then-president repeatedly referred to him as "my Kevin."
The House is scheduled to reconvene at noon Wednesday for another speaker's vote.
McCarthy briefly distanced himself from Trump after the Jan. 6 riot, saying in remarks on the House floor that Trump "bears responsibility for [the] attack on Congress by mob rioters" and "should have immediately denounced the mob when he saw what was unfolding."
Later that month, however, he traveled to Trump's estate in Florida to mend the relationship, helping to speed his political rehabilitation with some Republicans.