The accounting firm Mazars USA said a decade's worth of financial statements from the Trump Organization can no longer be viewed as reliable, according to a letter made public Monday by New York Attorney General Letitia James as part of her civil probe into the former president's company.
Mazars also said it will no longer work with the Trump Organization, meaning the company may have to get new financial statements that could complicate its ability to secure loans.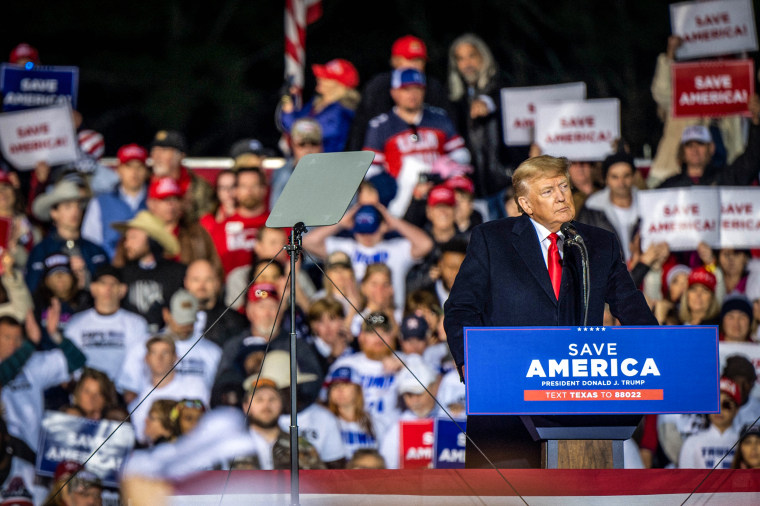 In a Feb. 9 letter from Mazars Group General Counsel William J. Kelly to Trump Organization Chief Legal Officer Alan Garten, the auditing firm said its work from 2011 to 2020 "should not be relied upon."
"We write to advise that the Statements of Financial Condition for Donald J. Trump for the years ending June 30, 2011 — June 30, 2020, should no longer be relied upon and you should inform any recipients thereof who are currently relying upon one or more of those documents that those documents should not be relied upon," Kelly wrote in a letter released Monday by James.
Kelly said "this conclusion based, in part, upon the filings made by" James' office and "our own investigation, and information received from internal and external sources."
"While we have not concluded that the various financial statements, as a whole, contain material discrepancies, based upon the totality of the circumstances, we believe our advice to you to no longer rely upon those financial statements is appropriate," according to Kelly.
The details laid out by Mazars are far from common in the accounting industry, said Lynn Turner, former chief accountant of the Securities and Exchange Commission.
"Getting a letter like this from your auditor is highly unusual," Turner said. "It indicates that there is something in the financial statements that is significant and needs to be revised."
A spokesperson for the Trump Organization, however, characterized the development as good news for the company and bad news for the attorney general's civil probe and the Manhattan district attorney's criminal investigation into the company's financial practices.
"While we are disappointed that Mazars has chosen to part ways, their February 9, 2022 letter confirms that after conducting a subsequent review of all prior statements of financial condition, Mazars' work was performed in accordance with all applicable accounting standards and principles and that such statements of financial condition do not contain any material discrepancies," the spokesperson said in a statement Monday. "This confirmation effectively renders the investigations by the DA and AG moot." 
James has been engaged in a yearslong investigation of former President Donald Trump's company, trying to determine if the former president accurately represented his financial condition when either seeking loans or limiting his tax liability.
The Mazars letter released by James was included in court filings pushing back against Trump's claims that the probe is illegitimate and that he and his company are the victims of "selective enforcement" by the attorney general. The former president and two of his children who were executives at his company have been battling the A.G.'s attempts to depose them under oath.
"As the most recent filings demonstrate, the evidence continues to mount showing that Donald J. Trump and the Trump Organization used fraudulent and misleading financial statements to obtain economic benefit," James said in a statement Monday. "There should be no doubt that this is a lawful investigation and that we have legitimate reason to seek testimony from Donald J. Trump, Donald J. Trump, Jr., and Ivanka Trump."
The A.G.'s office has said it opened the investigation based on the 2019 congressional testimony by former Trump lawyer Michael Cohen, who alleged Trump and the Trump Organization misrepresented asset valuations for financial gain.
Trump's lawyers argued earlier this month that it "stretches all credibility to believe that the [A.G.'s office] put any legitimate stock into the testimony of Mr. Cohen," given that he pleaded guilty to lying to Congress and various financial crimes before he agreed to testify before the House.
James' office countered Monday that Cohen's allegations were "significant," and that his accusations were "vindicated by the evidence obtained to date and Mazars's notification that those [financial] statements should not be relied upon."
In its letter, Mazars says it's reached a point where "there is a non-waivable conflict of interest with the Trump Organization" and it can no longer do any new work for the company.
With Trump's longtime accounting firm cutting ties, the former president and reality TV star will now have to find new accountants to review his personal records in any future presentation to a bank or insurance company, a move that could make it harder to secure loans.
"A bank loan officer will be very concerned by this development as it raisers uncertainty about the ability of the company to repay the loan," Turner said.
The parting of ways also could affect Trump's tax filings.
"As of this writing, there are only a limited number of tax returns that still remain to be filed, including those of Donald J. Trump and Melania Trump," the Mazars letter said. "The due date to file those returns is February 15, 2022."