Former President Donald Trump intends to deliver a prime-time speech to union workers in Detroit during next week's Republican primary debate, three sources familiar with the planning confirmed to NBC News on Monday.
The debate on Sept. 27 at the Ronald Reagan Presidential Library and Museum in California will be the second snubbed by Trump this election cycle in favor of a competing event.
The New York Times first reported Trump's plan.
The counter-programming comes amid an ongoing labor dispute between autoworkers and car manufacturers that has drawn national attention. Thousands of United Auto Workers are on strike after Detroit's three automakers failed to reach a contract agreement with the union last week.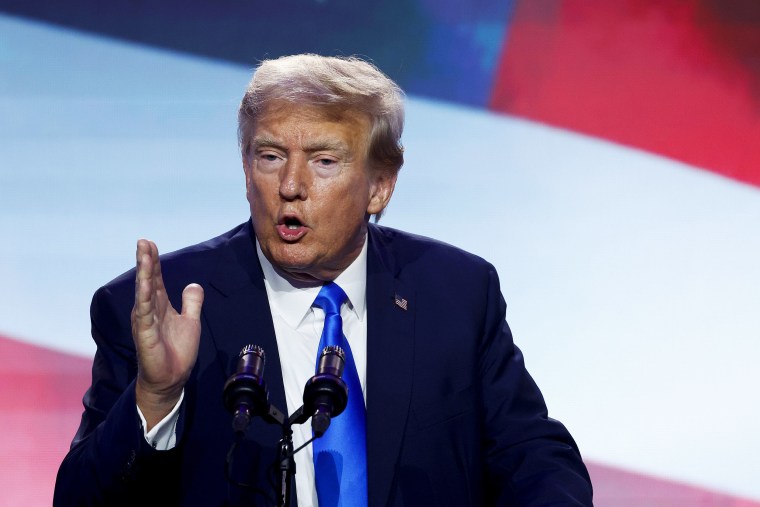 Trump said the United Auto Workers' leadership had failed its members in an interview with NBC News' Kristen Welker that aired over the weekend, but held back from criticizing its members.
"The auto workers are being sold down the river by their leadership, and their leadership should endorse Trump," he said.
UAW President Shawn Fain has been critical of Trump, calling the prospect of a second Trump presidency "a disaster," even as he has withheld his endorsement of President Joe Biden.
Asked to respond to Fain, Trump said, "I think he's not doing a good job in representing his union, because he's not going to have a union in three years from now."
Trump said he was "on the side of making our country great" in the standoff, and called for car "choice." Trump warned U.S. workers jobs would move to China amid Biden's electric vehicle push.
Trump's plan to speak directly to union and other workers in Michigan suggests that he is already eyeing a general election rematch against Biden, who carried Michigan in 2020. Trump won the state in 2016 against Democratic nominee Hillary Clinton.
A spokesperson for the Biden-Harris campaign responded Monday night saying Trump "is going to Michigan next week to lie to Michigan workers and pretend he didn't spend his entire failed presidency selling them out at every turn."
"Instead of standing with workers, Trump cut taxes for the super-wealthy while auto companies shuttered their doors and shipped American jobs overseas," Ammar Moussa said in a statement. "No self-serving photo op can erase Trump's four years of abandoning union workers and standing with his ultra-rich friends."
Trump decided in August to skip the first two Republican debates, a source familiar with Trump's thinking previously told NBC News.
During the first debate, Tucker Carlson aired a pre-recorded interview with Trump on X, the social media platform formerly known as Twitter.