HAMBURG, Germany — President Donald Trump pressed Russian President Vladimir Putin about Moscow's interference in the 2016 election when the two leaders met on the sidelines of the G-20 Summit, Secretary of State Rex Tillerson told reporters Friday.
Tillerson said Trump opened the more than two hour meeting by questioning Moscow's cyber intrusions in America's political system. The two had a "very robust and lengthy exchange on the subject," Tillerson said during his press briefing Friday following the meetingadding that Trump "pressed President Putin on more than one occasion" on the issue.
Putin "asked for proof and evidence" that Moscow was behind the election interference and denied Russian involvement, Tillerson said.
Tillerson departed the briefing room after leaving unanswered questions about whether Trump accepted Putin's denial of election meddling. But Russian Foreign Minister Sergey Lavrov told reporters that Trump took Putin at his word.
"President Trump has said that he has heard earlier declarations from Mr. Putin that Russian leadership and Russian government has not interfered in the elections. And he accepts the things that Mr. Putin has said," Lavrov said, adding that "not a single fact has been presented" that would prove allegations of Russian meddling.
A Trump administration official pushed back on that assertion, telling NBC News Lavrov's description was "not accurate."
Tillerson signaled to reporters that the two leaders told each other they wanted to move past the alleged meddling.
"There was not a lot of re-litigating of the past. I think both of the leaders feel like there's a lot of things in the past that both of us are unhappy about. We're unhappy, they're unhappy," he said. "What the two Presidents, I think rightly, focused on is how do we move forward. How do we move forward from here, because it's not clear to me that we will ever come to some agreed-upon resolution of that question between the two nations."
Lavrov, Putin, Trump and Tillerson were present for the meeting, along with two translators.
A day earlier, Trump said he thought Russia and also "other countries" meddled in November's election.
"I think it could very well have been Russia, but I think it could well have been other countries," Trump said Thursday during a joint press conference in Warsaw with Polish President Andrzej Duda. "Nobody really knows … Nobody really knows for sure."
That oft-refuted sentiment, which Trump has offered several times previously, goes against the overwhelming consensus of the U.S. intelligence community, which has repeatedly offered its conclusions that Russia, at Putin's direction, interfered in the election.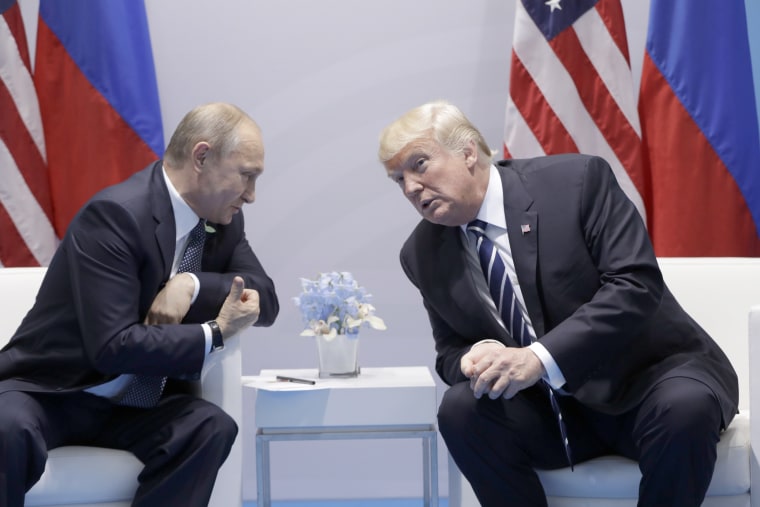 Friday's highly anticipated face-to-face was the first ever in-person meeting between Trump and Putin as world leaders and took place amid ongoing investigations into Russia's meddling and allegations that some members of Trump's presidential campaign colluded with Russia's government. Moscow and Trump dispute the claims, which are being probed by the House and Senate intelligence committees and special counsel Robert Mueller.
U.S. intelligence agencies have previously said Russia's efforts included cyberattacks on Democratic National Committee servers and an "influence campaign" aimed at undermining "public faith in the U.S. democratic process." According to an intelligence report declassified in January, Putin "and the Russian government developed a clear preference for" Trump.
After reports of the discussion emerged, Democratic lawmakers were quick to hit Trump and Tillerson for how the administration handled the meeting with Putin.
"President Trump had an obligation to bring up Russia's interference in our election with Putin, but he has an equal obligation to take the word of our Intelligence Community rather than that of the Russian President," Senate Minority Leader Chuck Schumer, D-N.Y., said in a statement.
"For Secretary Tillerson to say that this issue will remain unresolved is disgraceful — To give equal credence to the findings of the American Intelligence Community and the assertion by Mr. Putin is a grave dereliction of duty and will only encourage Russia to further interfere in our elections in the future," he added.
Sen. Mark Warner, D-Va., the top Democrat on the Senate Intelligence Committee, which is investigating Russian election meddling, added that, "Whatever the President actually told Putin, it would have had much more force if just the day before President Trump had not equivocated about who was behind the unprecedented attack targeting America last fall."
"It would also have had more force if he had not again criticized the integrity of our intelligence agencies, among whom there is unwavering agreement about Russia's active interference in the 2016 U.S. presidential election," Warner said in a statement.
Friday's bilateral also included a "pretty good exchange" on North Korea, a situation intensified by that nation's recent firing of its first intercontinental ballistic missile.
"Russia sees it a little differently than we do," Tillerson told reporters, noting that Russia continues to have economic activity in North Korea.
U.S. Ambassador to the United Nations Nikki Haley on Wednesday condemned countries that continue to do business with Pyongyang during an emergency meeting of the U.N. Security Council.
Tillerson added that the U.S. will continue to attempt to persuade Russia about the "tactics and pace" other countries should use to prevent North Korea from obtaining more advanced nuclear weapons, and that both Putin and Trump share the goal of not allowing the rogue nation to advance its weapons program.
The White House has leaned heavily on China for help on North Korea, factoring them heavily into their strategy in the region. But Chinese action has tapered off, with Tillerson describing their efforts as "uneven."
Tillerson said Trump and Putin also discussed Syria, where the U.N. estimates 400,000 people have died in a protracted and bloody civil war that has raged on for six years.
Tillerson announced a "de-escalation agreement" between the U.S., Russia, and Jordan in the southwest part of the war-torn country.
"I think this is our first indication of the U.S. and Russia being able to work together in Syria," Tillerson said. The agreement, he said, could open the door to similar agreements in other areas of the country.
Washington and Moscow have remained on separate sides during the civil war, with Russia supporting Syrian President Bashar Assad and the U.S. backing the forces battling the Assad regime. Tillerson reiterated Friday there is no long-term role for Assad as the leader of Syria.
The meeting between Trump and Putin, which was originally scheduled to be 30 minutes, stretched on for over two hours — mainly because "neither one of them wanted to stop" once they began, Tillerson said.
Presidents Trump and Putin "connected very quickly," Tillerson described, sharing a "clear positive chemistry."
At one point, First Lady Melania Trump even came in to see if she could put an end to it.
"It didn't work," Tillerson said. The group went on for another hour after that.
Ali Vitali reported from Hamburg, Germany, Adam Edelman reported from New York and Andrew Rafferty reported from Washington.