Writer E. Jean Carroll took the witness stand for her lawsuit against former President Donald Trump on Wednesday, telling jurors: "I'm here because Trump raped me."
When she stepped forward with her allegations in 2019, Trump "lied and shattered my reputation, and I'm trying to get my life back," Carroll said in her testimony at the civil trial in federal court in lower Manhattan.
Carroll, 79, said she first met Trump — who has said he doesn't know who she is and had never met her — in 1987 at a party by "Saturday Night Live," where she was a writer at the time. She said she believes that's where a picture was taken of her with Trump, his then-wife, Ivana, and Carroll's husband at the time, who was a popular local news anchor.
Carroll, who previously wrote an advice column for Elle magazine, said the next time she spoke to Trump was when she ran into him at the Bergdorf Goodman department store near Trump Tower in 1995 or 1996.
"He said, 'You're that advice lady,' and I said, 'You're that real estate tycoon,'" she told the jury. "He was very personable."
Carroll said Trump, who at the time was married to model Marla Maples, told her he was there to buy a present for someone and asked whether she'd help him. They first went to handbags and then hats before Trump suggested they go to the lingerie section on the sixth floor, she said.
"He was very talkative on the escalator and said he was thinking of buying Bergdorf," Carroll said. "I was thinking, 'I have a great story,' and I was delighted to go to lingerie" with him. She said they then looked at lingerie together and "he was joshing and pleasant and very funny."
Carroll said they each suggested the other try on lingerie, adding she thought that was funny. She said she "didn't think anything about what was about to happen" because the door was open when he motioned her toward the dressing room.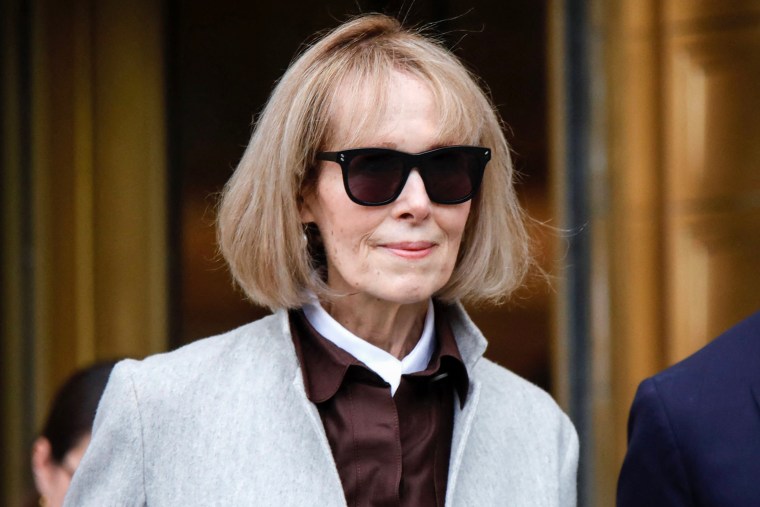 Trump then "shut the door and shoved me against the wall," Carroll said. "I pushed him back, and he thrust me back against the wall, banging my head."
"He put his shoulder against me and held me against wall," she testified. Carroll broke down in tears as she recalled Trump's penetrating her.
"I couldn't see anything was happening, but I could certainly feel that pain," she said.
The attack lasted "very few minutes," she said, and then she rushed out of the store before she called a friend to tell her what had happened.
Carroll said the friend, writer Lisa Birnbach, who's expected to testify in the trial, encouraged her to go to the police. She said she responded, "No way."
"I thought it was my fault," she said.
Carroll sued Trump for battery over the alleged rape, as well as defamation for his claims that she made up her story to promote sales of her book and raise her public profile.
Since the alleged assault, Carroll told the jury Wednesday, she hasn't had a romantic relationship with anyone and hasn't had sex. She said she "always believed" what happened with Trump had a "strong influence" on her inability to find romance.
"I found it impossible to believe that I could meet someone, impossible to even fall in love or have dinner and smile," said Carroll, who began crying on the stand.
She said she missed out on "being in love with someone else," which she said is "one of the glorious things" in life. "I am aware of how much I lost, and I feel like I should be able to overcome it."
Carroll said that she has returned to Bergdorf Goodman since it happened and that it hasn't been triggering to her. She said that she has spoken to a therapist about it but that he didn't diagnose her with anything.
Carroll also told the jury that when she was 12 years old, she was "fondled" by the waterfront director at a Girl Scouts camp when he took her out on a boat after she won a contest. "I didn't tell anyone else," she said.
When Trump announced he would run for president, she said, she didn't think he would be a good commander-in-chief, "because he was evil, because he raped me," and "his politics were terrible."
Carroll went on to say that after an excerpt of her book was published by New York Magazine, Trump responded with "name-calling [and] threats."
"He knows it happened," Carroll said, adding that she was surprised by Trump's response to the excerpt.
Trump has repeatedly denied Carroll's allegations, including in posts on his social media website, Truth Social, as recently as Wednesday morning.
In two statements about the case shortly before testimony was set to begin, Trump said Carroll's allegations were "fraudulent & false" and a "SCAM."
He also brought up in his Truth Social posts two topics U.S. District Judge Lewis Kaplan had previously told both sides not to bring up in front of the jury — one having to do with DNA evidence and the other having to do with the payment of Carroll's legal fees.
Trump's DNA evidence comment involved the dress Carroll said she was wearing on the day of the alleged attack, which has a small amount of "genetic material" from an unidentified male. Carroll's attorneys had asked Trump for a DNA sample to compare it to but never asked for a court order for the sample.
Trump's attorneys never provided a sample, and Kaplan ruled in February that neither side could bring the issue up at trial.
In his post Wednesday, Trump wrote, "She said there was a dress, using the ol' Monica Lewinsky 'stuff', then she didn't want to produce it. The dress should be allowed to be part of the case."
Kaplan told Trump lawyer Joe Tacopina that his client had refused to give a DNA sample for three years, "and now he wants it in the case?"
Trump's posts also complained about Carroll's getting financial support for her lawsuit from a Democratic donor, which she'd denied when she was initially deposed in the case but later acknowledged. The judge is scheduled to rule this week on whether the jury can be told about the omission, and he had instructed both sides not to say anything about it to the jury in the meantime.
"Your client may be tampering with a new source of potential liability. And I think you know what I mean," Kaplan told Tacopina.
Tacopina said he would ask Trump not to post about the case.
The trial is scheduled to resume Thursday morning.