President Donald Trump launched into a Tweetstorm on Thursday morning, retweeting a meme from someone who has complained about Jewish drivers and sending out typo-laden tweets to his followers — then deleting and retweeting them again.
The president's morning on Twitter kicked off with a post attacking Senate Majority Leader Mitch McConnell and Speaker of the House Paul Ryan about the debt ceiling and legislation he hoped GOP leaders would pass.
"I requested that Mitch M & Paul R tie the Debt Ceiling legislation into the popular V.A. Bill (which just passed) for easy approval. They..." Trump wrote in the first tweet. He soon added, "...didn't do it so now we have a big deal with Dems holding them up (as usual) on Debt Ceiling approval. Could have been so easy-now a mess!" He later added: "The only problem I have with Mitch McConnell is that, after hearing Repeal & Replace for 7 years, he failed!That should NEVER have happened!"
About an hour after the first posting, Trump set the Twitterverse abuzz after he retweeted a meme showing himself "eclipsing" President Barack Obama.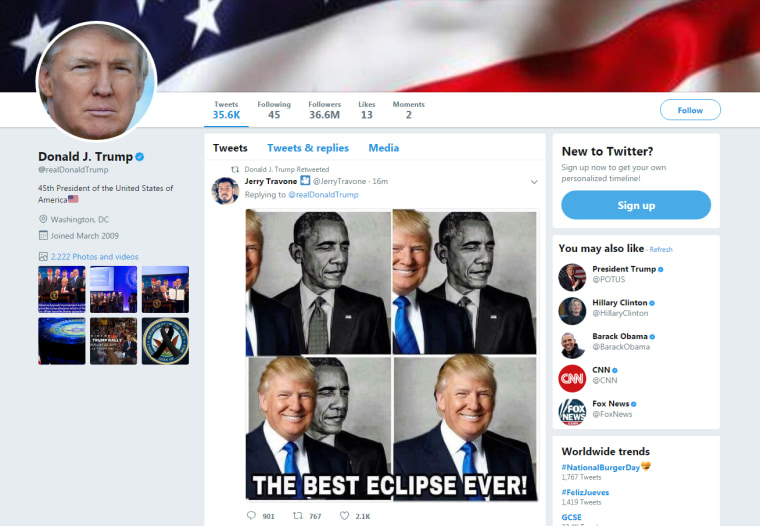 The four-way split image shows Trump moving slowly into frame until he completely covers the image of Obama. Trump is in color. Obama is in black and white.
The text on the meme reads, "The Best Eclipse Ever!"
YouTube actor and self-described political junkie Jerry Travone says he found the image on the internet and tweeted the meme at Trump.
An unrelated tweet on Travone's account from Sunday reads, "We have enough of these jews where I live lol someone else take them . They just can't drive."
Related: Trump Retweets User Who Called Him a 'Fascist'
Travone denied he is anti-Semitic and explained his reason for writing that message. "It was just an emotional expression I was referring to lakewood [sic] New Jersey and the horrible drivers of that town and that happens to be mostly Jewish people that live there."
He earlier told NBC News he found the image that Trump retweeted on social media.
"I got tired of hearing people say how our president hasn't accomplished anything and I knew that wasn't true at all, so I wanted to express what myself and millions of Americans already knew and that was our president is a once in a lifetime leader and I told many people during the election that I would crawl over broken glass to cast my vote for Donald J Trump," Travone wrote in a Twitter message.
However, Travone said he wasn't expecting for his tweet to end up on the president's account.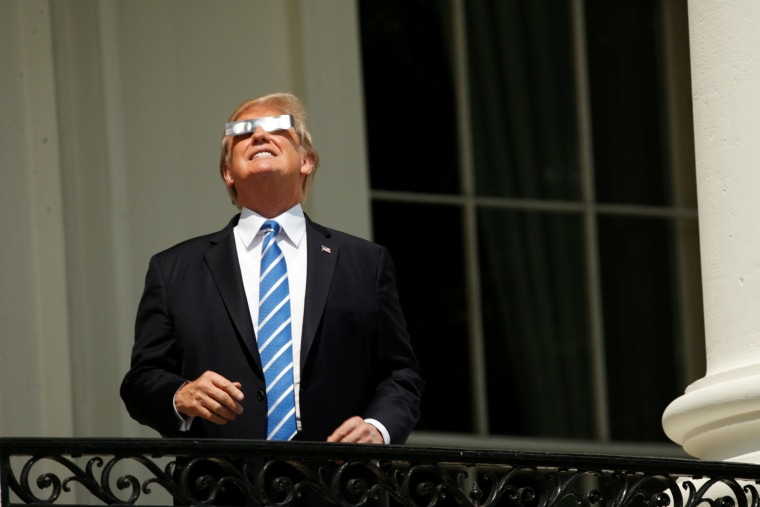 "I thought I was dreaming lol, and the president took time out his extremely busy day to retweet my picture and it's such an honor," he wrote.
He said he's received lots of attention on Twitter since the presidential retweet, and that if anyone was offended by the meme, they should worry about bigger issues facing the nation.
The majority of top responses to Trump's retweet suggested he take the image down or asked why he felt inclined to retweet the image.
"This is unbelievably inappropriate. You are the president to all Americans. Stop egging racists on," one Twitter user, @AngelaBritzman, replied.
The Daily Beast writer Erin Gloria Ryan wrote that Trump didn't understand the science of an eclipse.
"So he's the smaller thing that temporarily blocks the much bigger & brighter thing.... please my god teach this man how analogies work," Ryan wrote.
Trump's morning wasn't done, though. He then tweeted twice, slamming the press over its coverage of the tonal shifts during his three most recent speeches.
"The Fake News is now complaining about my different types of back to back speeches. Well, their [sic] was Afghanistan (somber), the big Rally.....," Trump tweeted. "...(enthusiastic, dynamic and fun) and the American Legion - V.A. (respectful and strong).To [sic] bad the Dems have no one who can change tones!"
Trump then again tweeted the same two sentences, correcting the word "their" to "there" in the first tweet, but leaving the second the same.
He then sent out yet another tweet saying, "James Clapper, who famously got caught lying to Congress, is now an authority on Donald Trump. Will he show you his beautiful letter to me?"
Clapper, the former Director of National Intelligence, had questioned Trump's ability to lead the nation during an appearance on CNN Wednesday night.
But just as soon as they appeared, Trump deleted many of the tweets, and then sent them again, correcting his spelling.
The White House did not immediately respond to NBC News' request for comment.
On Tuesday, Trump told a crowd in Arizona that Twitter storms weren't his style.
"You'll notice when I go on, I send a tweet or a couple of tweets — 'he's in a Twitter storm again!'" Trump said mocking the media. "I don't do Twitter storms."
Trump recently tweeted — then deleted — another set of baffling messages.
One tweet showed a train with Trump's name on it running over the CNN logo. The other was a retweet of a user calling Trump a "fascist."
Both tweets were removed less than an hour after they appeared.
One White House official, requesting anonymity, said at the time those tweets were sent out in error and deleted as soon as they were brought to the White House's attention.