President Donald Trump took about 20 minutes to delete a pair of tweets on Tuesday morning — one in which a user called the president a "fascist" and another showing a train with Trump's name on it running over the CNN logo.
The user, @MikeHolden42, was replying to a Fox News tweet, that the president had already retweeted, about how Trump has plans to pardon Sheriff Joe Arpaio. "He's a fascist, so not unusual," Mike Holden wrote about the president.

It didn't take long for Holden to notice he had been retweeted by the world's most famous tweeter.
"This morning I had a few hundred followers on Twitter, so obviously when I sent my tweet I didn't expect more than a couple of LOLs and a few Trump Trolls telling me I'm an idiot (which is what happened - for the first couple of minutes)," Holden told NBC News in a Facebook message. "But the [retweets] and likes suddenly went through the roof, so much so that I didn't realize why."
Holden, who lives in England, said after about 10 minutes he spotted Trump's retweet and was astonished.
Related: 'Covfefe': Donald Trump Invents New Word That Conquers Twitter
Holden's tweet was liked more than 2,000 times and retweeted nearly 450 times after Trump's retweet. A screenshot of the tweet, which Holden sent out to his followers, was liked nearly 10,000 times and retweeted more than 3,000 times.
"oooh, I'm going to have a lot of Trumpites to deal with today I reckon…" Holden tweeted after he noticed the president had shared his tweet with his 35.9 million followers.
On Twitter, Holden said he didn't realize immediately that he had been retweeted by Trump, adding that his notifications on the site "went nuts."
He said he's still not entirely sure why his tweet ended up on Trump's page.
"I think he either didn't realize what I'd said, or just [retweets] anything people reply to when it's about him! You'd think being the King of Twitter he'd be more careful," Holden said.
Holden added a very unique update to his Twitter bio following the retweet: "Officially Endorsed by the President of the United States. I wish that were a good thing."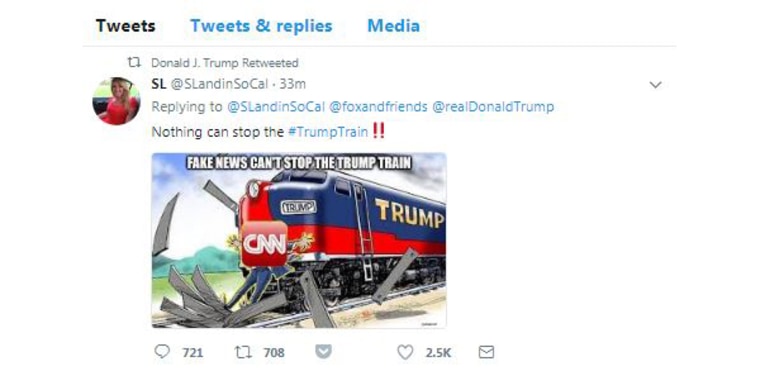 The CNN image was tweeted out by user @SLandinSoCal, who appears to be a staunch Trump supporter. @SLandinSoCal's Twitter page consists of pro-Trump memes and retweets from other users disparaging Democrats while praising the president.
The White House has so far not explained the tweet on the record. One White House official, requesting anonymity, said, "It was inadvertently posted and as soon it was noticed it was immediately deleted."
Trump was previously criticized for retweeting an edited video of himself tackling and repeatedly punching a figure with the CNN logo over its face.
While the origin of the edited version of the WWE clip was unclear, it was posted on a pro-Trump Reddit thread before landing on the president's Twitter.
His most used form of communication has also led to a handful of head-scratching moments, including the time he sent Twitter abuzz after sending out a tweet with the word, "covfefe."
"Despite the constant negative press covfefe," the president tweeted in May, leading to an onslaught of memes and retweets.
Trump seemed to enjoy the chatter he created with the tweet, later writing, "Who can figure out the true meaning of "covfefe" ??? Enjoy!"
In March, the third time was the lucky charm for Trump as he attempted to spell — and respell — the word, "hereby."
While targeting House Minority Leader Nancy Pelosi, Trump tweeted the phrase "hear by," deleted the tweet, then issued another using the word, "hearby." After realizing that, too, was incorrect, Trump again deleted and retweeted, finally spelling the word, "hereby."
In another tweet shortly after he was elected, Trump wrote about China stealing a United States Navy research drone, calling the act "unpresidented" before deleting and re-posting the tweet with the word spelled correctly.
That tweet led to hundreds of Twitter users tweeting the hashtag "#unpresidented."