President Donald Trump launched his own moonshot Friday.
Trump — who's been pushing NASA to return to the moon by 2024 — appeared to chart a new course Friday and said the agency "should be focused on much bigger things we are doing, including Mars (of which the Moon is a part)."
"For all of the money we are spending, NASA should NOT be talking about going to the Moon — We did that 50 years ago," said the head-scratching tweet, which was sent while Trump was flying back from Europe on Air Force One.
The tweet seemed to be a 180-degree turnaround for the president, who's tasked NASA with getting back to the moon by what would be the end of his second term.
In a May 13 tweet, Trump had boasted, "Under my Administration, we are restoring @NASA to greatness and we are going back to the Moon, then Mars. I am updating my budget to include an additional $1.6 billion so that can return to Space in a BIG WAY!"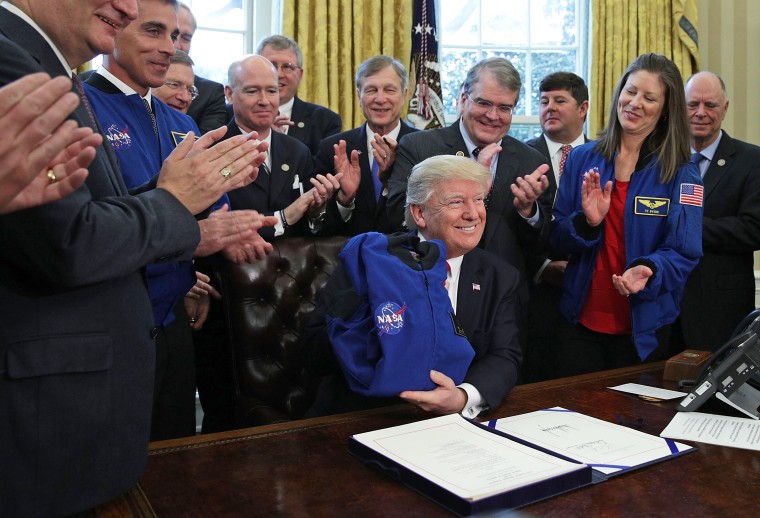 Speaking at an event at the National Air and Space Museum in Washington on May 15, Vice President Mike Pence told attendees, including NASA Administrator Jim Bridenstine, that "at President Trump's direction, it is the policy of the United States that we will return to the moon within the next five years, and the first woman and the next man on the moon will be an American."
The Friday tweet came shortly after NASA sent out a press release saying it was opening the International Space Station for commercial business.
"This move comes as NASA focuses full speed ahead on its goal of landing the first woman and next man on the Moon by 2024," the NASA release said.
A White House official told NBC News that Trump was not changing his space strategy. "Our administration's goal has always been to get to Mars. We have asked Congress for additional resources to get to the Moon by 2024, which will enable us to get to Mars roughly a decade after creating a sustainable presence on the lunar surface," the official said.
A staffer for Media Matters for America, a liberal activist group, noted on Twitter that the tweet also came about one hour after anchor Neil Cavuto complained on Fox Business about NASA "refocusing on the moon," and saying, "didn't we do this moon thing quite a few decades ago?"
"The president's tweet seems to largely be commentary on how Jeff DeWit, the NASA chief financial officer who Trump was watching on Fox Business Network, frames his discussion of the agency's plans," MMFA senior fellow Matthew Gertz noted.