President Donald Trump on Tuesday declined to offer any support for his "very weak" attorney general, saying that only "time will tell" about the fate of Jeff Sessions as the nation's chief law enforcement officer.
"He should not have recused himself (from the Russia investigation) almost immediately after he took office, and if he was going to recuse himself, he should have told me prior to taking office, and I would have quite simply picked somebody else," Trump said a joint press conference in the White House Rose Garden with Lebanese Prime Minister Saad Hariri.
"I think that's a bad thing not for the president, but for the presidency," he said. "I think it's unfair to the presidency."
Trump also said he wanted Sessions "to be much tougher" on "the leaks from the intelligence agencies."
But when faced with questions over why he wouldn't just fire his top prosecutor, whom he has repeatedly criticized in recent days, Trump demurred.
"I told you before I'm very disappointed with the attorney general, but we will see what happens, time will tell. Time will tell," Trump said.
In a Wall Street Journal interview published shortly before his press conference, Trump said he was "just looking at it," when asked how long he would continue to criticize Sessions without firing him.
"I'll just see. It's a very important thing," said Trump, who also played down Sessions' endorsement of his candidacy early in the 2016 race. "It's not like a great loyal thing about the endorsement."
Sessions recused himself because there is an investigation involving Trump's campaign and Sessions was involved with the campaign.
His comments to The Journal, and in the Rose Garden, were only the latest slams against Sessions, whom Trump, during an early-morning Twitter tirade Tuesday, blasted as "very weak" when it comes to investigating Hillary Clinton.
"Attorney General Jeff Sessions has taken a VERY weak position on Hillary Clinton crimes (where are E-mails & DNC server) & Intel leakers!" Trump wrote as part of a 10-post morning tweetstorm.
"Ukrainian efforts to sabotage Trump campaign - 'quietly working to boost Clinton,'" he wrote in another post, apparently referring to Politico report in January. "So where is the investigation A.G."
Trump's running criticism of Sessions has led to speculation that it's just a matter of time before the attorney general resigns or is fired — a possibility that the president's communications director himself hinted at Tuesday.
In an interview with NBC News, Anthony Scaramucci, whom Trump hired Friday, likened the strained relationship between his boss and Sessions to marital discord.
"You either reconcile or you separate," he said of Trump and Sessions. "They need to either get together or separate."
Moments earlier, Scaramucci told radio host Hugh Hewitt, "you're probably right," when the host asked on his show whether Trump wanted Sessions out.
"If there's this level of tension in the relationship that, that's public, you're probably right," Scaramucci said after Hewitt asked him whether it was "clear that the president wants him gone."
Meanwhile, White House Counselor Kellyanne Conway declined to say whether Trump still had confidence in Sessions.
"That's up to the president," she said after being asked whether Trump would fire his attorney general.
Trump "feels frustrated by the recusal and certainly feels victimized by the Russia investigation, which he sees as a witch hunt and a hoax," she added.
Trump's latest remarks about Sessions came a day after he called him "beleaguered" on Twitter while asking why more wasn't being done to look at Clinton's "crimes."
Clinton was investigated last year and later cleared by the FBI over her use of a private email server while secretary of state and emails she may have deleted — eventually leading Trump to fire the agency's director, James Comey, in part for how he handled the inquiry.
On Monday night, after Trump was asked by reporters during a White House intern photo-op on whether Sessions would resign, he rolled his eyes in response.
The discontent with Sessions has prompted Trump to consider replacing Sessions. The president has brought up Rudy Giuliani as a potential replacement, Axios reported. Giuliani, who was a U.S. Attorney before becoming mayor of New York, shot down the report and even backed Sessions' decision to recuse himself from the Russia probe. Sen. Ted Cruz, R-Texas, has also been floated as a possible replacement, The Washington Post said. Cruz released a statement denying the report.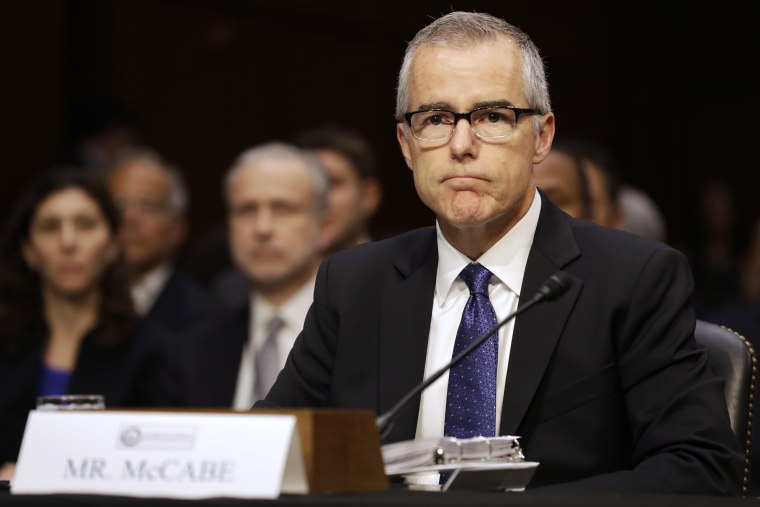 Several of Sessions' former colleagues in the Senate came to his defense Tuesday, following Trump's latest barrage.
Sen. Chuck Grassley, R-Iowa, said no one was "more qualified to carry out all the president's goals of law enforcement" that Sessions, while Sen. Lindsey Graham, R-S.C., said Sessions was "one of the most decent people I've ever met in my political life" and called Trump's tweets "highly inappropriate."